Trump Owes Nearly $500,000 to El Paso for MAGA Rally, Says He Will Visit City After Massacre
President Donald Trump said Saturday after the deadly mass shooting massacre in El Paso, Texas, that he pledged support of the federal government to the west Texas town.
However, that might not include the nearly half million dollars he racked up for a rally in El Paso back during February — including late fees.
According to multiple news outlets in the Lone Star State, the president sill owes the city of El Paso more than $470,000 for transportation and security services for his Make America Great Again (MAGA) campaign on Feb. 11 this year.
Tacked on to that are late fees, which bring the bill to more than $500,000. Here is the list of fees charged to the Trump campaign rally.
Newsweek subscription offers >
"The city staff have followed the process and procedures as it relates to any invoicing that we provide, and we will continue to do so accordingly as per city and state policies," said Laura Cruz-Acosta, communications director for the city of El Paso.
The city sent the Trump campaign invoices for six months, saying the campaign had an outstanding invoice for city services like police protection, fire department, aviation, buses and the health department, according to KSAT.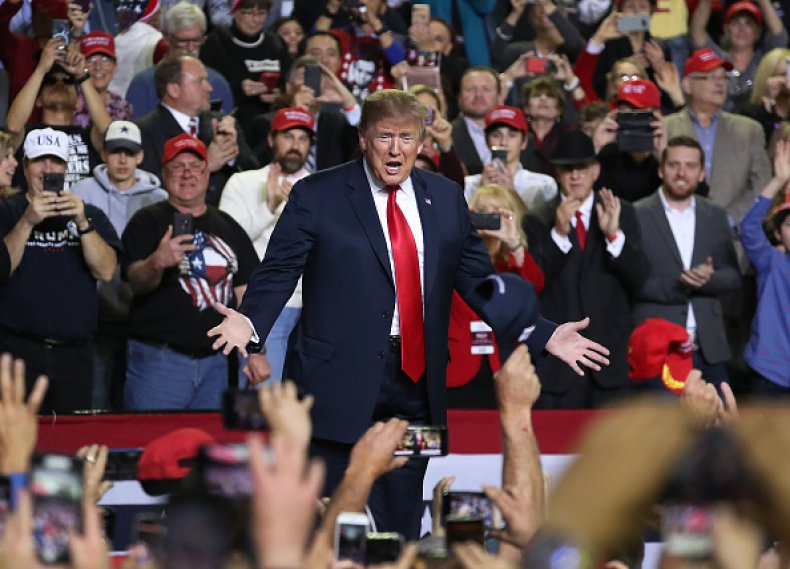 "We are contacting you regarding the past due invoice(s) listed above," a letter from the city to Trump's campaign reads. "We realize this may been an oversight on your part; however, your account with the city of El Paso is extremely past due.
Newsweek subscription offers >
"Your obligation to pay the invoice listed will remain on the City's books indefinitely until the debt is paid in full. Furthermore, the City may choose to not enter into a contract with an individual that is indebted to the City for more than $100.00."
El Paso Councilwoman Alexsandra Annello said in June that the half-million dollars puts an extra burden on the city and its tax-paying citizens.
"It shows a lack of concern for the community and the tax paying voters of El Paso," Annello said. "President Trump has in many ways, over the last year, put a financial burden on this community and has yet to show us the respect we deserve. It is clear that our borderland is not a priority of the president."
Annello said her city's resources are already stretched thin, and that payment for resources rendered would greatly help.
"Our resources are really strained right now," Annello said in the Texas Tribune. "Our police and fire are exhausted, our health department had for three days straight been working with the reunification of families. As you see from the bill, these are the services required for a presidential visit. In addition to financial costs, our community and resources are already strained and do not need this extra burden."
Considering late fees, the Trump 2020 Campaign now owes nearly $570,000 to the City of El Paso, according to the Texas Tribune.
Trump Owes Nearly $500,000 to El Paso for MAGA Rally, Says He Will Visit City After Massacre | U.S.