Around the same time President Donald Trump was reportedly paying little to no U.S. income taxes, he allegedly paid the Chinese government more than $188,000 in taxes over two years.
Trump paid China $188,561 between 2013 and 2015 through a Chinese bank account controlled by his company Trump International Hotels Management L.L.C., according to a report published Tuesday by The New York Times. The Chinese bank account is said to be one of only three foreign accounts the president maintains, with the other two being located in the U.K. and Ireland.
Despite the account being used to pay a relatively large tax bill, the Trump International Hotels Management reportedly only declared a few thousand dollars in income. The IRS requires Americans to report income from foreign countries. It is not clear how much money flowed through the soon-to-be president's foreign accounts, according to the Times report.
The paper reported late last month that it had obtained 17 years of Trump's tax returns, which the president and his lawyers have continually attempted to block from becoming public. The documents are said to reveal that Trump paid no income taxes for 10 out of 15 years and only $750 in both 2016 and 2017, the year he was elected president and the year he took office.
Trump Organization lawyer Alan Garten told the Times that Trump opened a Chinese bank account "in order to pay the local taxes" on business ventures he had hoped to take advantage of in Asia. Garten refused to identify the name of Trump's Chinese bank.
"No deals, transactions or other business activities ever materialized and, since 2015, the office has remained inactive," Garten said. "Though the bank account remains open, it has never been used for any other purpose."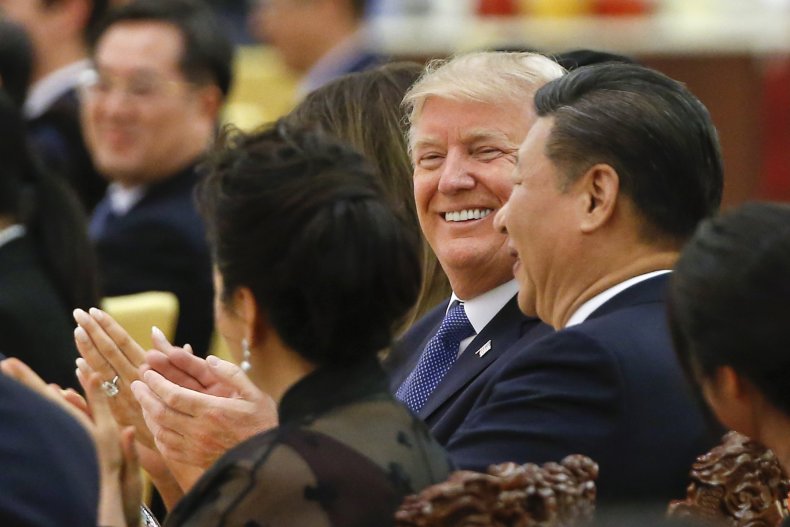 The new report comes as the Trump campaign continues to heavily focus on questionable claims that Hunter Biden, the son of Democratic presidential nominee Joe Biden, is involved in nefarious activities with China, a country the president has also repeatedly referred to and deflected blame towards when questioned about his handling of the COVID-19 pandemic.
"The media is doing everything in their power to distract from the Biden family's alleged criminal activity," Eric Trump said in a statement obtained by Newsweek. "It's quite simple -- when my father became President of the United States, we stepped away from international business. When Hunter Biden's father became Vice President, he stepped into international business."
The findings of a recent investigation by Republican U.S. Senators Ron Johnson and Chuck Grassley included Hunter Biden's alleged "ties to the Chinese Communist Party," highlighting his opening of a Chinese bank account as evidence.
Even more recently, the FBI opened an investigation into whether allegations against Hunter Biden reported on in a disputed New York Post article touted by the president were part of a Russian disinformation campaign, according to the Associated Press.
"Joe Biden must immediately release all emails, meetings, phone calls, transcripts, and records related to his involvement in his family's business dealings and influence peddling around the world—including in CHINA!" Trump tweeted last week.
None of Biden's tax returns and public disclosures, which he has voluntarily released, show that he had any business activities in China. The president's own business dealings with China and Chinese government interests have rarely been mentioned by himself or his allies, but they appear to be extensive, according to the Times report.
Until last year, a Chinese government-controlled bank was paying an expensive lease for three floors in New York City's Trump Tower. After Trump was elected in 2016, he sold a penthouse at one of his other properties in the city for $15.8 million to a Chinese businesswoman said to have ties with political elites in China and the Chinese government.
Trump reportedly attempted to pursue a licensing deal in China for most of the decade leading up to his presidency. His efforts included partnering with the Chinese government-controlled State Grid Corporation, a partnership that ended after Chinese authorities launched a corruption investigation against the company.
Trump International Hotels Management, the company holding the bank account that Trump paid Chinese taxes through, is said to hold direct ownership of THC China Development, a company that deals in the management of properties bearing the Trump name in multiple countries.
The Times reports that in 2017, the year after Trump was elected, THC China Development experienced an "unusually large spike" of $17.5 million in revenue, described on public disclosures as "management fees and other contract payments" and amounting to more than the combined total income of the five previous years. The same year, Trump reportedly withdrew $15.1 million from the company's capital account.
Update 10/21, 4:21 p.m.: This article has been updated to include a statement from Eric Trump.