As Trump Parachutes in on Election Eve, Youngkin Insists They're 'Not Terribly' Close
Donald Trump hopes his connection to Glenn Youngkin will lead the Republican to victory in Virginia's gubernatorial election, but ahead of Election Day the candidate insisted he and the former president are "not terribly" close.
Though Youngkin was pleased to accept Trump's endorsement, when the former president announced plans to hold a phone-in "tele-rally" for the Republican candidate on Election Eve, Youngkin said that he had no plans to participate in the event.
During an interview with D.C. radio station WTOP on Monday, the host mentioned that Youngkin wasn't planning on attending the campaign event and asked him how close he and Trump are.
"Well, not terribly," Youngkin responded. "But again, what this is is Terry McAuliffe doing anything to get the spotlight off of his failed record as governor and to not run head-to-head with Glenn Youngkin. I'm on the ballot! And yes, President Trump is doing a teleconference for me tonight, and guess what: Governors across the nation did telecalls for me yesterday!"
The Republican's ties to the former president have been at the core of the campaign waged by his opponent, former Democratic governor Terry McAuliffe, who has often touted Youngkin's May comments that Trump "represents so much of why I'm running" and called him "Glenn Trumpkin" during a rally.
Youngkin has tried to separate himself from the controversial ex-president by focusing on the key issues of the race like the economy, jobs, education and health care. The Republican hasn't attended any of the campaign events organized by Trump.
On the other hand, McAuliffe has embraced in-person campaigns with President Joe Biden, former President Barack Obama and other notable party members. Trump announced his plans to go to Virginia "soon" after Biden stumped for McAuliffe there, but did not make the trip in person.
The Republican dismissed rumors on Monday that he wasn't attending the event because it was organized by Trump and cited efforts by other organizers in Alabama and California who have campaigned for him with whom he was unable to meet.
"This is about a new way to campaign, where we bring people together, as opposed to what my opponent does, which is try to spin divisive comments," Youngkin said.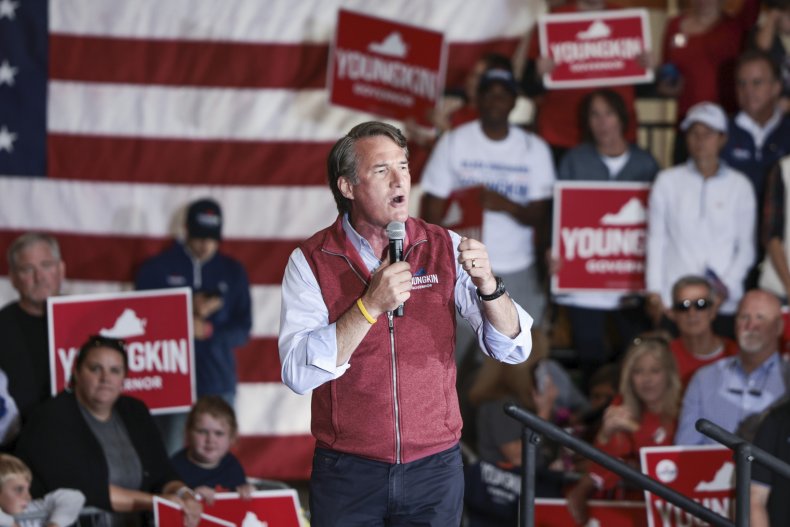 The host continued to press Youngkin and said that Trump has stated he and the Republican candidate believe in many of the same policies and work very well together but Youngkin is affirming they are not close.
Youngkin listed a number of his beliefs related to his "fundamental Republican stance" that he believes is leading to endorsements from a number of people including the former president.
Trump himself denied any rift between him and Youngkin on Monday morning, condemning political adverts claiming the GOP gubernatorial candidate wants nothing to do with him.
"The Fake News media, together with some of the perverts doing ads ad nauseam on primarily Fox (Fox shouldn't take those ads!), are trying to create an impression that Glenn Youngkin and I are at odds and don't like each other," Trump said in a statement. "Importantly, this is not true, we get along very well together and strongly believe in many of the same policies. Especially when it comes to the important subject of education."
McAuliffe's campaign issued its own response to Trump's statement, stating that "Glenn Youngkin's campaign will close today just like it started: with Donald Trump."
Newsweek reached out to spokespeople for Trump and McAuliffe for comment.