Here's What The Parks Service Could Be Funding Instead of Trump's Military Parade
Military tanks have been brought mall in Washington D.C. ahead of President Donald Trump's big military celebration tomorrow afternoon. There will also be fireworks, a military plane flyover and a speech by the president himself.
Reports show that the Trump administration plans to divert about $2.5 million from the National Park Service to pay for the parade. The Park Service currently has an $11 billion maintenance backlog.
Certain critical renovation plans, like renovating the bathrooms at Mt. Zion National Park or the campsites at Yosemite National Park are estimated to cost less than $2.5 million.
Other projects that could be funded with the $2.5 million include repairing the base of the State of Liberty (projected capital improvement cost: $1.2 million which would "sustain a safe and enjoyable experience for more than four million visitors each year," according to the National Parks Service. Without the maintenance, the State of Liberty's "durability and even stability could become compromised," according to the agency.
With just an extra $420,000 in capital improvement funds the Parks Department could repair and complete 45-miles of road around Acadia National Park. For $921,000 they could fix the sewage system at Mammoth Cave National Park.
Paying $1.28 million would repair the decaying walkways at Rock Creek Park and for $1.42 million they could prevent dangerous falling boulders at Chesapeake and Ohio Canal National Historical Park.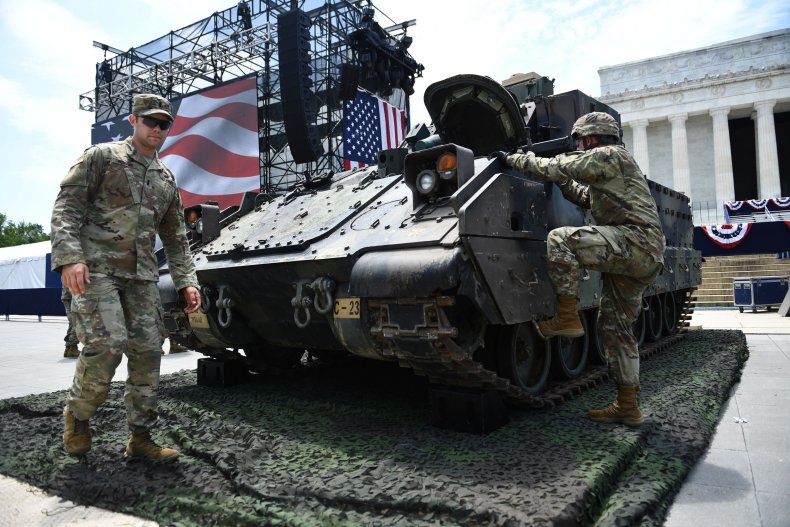 During the last government shutdown, Bernhardt directed that national parks remain open by using the funds collected from entrance fees "until they've reached zero balance."
Fourth of July festivities usually end up costing the Park Service about $2 million, but this time around they were asked to pass along another $2.5 million collected from entrance fees to national parks around the country.
"Interior Secretary [David] Bernhardt is once again using national park entrance fees as a slush fund for political purposes. These critical funds are supposed to be spent on maintaining park facilities, not political rallies," wrote The Center for Western Priorities executive director Jennifer Rokala in a statement. "Bernhardt already tried draining park entrance fees during the government shutdown, only to reverse course after lawmakers questioned the legality of his actions. This is one more example of the Trump administration failing America's national parks and public lands," she continued.
The money diverted represents about 1 percent of all annual fees collected by the service.
The president says the festivities will be inexpensive because the U.S. already owns all of the military equipment, though that ignores additional operational and transportation costs.
Previous plans by the president to hold a similar parade in 2018 were scrapped after the Pentagon predicted that they would cost more than $90 million.