Trump Will Pardon Joe Arpaio Because of Alex Jones's Infowars and Matt Drudge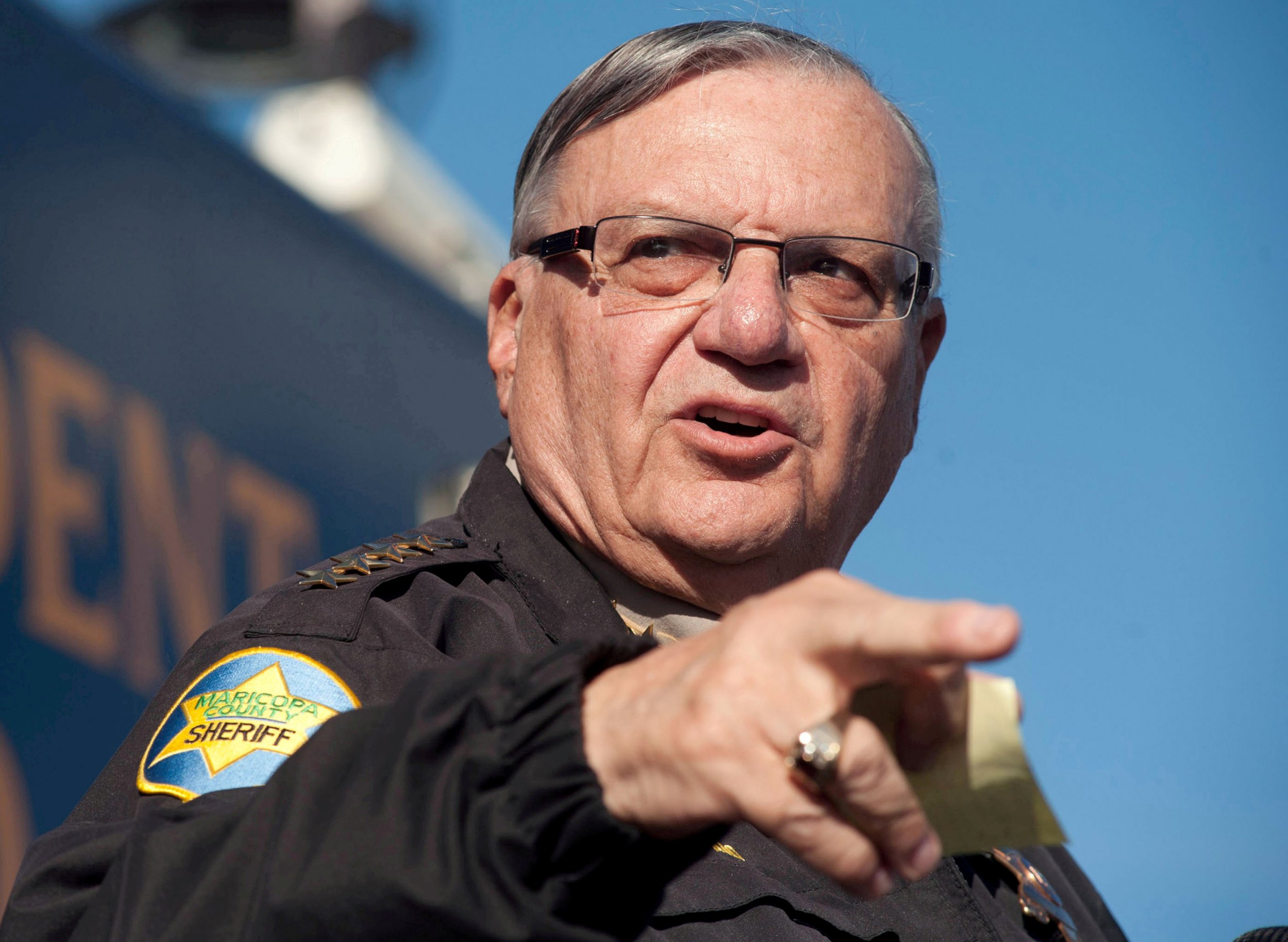 As President Donald Trump reportedly was preparing to issue his first pardon—to convicted Maricopa County Sheriff Joe Arpaio—the notoriously anti-immigrant Arizona sheriff was crediting a bucket line of right wing bloggers and broadcasters for getting his story to Trump's attention.
Arpaio, who unapologetically ordered racial profiling of Latinos in the Phoenix area for years, was convicted of criminal contempt of court last year and faces six months in jail. In November, he lost his bid to be re-elected a seventh time.
His career was marked by repeated allegations of discriminatory policing. During his 20 years as sheriff, Arpaio organized massive stings on Latino drivers and hunts for illegal immigrants; and he operated a tent-city county jail that he himself likened to a concentration camp, in which convicted inmates endured medieval conditions, including 120-degree desert heat that melted shoes. He weathered an abuse of power investigation when the U.S. Department of Justice in 2012 closed a probe into whether he had targeted his political enemies with public corruption cases.
The 85-year-old son of Italian immigrants appeared on an Alex Jones Infowars broadcast via Skype on Tuesday and thanked Jones and other right wing media members for getting his story to the president. " I want to thank you, Alex, and your staff, Jerry Corsi, Roger Stone, for bringing this story out and reaching the president. I supported him from, what, two years ago at the same forum that he did yesterday, and I'm with him and I'm with him to the end," Arpaio said, in a clip of a longer interview that Jones teased Wednesday afternoon, according to progressive watchdog Media Matters for America, which monitors Jones's broadcasts.
Jones accepted credit, saying: "It's Dr. Corsi writing the articles, and it's Matt Drudge picked him up, and the president saw it in Matt Drudge's Twitter feed, and then said, 'Is this true? I haven't even heard of this on Fox.' And he called [Fox News host Sean] Hannity up, and said, 'Why aren't you covering this?'"
Jerome Corsi is the Washington bureau chief for Infowars and has written a variety of conservative best-sellers, including Where's the Birth Certificate?: The Case that Barack Obama is not Eligible to be President . Arpaio was also a prominent "birther," publicly refusing to believe that President Obama was born in the United States.
Corsi has been predicting for several weeks that Trump would pardon Arpaio.
CNN on Wednesday reported that the White House has prepared paperwork for Trump to pardon Arpaio "when he makes the decision to do so."
During his Phoenix rally Tuesday night, Trump teased the prospect, saying, "I'll make a prediction. I think he's going to be just fine. OK? But I won't do it tonight because I don't want to cause any controversy. Is that OK? All right? But Sheriff Joe can feel good."