Donald Trump Should Pardon Julian Assange for the Sake of Journalism, Says Roger Stone
President Donald Trump should pardon WikiLeaks founder Julian Assange should he be extradited to the U.S., otherwise a potential Assange trial and conviction could be a "blow" to "independent journalism," according to former longtime Trump adviser Roger Stone.
Assange, whose prominent leaks and government accountability website published the Democratic National Committee's emails at the height of the 2016 election, has been holed up inside Ecuador's embassy in the United Kingdom for six years to avoid a rape charge in Sweden. And Assange is fearful he could be snapped up and extradited to the U.S. to face potential charges of releasing sensitive government information.
To Stone, Assange should serve as a positive example of good journalism.
"Journalists everywhere should be disturbed if Assange is kidnapped and put on trial. It is a blow to independent journalism and a free press," Stone told the Washington Examiner in an interview published Wednesday.
In support of his claim, Stone noted the Justice Department under President Barack Obama's administration ultimately opted in 2013 not to charge Assange as it could have set a dangerous precedent and might have been tantamount to prosecuting a news organization.
Stone stated that should Assange be extradited, he hopes Trump would show mercy.
"If Assange is extradited, I hope the president will pardon him before or after a trial," Stone said.
However, Stone also suggested Trump might want Assange to go through a trial in the hopes it could prove the president's campaign did not have advance knowledge of WikiLeaks' dumping of DNC emails.
"Perhaps Trump won't pardon Assange before a trial because he believes Assange will prove at trial that he did not receive the allegedly hacked [Democratic National Committee documents] from the Russians or a cut-out for them," Stone told The Examiner.
Stone has been subject to scrutiny over his relationship and contact with Assange, WikiLeaks and hacker Guccifer 2.0. The hacker contacted Stone during the 2016 election and Stone said many times that he had been in contact with Assange and even stated it would "soon [sic] the [John] Podesta's time in the barrel" in August 2016, roughly two months prior to WikiLeaks dumping the Clinton campaign chairman's emails.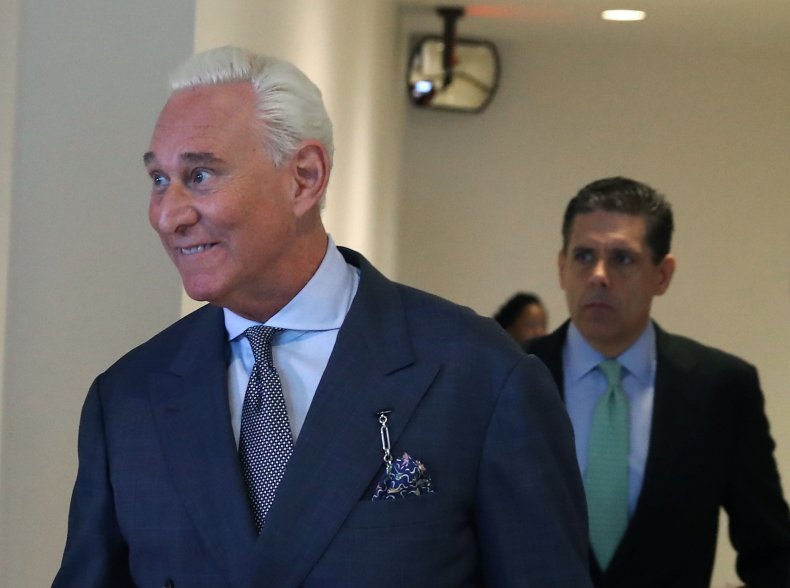 Guccifer was later identified by special counsel Robert Mueller's investigators to be not one but several Russian intelligence officers in charges filed last month.
Stone has previously denied Guccifer was tied to Russia, and any advance knowledge of WikiLeaks emails dumps.
Ecuadorian President Lenin Moreno said Friday that his government and the U.K. were actively talking about Assange's possible exit from the embassy and that Ecuador wants "his life not to be in danger."
Whether Trump would even consider a pardon for Assange remains unclear. The president has routinely blasted leakers as well as the media, but Trump has said he was considering pardons for others like disgraced former Illinois governor Rod Blagojevich.