Trump Should Pardon Michael Flynn, Who Took 'The Biggest Fall,' Family Says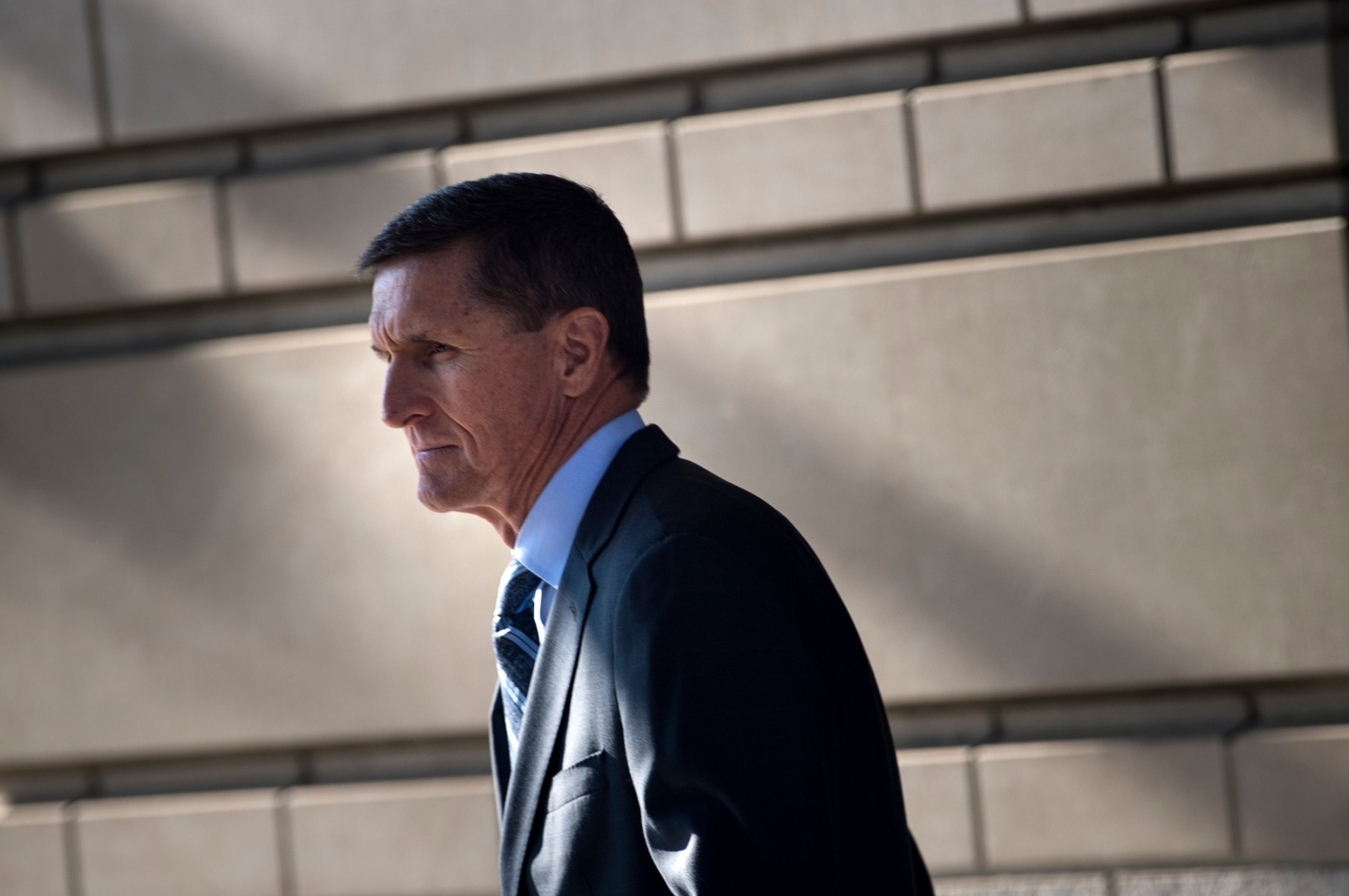 Updated | President Donald Trump should pardon his former national security adviser and campaign aide Michael Flynn, who "has taken the biggest fall," Flynn's brother said Tuesday.
In a since deleted tweet, Joseph Flynn said Trump must get the former Army general off the hook for his December 1 guilty plea stemming from his contacts with the former Russian ambassador. The plea deal is a part of Special Counsel Robert Mueller's investigation into Russian meddling in the 2016 presidential election and possible coordination with the Trump campaign.
Related: Will Trump pardon Michael Flynn? "We'll see," he says
"About time you pardoned General Flynn who has taken the biggest fall for all of you given the illegitimacy of this confessed crime in the wake of all this corruption," Joseph Flynn tweeted, though the post was deleted after about 15 minutes.
Flynn's tweet came after Trump posted his own miniscreed on Twitter complaining about Mueller's probe, among other things.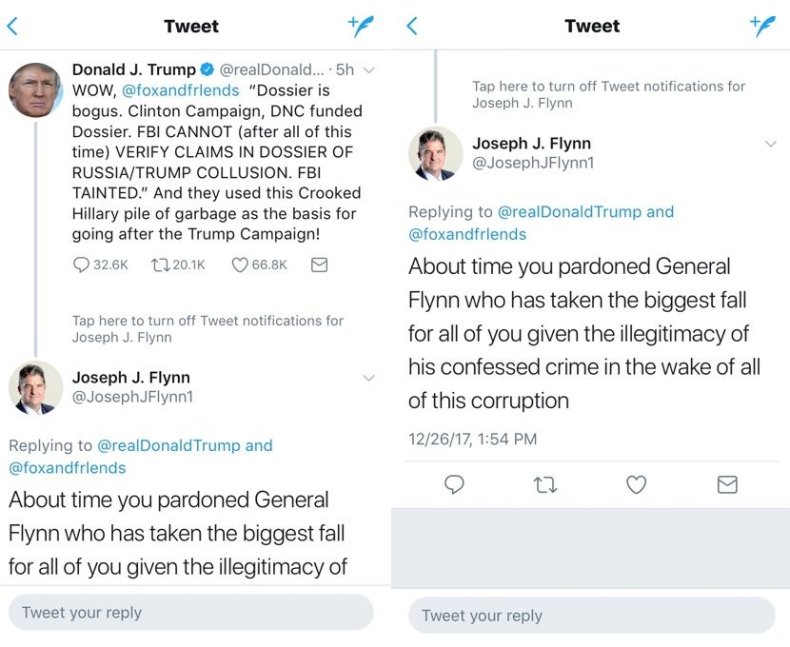 Joseph Flynn told Newsweek that he found Trump's tweet interesting and so, "I responded." He added about his own tweet, "I said it, and maybe he's listening."
On Tuesday night, after the initial publication of this article, he wrote in a tweet to Newsweek about his earlier post, "I stand by my tweet. This is all my personal opinion and I stand by it."
But moments after that comment, he tweeted again to Trump. "Mr. President, I personally believe that a pardon is due to General Flynn, given the apparent and obvious illegitimacy of the manner in which the so called 'crimes' he plead (sic) guilty to were extracted from him," he wrote. "I ask for quick action on this. Thank you and keep up the good work!"
Days after Flynn pleaded guilty, White House press secretary Sarah Huckabee Sanders told reporters she was "not aware" about any discussion of a pardon.
"I haven't asked the president whether or not he would do that," she added. "I don't feel that it's necessary until you get further down the road and determine whether or not that's even something needed."
Trump later told reporters, "I don't want to talk about pardons for Michael Flynn yet. We'll see what happens. Let's see."
Joseph Flynn is helping organize a legal defense fund for his brother. On December 11, a week and a half after Flynn's guilty plea, he told Newsweek by email, "We have seen a very big surge in support, especially after last week."
He estimated that the amount in the fund had doubled since the December 1 guilty plea, adding, "I want to be clear: The expense far outweighs the donations, most of which are small amounts that average citizens who support General Flynn can put forth.... The burden of expense of multiple investigations, which of course were not expected and no one prepares for, is financially crippling to him and his family."
Trump has asked advisers about his authority to pardon, The Washington Post reported in July. The day after that report, he tweeted, "While all agree the U.S. President has the complete power to pardon, why think of that when only crime so far is LEAKS against us. FAKE NEWS." In August, the president pardoned former Arizona Sheriff Joe Arpaio, which analysts have speculated was to signal to associates that he could pardon them in the Russia probe, too.
This article has been updated to include additional tweets from Joseph Flynn.