Trump's Pardoning Powers Could Be Limited After Mueller's First Indictment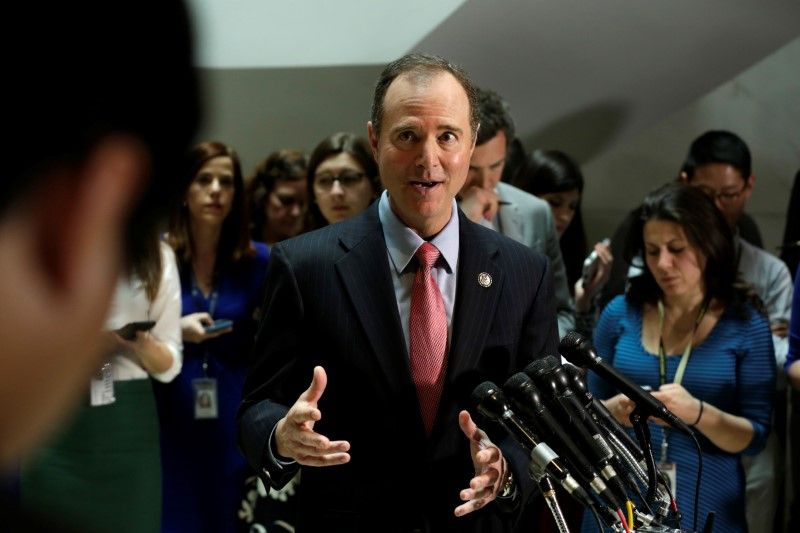 With the first indictment looming from the federal Trump-Russia investigation, President Donald Trump is getting a reminder: His pardoning pardons can't fix everything.
"I don't think the president's power is all that absolute, as people have been suggesting," California Representative Adam Schiff, the top Democrat on the House Intelligence Committee, told ABC News' "This Week" Sunday.
"The president cannot pardon people if it's an effort to obstruct justice, if it's an effort to prevent Bob Mueller and others from learning about the President's own conduct. So, there are limitations."
Special Counsel Robert Mueller, who has been investigating the Trump campaign's potential Russia ties, is expected to unseal his first criminal charges as early as Monday.
Schiff said he has not been told who will be hit by the indictments, but he believes based on press reports that it will either be former Trump campaign manager Paul Manafort or former national security adviser Michael Flynn. Both men resigned from their positions after controversy over their ties to foreign governments, which Mueller has been scrutinizing.
If Trump tries to pardon whoever faces charges, he could several major hurdles.
The Constitution allows the president broad powers to pardon people for "Offenses against the United States." There is no precedent for a sitting president pardoning people tied to his campaign, as will likely be the case for Mueller's debut indictment.
The Constitution contains no language barring such a pardon, but with the Trump administration, it probably wouldn't pass without a fight.
For example, the only limit in the Constitution is that presidents can't issue pardons for offenses relating to their impeachment. If Mueller issues charges that could be tied to a potentially impeachment offense for Trump, Congress could swiftly enact impeachment proceeding — thus stripping Trump of his powers.
Such an unprecedented pardon would also lead to inevitable legal battles, which could reach the Supreme Court, giving the justices final say on whether Trump's pardons can stand.
Beyond this, presidents only have the power to pardon federal offenses — but state offenses are out of their jurisdiction.
Trump has no power to quash state charges, which can only be pardoned by state officials. So if a state attorney general takes up any of the federal charges from Mueller — for instance, charges related to Trump business practices in New York — Trump's troubles would continue.
Reports have circulated for months that Trump has been wondering about the reach of his pardoning powers, and even asked about the possibility of a self-pardon, which is also not barred by the Constitution.
Trump has also been publicly boasting about his abilities to pardon. He wrote in a July tweet that " all agree the U.S. President has the complete power to pardon," showing a mistaken understanding of how far his powers can go.
It is not known who will be named in Mueller's first indictment or what the charges will be.
New Jersey Governor Chris Christie, a Republican and Trump ally, said Mueller's soon-to-be suspect likely already knows what's coming.
"Believe me, if you're the person, you know," Christie, a former federal prosecutor, told "This Week."
"If you've been told you're a target, believe me, you're not sleeping well anyway."