President Donald Trump still has time to pardon Julian Assange, but a rumor swirling around on social media that he had plans to pardon the founder of Wikileaks turned out to be based on faulty information.
It's customary for outgoing presidents to issue pardons and with President Donald Trump heading into the final weeks of his presidency, there's been a push by some for the president to pardon Assange. On Monday, Pastor Mark Burns, an early supporter of Trump, posted on Twitter that the president was going to pardon Assange.
However, it turned out not to be true, according to Burns, who posted a subsequent tweet about an hour and a half later asking people to "disregard" his comment about Assange's pardon. Burns said he had a "faulty source."
The White House hasn't issued an on the record statement regarding Burns' tweet but the initial comment garnered more than 88,000 likes and 27,000 retweets. Some used it as an opportunity to support the possibility of a pardon, others said it played into a pattern of Trump disrespecting the rule of law and one person hoped it was a sign her family would be reunited.
Stella Moris, Assange's partner, reposted Burns' tweet on her own feed with the caption, "Please ... let this be true." A subsequent tweet said she hadn't told Assange's kids, Max and Gabriel, but that she was "trembling with anticipation that they might have their father home for Christmas."
Newsweek reached out to the White House for comment but did not receive a response in time for publication. It's unclear whether Trump has plans to pardon Assange at any point before the end of his presidency.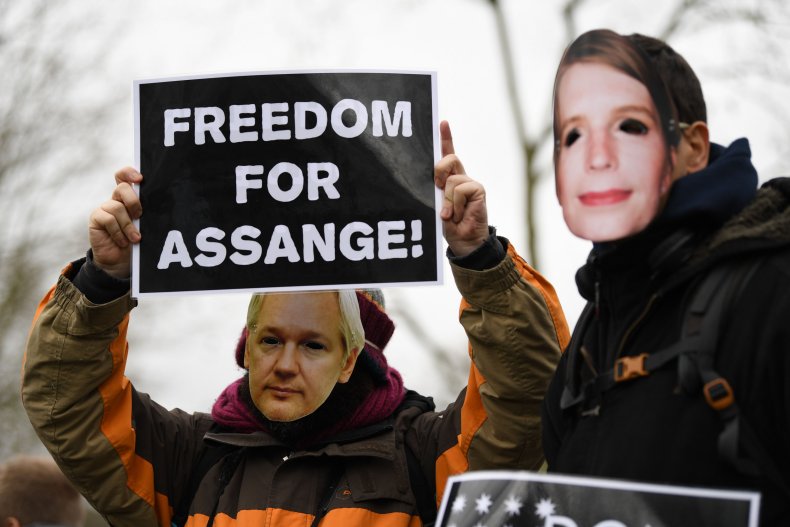 It's been 10 years since Wikileaks published a video from an American military helicopter that showed the killing of 18 civilians in Iraq and leaked documents from Army intelligence Analyst Chelsea Manning. At the time, the government hoped to prosecute Assange, who took refuge in the Ecuadorian embassy in London. He remained there until 2019 when he was arrested and put in a London prison to await a judge's decision on his extradition to America.
Along with Morris, Edward Snowden, a former NSA contractor, and George Christensen, an Australian member of Parliament, called for Trump to pardon Assange. Christensen set up a website with an electronic petition for people to sign and told Sky News that a pardon for Assange is one way Trump can "stand up for free speech."
Representative Justin Amash also advocated for a pardon for Assange on Monday, writing that his prosecution would "endanger journalists everywhere and threaten the freedom of the press."
On December 7, actor Pamela Anderson, who has pushed for a pardon for Assange for more than a year, used a bikini photo to lobby the president. She posted a photo of herself in a bikini with a sign that said "bring Julian Assange home Australia," and tagged Trump in the caption that used the hashtag "PardonJulianAssange."
In September and October Assange had a four-week extradition hearing at London's Central Criminal Court and the judge overseeing the case is expected to deliver her decision on January 4. Assange faces 17 charges of espionage in the U.S. and one charge of computer misuse. If found guilty, he faces 175 years in prison.