Trump Pardons Alice Johnson After Previously Commuting Her Life Sentence
President Donald Trump on Friday gave a full pardon to Alice Johnson, a 65-year-old woman who was serving a life sentence for drug trafficking charges before the president commuted her sentence more than two years ago.
News of her pardon came less than 24 hours after Johnson spoke of Trump's intervention in her case in a speech she delivered at the 2020 Republican National Convention. Trump formally accepted the Republican Party's nomination for reelection later Thursday night.
"We're giving Alice a full pardon," Trump told reporters before signing the pardon in the Oval Office on Friday. "That means you can do whatever you want in life, and just keep doing the great job you do," he said to Johnson.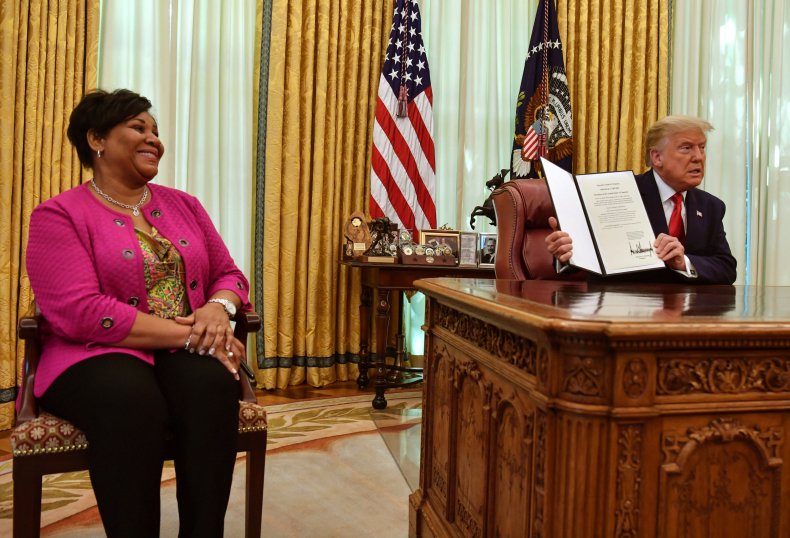 Trump told reporters that since her release Johnson has alerted his administration to other prisoners who were also given long sentences for nonviolent crimes, as she was.
"There's only one Alice, as far as I'm concerned, but how many people are like you or your circumstance who was given this massive sentence and they're good people, great people? And she said, 'So many,'" Trump said.
Reality television star Kim Kardashian West became an advocate for Johnson and met with Trump in 2018 to discuss her case. When the White House announced Trump's decision to commute her federal sentence in June of 2018—nearly 22 years into her life sentence—officials described her as a "model prisoner" who "accepted responsibility for her past behavior."
"While this Administration will always be very tough on crime, it believes that those who have paid their debt to society and worked hard to better themselves while in prison deserve a second chance," the White House said at the time Johnson's commutation was announced.
In a news release announcing the convention's final night of speakers, Trump's campaign described Johnson as a "criminal justice reform advocate" who is "a major supporter of President Trump's criminal justice reform legislation."
Johnson opened her convention speech by explaining how she began her prison sentence in 1996 as a first-time nonviolent offender. "What I did was wrong," Johnson said, but she went on to say that she believed a person's sentence "should be fair and just."
"When President Trump heard about me, about the injustice of my story, he saw me as a person. He had compassion, and he acted," Johnson said. She went on to say that she has been determined to help other prisoners in her same position since she was released.
"Truth is, there are thousands of people just like me who deserve the opportunity to come home," she said.
Trump has granted nearly 30 pardons and just over 10 commutations since taking office in 2017, according to U.S. Department of Justice records.
Newsweek reached out to the White House for comment but did not receive a response in time for publication.
This story has been updated with additional information and background.