President Donald Trump granted clemency Friday to his friend and former advisor Roger Stone, who is set to report to a federal prison in Georgia by July 14.
Stone was convicted last fall on all seven counts he faced—five counts of lying to Congress, one count of witness tampering and one count of obstructing a congressional committee proceeding into Russian involvement in the 2016 election and sentenced to more than three years in prison.
However, due to the novel coronavirus pandemic, Stone was allowed to delay his reporting date to begin his sentence.
"Roger Stone is a victim of the Russia Hoax that the Left and its allies in the media perpetuated for years in an attempt to undermine the Trump Presidency. There was never any collusion between the Trump Campaign, or the Trump Administration, with Russia. Such collusion was never anything other than a fantasy of partisans unable to accept the result of the 2016 election," the White House said in a statement.
"He was treated very unfairly, as were many others in this case. Roger Stone is now a free man!" the White House added.
On July 7, Stone's lawyers asked the federal appeals court to push the date of his sentence yet again to September 3 while he appeals his conviction. In the request, the legal time cited the "COVID-19 pandemic and the medically documented life-threatening health risks that Stone would face if incarcerated at this time." However, the request was the following day.
Trump and Stone have been friends for four decades after being introduced in the 1970s. Stone had been an avid supporter of Trump's 2016 presidential campaign and since his conviction, Trump has repeatedly said that Stone did not get a fair trial. Additionally, two weeks ago, the president retweeted a post that read "IT'S TIME TO #PardonRogerStone."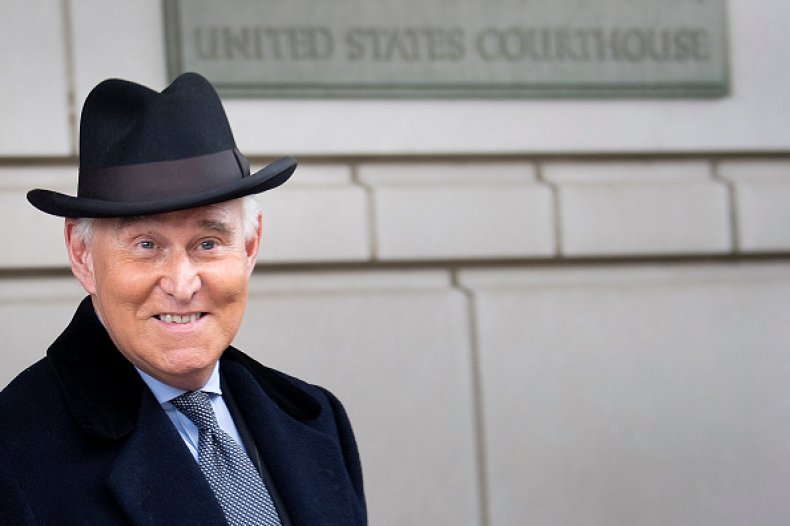 "I'll be looking at it. I think Roger Stone was very unfairly treated, as were many people, and in the meantime Comey and all these guys are walking around, including Biden and Obama, because we caught them spying on my campaign. Who would have believed that one?" Trump told reporters at the White House on Friday, the same day he issued the pardon.
On July 7, Stone told reporters from Bloomberg that he wanted Trump to know that he "exhausted all my legal remedies and that only an act of clemency will provide justice in my case and save my life!"
And then on July 9, when told Stone had been praying for Trump to grant him clemency, the president told radio host Howie Carr, "If you say he's praying, his prayer may be answered. Let's see what happens," during an interview on The Howie Carr Show.
Stone also asked the president to pardon him in a petition he circulated on his own website. "It's time to stop the Deep State from working against our President," the petition reads. "He stood with you against the hate directed at your campaign, and now he needs your help."