Paris Climate Deal: Island Nations Face Extinction From Rising Sea Levels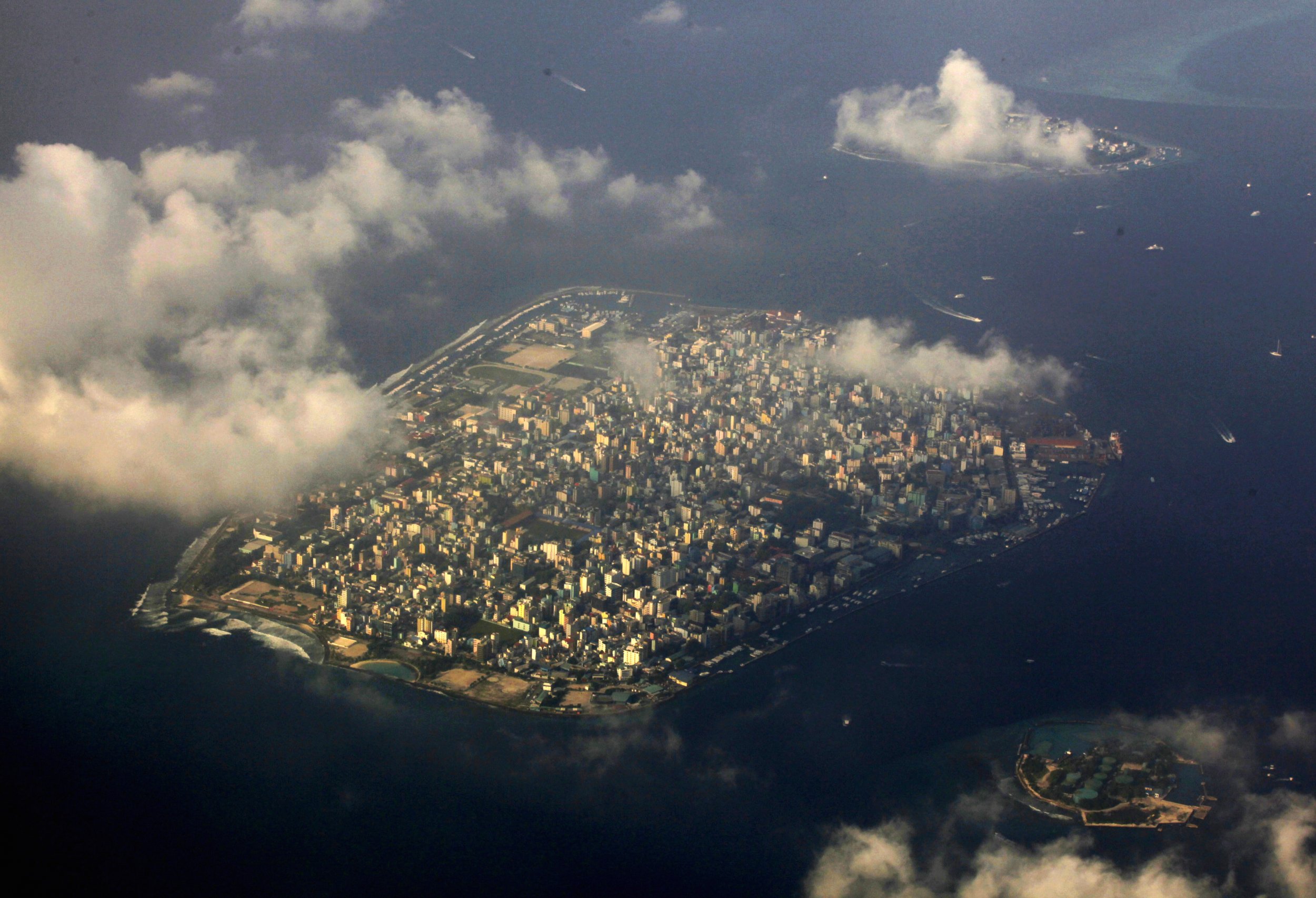 If President Trump's decision to withdraw the U.S from the Paris climate deal leads to increased emissions, it could pull the plug on island nations that face an existential threat from rising sea levels.
While far-flung islands like the Maldives and the Marshall Islands might seem far removed from the U.S. economic interests championed by President Trump, this threat will also strike close to home. U.S. island states and territories like Guam, Puerto Rico, and Hawaii house important U.S. military assets and support valuable U.S. industries like tourism. "People are talking about the fate of small island states as if it has nothing to do with the rest of the world," said Thomas Lovejoy, the renowned U.S. ecologist. "What happens to islands happens to all of us."
This move is particularly galling to the island leaders of the High Ambition Coalition, a group of rich, poor and emerging economies that included Pacific islands, African and Caribbean governments, EU members, the United States, Mexico, Canada and Brazil, who pushed in Paris for higher targets on moral grounds. Islands always "punch well above their weight on this issue," said Jainey Bavishi, formerly at the White House Council on Environmental Policy, at the Wilson Center in 2016.
The reactions from island leaders were strong and swift. The president of the Maldives, Abdulla Yameen Abdul Gayoom, was "especially disappointed that the world's largest economy and biggest historic emitter abdicated its responsibility on such a critical issue." The economic impacts for many islands will be harshest for those that rely on tourism. In its statement reacting to Trump's decision, the Caribbean Hotel and Tourism Association said that the Paris agreement is "important to the Caribbean's own self-interests and also those of the world, with millions of visitors enjoying the incredible natural beauty the region offers."
Read more: North Korea says U.S. is on an ego trip after making the 'ignorant decision' to quit Paris climate deal
The United States' own island states and territories have a long history of shared trust and direct dialog with island nations. The Pacific Islands Environmental Conference, which begins on June 13 in Saipan—the largest island in the U.S. commonwealth of the Northern Mariana Islands—is just one example of these joint efforts. At the conference, representatives of Pacific Islands will discuss how to manage environmental changes while maintaining their well-being and economic prosperity, including more innovative island-to-island collaborations. If the withdrawal from Paris cuts these ties, U.S. citizens of island states and territories will lose the connections and collaborations with other leaders that best understand the unique challenges they face.
Islands are not just victims of climate change; they are also champions of change, striving to find new ways to increase their economic and physical resilience in face of future storms. "The restricted scale, isolation, and sharp boundaries of islands create unique selective pressures, often to dramatic effect," said Maxine Burkett, a professor of law at the University of Hawaii and Wilson Center Global Fellow, making them "living laboratories." Coastal areas of the continental United States could benefit from working with island experts to pilot innovative methods to bolster their shorelines, protect valuable infrastructure, and find new sources of revenues as water levels rise.
Can island nations move from being Paris' moral compass to its hubs of innovation without the support of the United States? Other members of the global community—such as China, India, and the European Union—will need to fill the gap and support islands in their fight for survival. U.S. island territories and coastal communities should push to keep lines of communication open outside of the agreement, by finding some way to participate in the international dialog, including the next Climate Conference of Parties, which will be organized by Fiji and take place in Bonn in November.
At the same time, island nations should seek meaningful collaboration with U.S. cities and states. Fiji's Prime Minister Voreqe Bainimarama said this week at the U.N. Oceans Conference in New York: "You had Hurricane Sandy in 2012. We had Cyclone Winston last year. And it has bound us together as a people — Fijians and New Yorkers — in our determination to work with the rest of the world to tackle the threat of climate change."
Ultimately, the agreement's fate will not rest on the United States. Islands will face the threat of extinction head on. "Our own commitment will never waiver. Our existence is at stake," said Guyana's president, David Granger, in the statement from the Caribbean Community (CARICOM) heads of state.
The United States will survive, but its national security and economic interests could suffer, its coastal infrastructure will be probably damaged, and its innovation squandered, while U.S. citizens that live next to the rising seas may be forced to move to higher ground. We may all be islanders, but no man is an island.
Roger-Mark De Souza is the director of population, environmental security, and resilience at the Wilson Center in Washington, DC. The views expressed above do not necessarily reflect the views of the Center staff, fellows, trustees, advisory groups, or any individuals or organizations that provide financial support to the Center.