Trump May Cover Legal Fees of Man Accused of Sucker-Punching Protester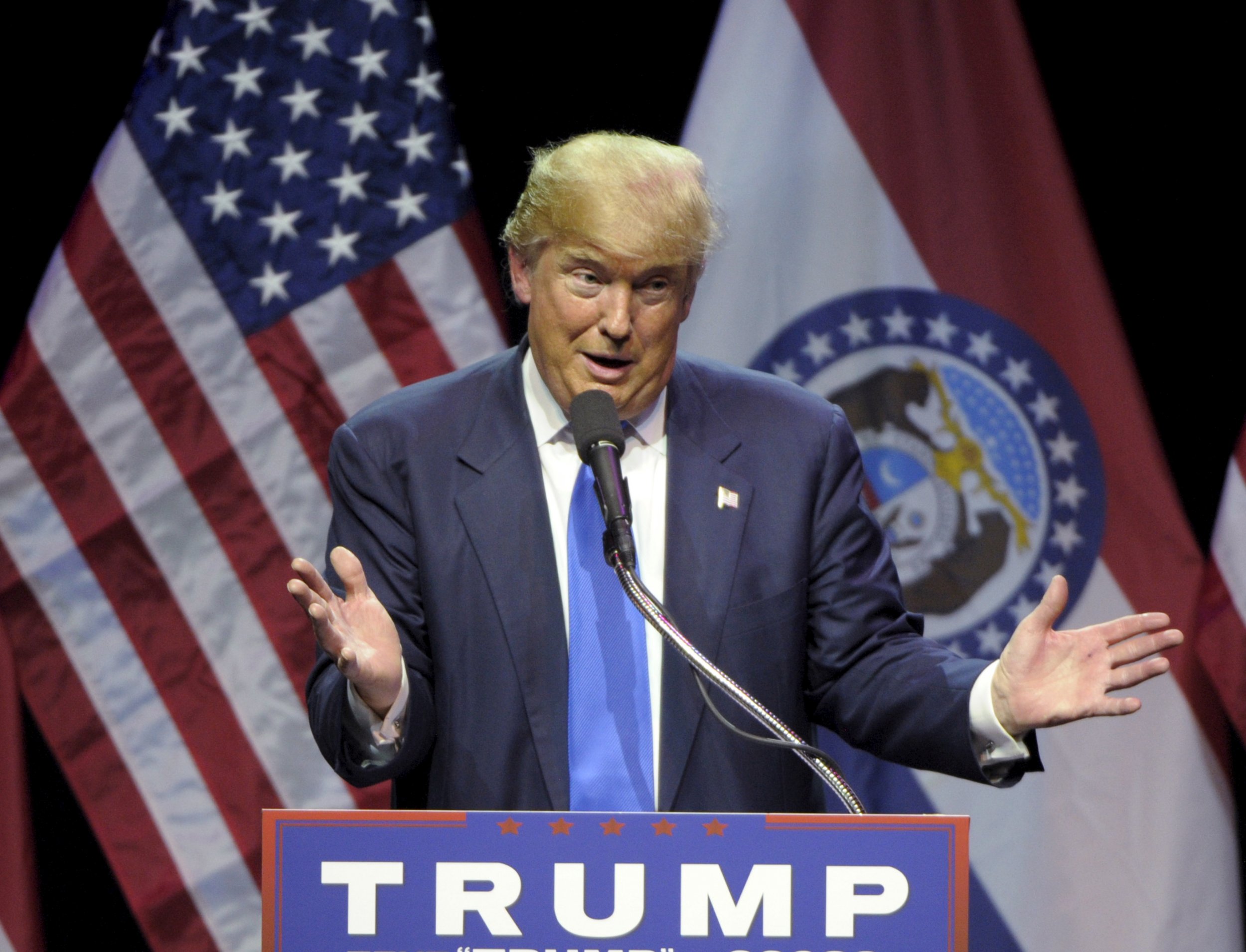 Republican presidential candidate Donald Trump has said he has asked his staff to look into paying the legal fees for a supporter facing charges after allegedly sucker-punching a protester at a Trump campaign rally on Thursday.
"I do want to see what that young man was doing," Trump said on Meet the Press in a clip that aired Sunday, referring to the protester who was punched. When asked several times whether he would pay the legal fees for the man facing charges, Trump said, "I've actually instructed my people to look into it, yes."
Criticism over what some people describe as a violent atmosphere at Trump's campaign rallies has heightened in recent days. Though footage had previously surfaced of his supporters shoving and otherwise scuffling with protesters at events earlier in the campaign, recent incidents, including one during an event in Fayetteville, North Carolina on Thursday, have some calling on Trump to address the violence.
Footage from various angles shows a Trump supporter apparently sucker-punching a protester as he exited the venue in Fayetteville. The supporter appears to be white and the protester appears to be black. After the punch, the protester is seen on the ground, apparently having been tackled by security. The supporter, identified by police as John McGraw, 78, was later arrested and charged with assault, disorderly conduct and communicating threats.
Responding to questions about the incident, Trump said on NBC's Meet the Press, "I don't accept responsibility. I do not condone violence in any shape and I will tell you from what I saw, the young man stuck his finger up in the air and the other man sort of just had it. But still I don't condone violence."
He added, "We have very peaceful rallies…. We have very, very little problem."
Trump has previously said he would offer legal assistance to supporters who "knock the hell" out of protesters. At an event in Iowa in February, he said, "So if you see somebody getting ready to throw a tomato, knock the crap out of 'em, would you? Seriously. OK? Just knock the hell—I promise you, I will pay for the legal fees. I promise. I promise."
He said on Meet the Press that he made that remark because law enforcement had informed him that an attendee or attendees planned to throw tomatoes at him, and he said he does not regret making the remark. "Now, you get hit in the face with a tomato, let me tell you, with somebody with a strong arm at least, let me tell you, it can be very damaging, not good," he said.
Violent scuffles involving Trump supporters, protesters and law enforcement have continued in recent days, at Trump campaign events in Illinois, Ohio and Missouri.
A Trump campaign rally was canceled in Chicago on Friday in part because there were many protesters outside and inside the venue. And at a campaign event in Ohio on Saturday, a man attempted to rush the podium as Trump spoke, prompting law enforcement to surround Trump and tackle and carry out the man. Trump later said he believed the man has links to the Islamic State militant group.
Elaborating on the ISIS comment on Meet the Press, Trump said, "He was playing Arabic music, he was dragging the [American] flag along the ground, and he had Internet chatter with ISIS and about ISIS."
On Saturday, police in Kansas City, Missouri used pepper spray on protesters outside of a Trump campaign rally.
In a statement, the Kansas City police said it used pepper spray two times outside of the rally and arrested two people "who refused to follow the law."
The statement also said, "[The] majority of people exercised their rights peacefully. Thank you for that."
On Twitter on Sunday, Trump seemed to suggest that his backers start attending rallies for Democratic presidential candidate Bernie Sanders. "Bernie Sanders is lying when he says his disruptors aren't told to go to my events. Be careful Bernie, or my supporters will go to yours!" he wrote.
Wyoming and three non-states, including Washington, D.C., held caucuses and primaries on Saturday. Republican presidential candidate Ted Cruz won the convention in Wyoming and Marco Rubio won in Washington. Democratic presidential candidate Hillary Clinton won the primary in the North Mariana Islands and Cruz won in Guam.
Former House Speaker John Boehner endorsed Republican presidential candidate John Kasich on Saturday, according to reports.
Florida and Ohio are among the states that hold important primaries on Tuesday.