Donald Trump Says Peace in the Middle East Is 'Not as Difficult as People Have Thought'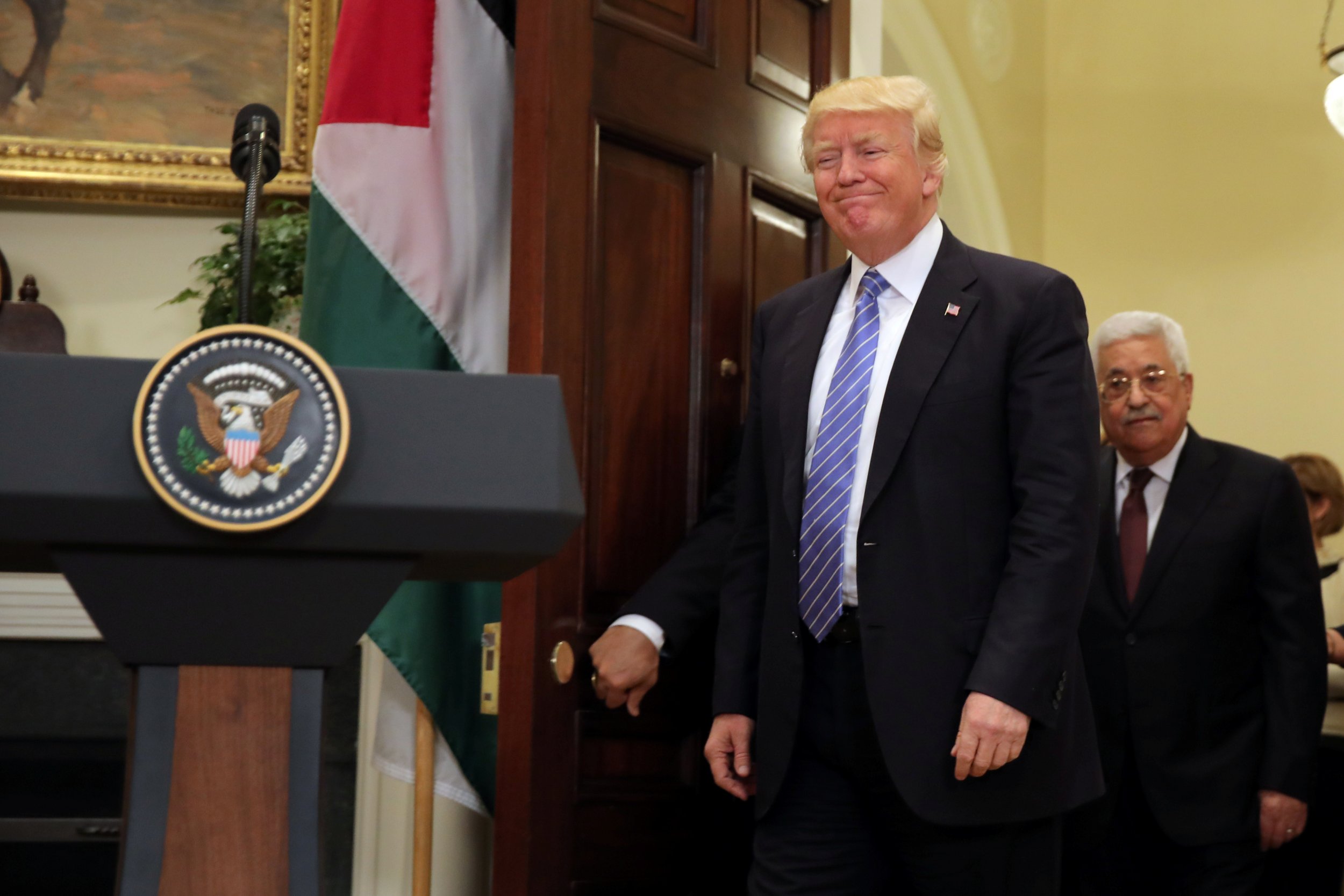 Updated | U.S. President Donald Trump told Palestinian leaders visiting the White House Wednesday that he does not think achieving peace in the Middle East will be as difficult as previously thought.
Sitting down to lunch with Palestinian President Mahmoud Abbas and senior U.S. and Palestinian officials, Trump said securing a peace deal between Israelis and Palestinians after more than six decades of conflict was "frankly maybe not as difficult as people have thought over the years."
He added that he believed both parties were willing to negotiate. "We need two willing parties. We believe Israel is willing, we believe you're willing, and if you both are willing, we're going to make a deal," he said, according to Reuters.
Immediately after his meeting in the Oval Office with Abbas—the first time the two men have met—Trump said he would ""to do whatever is necessary" to broker a peace deal. He said he would act as mediator between Abbas and Israeli Prime Minister Benjamin Netanyahu.
Read More: Trump 'seriously considering' moving U.S. Embassy To Jerusalem: Pence
"I'm committed to working with Israel and the Palestinians to reach an agreement," Trump said, in comments released by the White House. But any agreement cannot be imposed by the United States or by any other nation. The Palestinians and Israelis must work together to reach an agreement that allows both peoples to live, worship, and thrive and prosper in peace."
In his first reaction to the White House meeting, Israeli Prime Minister Benjamin Netanyahu said Thursday that Palestinians "name their schools after mass murderers of Israelis and they pay terrorists."
Netanyahu criticized Abbas for telling Trump that Palestinians sought to impart a "culture of peace" to their children, the Times of Israel reported. The Israeli prime minister remarked the statement was "unfortunately not true."
Netanyahu, who met Trump in Washington in February, said Thursday he "fervently shares" the U.S. president's commitment to advancing peace.
"I hope that it's possible to achieve a change and to pursue a genuine peace. This is something Israel is always ready for. I'm always ready for genuine peace," Netanyahu said, before a sit-down with Romanian Prime Minister Sorin Grindeanu.
Of all the U.S. presidents that have tried and failed to solve the Middle East's most intractable conflict, Bill Clinton was perhaps the most successful; he brought together Palestinian leader Yasser Arafat and Israeli Prime Minister Yitzhak Rabin in 1993 to sign the Oslo Accords.
In 1995, Rabin was assassinated by a radical right-wing Israeli for his role in the deal and by 2000 the Second Intifada—'uprising' in English—led to open warfare between Israeli forces and Palestinian militants in the West Bank and Gaza. In November 2004, Yasser Arafat died in a Paris hospital after falling ill during a protracted siege of his compound in Ramallah by the Israeli Defense Forces (IDF).
In January 2008, George W. Bush called on Israel to end its occupation of the West Bank and predicted that a peace deal would be signed before he left office. But by the time Barack Obama took over the following year, talks had reached another stalemate.
As Secretary of State from 2013, John Kerry was optimistic about securing a deal until talks broke down in April 2014. The war in Gaza broke out just months later.
Trump's attitude to the Israeli-Palestinian conflict has been inconsistent since he took office in January.
In a February meeting with Netanyahu he appeared to drop Washington's longstanding commitment to eventually reaching a two-state solution—under which an independent Palestinian state would exist alongside Israel— and angered Palestinians by threatening to move the U.S. embassy to Jerusalem.
But he also invited Abbas and his cabinet to Washington and has been outspoken in his criticism of Israel over its settlement building in the West Bank.
Following his meeting with Trump, Abbas reiterated his demands for a Palestinian state based on borders that existed before the 1967 Six Day War, with its capital in East Jerusalem.
This article has been updated to include comments made by Israeli Prime Minister Benjamin Netanyahu on Thursday.