Trump Says Nancy Pelosi Should Spend Less Time on Impeachment and More Time on Cleaning up San Francisco 'before the Whole City Rots Away'
President Donald Trump has revisited casting aspersions about the cleanliness of a political adversary's city in his latest attack on House Speaker Nancy Pelosi.
Trump took another swipe at Pelosi who is spearheading an impeachment inquiry following accusations that he pressured his Ukrainian counterpart to find dirt on Joe Biden and his son Hunter.
On Saturday morning, Trump appeared to express the sentiment that time spent on impeachment was a zero-sum game, and thus detracted from efforts to make sure her city reached his standards of spruceness.
He wrote: "I can't believe that Nancy Pelosi's District in San Francisco is in such horrible shape that the City itself is in violation of many sanitary & environmental orders, causing it to owe the Federal Government billions of dollars—and all she works on is Impeachment."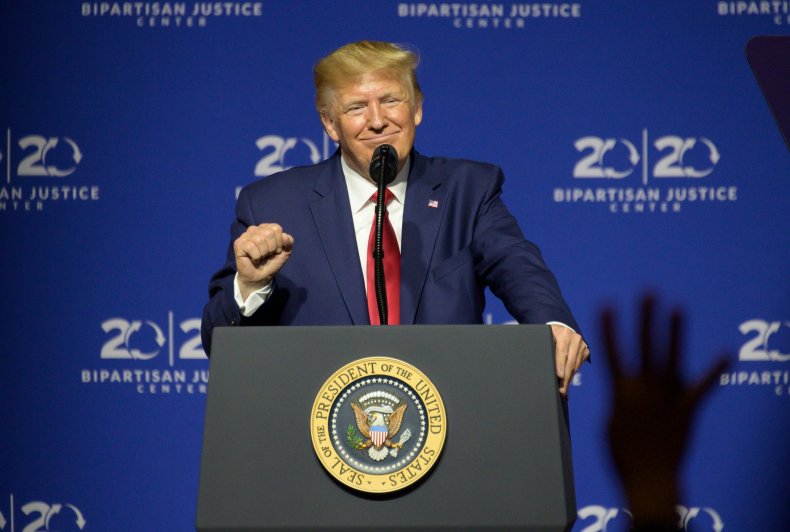 In a follow-up tweet, he went on to say: "We should all work together to clean up these hazardous waste and homeless sites before the whole city rots away.
"Very bad and dangerous conditions, also severely impacting the Pacific Ocean and water supply. Pelosi must work on this mess and turn her District around!"
The criticism of Pelosi's city had echoes of his comments about the late Elijah Cummings, the Democratic chair of the House oversight committee, who died in office aged 68 last week.
In July, Trump was accused of racism when he derided Maryland's seventh congressional district, which Cummings represented, by calling the predominantly African-American area "a disgusting, rat and rodent infested mess" and "the worst run and most dangerous [district] anywhere in the United States".
Trump's relationship with African-American voters was in the spotlight on Friday when he gave a speech at the historically black Benedict College in Columbia, South Carolina.
"All my life I have been committed to advancing fairness for the African-American community," he said, although he has been in the firing line over his racially-charged comparison of his impeachment with a "lynching."
During his speech he compared his threat of impeachment to the rate of prosecutions African-Americans face, by saying, "You know I have my own experience. You see it's a terrible thing going on in our country. It's an investigation in search of a crime."
His visit to the conference on criminal justice reform was condemned by the head of the South Carolina NAACP, which took issue with Trump's previous statements on race,
However The Los Angeles Times reported that there were very few black voters present at his address and only seven students from the college in the hall, with half the seats were reserved for administration allies and guests.
Following on from his speech, Trump took aim in another tweet at the decision by Democrat 2020 contender Kamala Harris who has refused to attend the criminal justice conference because of Trump's presence.
Trump wrote on Saturday morning: "Badly failing presidential candidate @KamalaHarris will not go to a very wonderful largely African American event today because yesterday I received a major award..."
He went on to say that his administration was behind the "best unemployment numbers EVER," which in his view "is more than Kamala will EVER be able to do for African Americans!"