Nancy Pelosi Is 'Either Really Stupid or She's Really Lost It,' Says Trump in Fiery Minneapolis Political Rally
President Donald Trump attacked Nancy Pelosi at a raucous campaign rally in Minneapolis, saying she was "either really stupid or she's really lost it" in a spate of insults thrown at leading Democrats.
The president accused the House Speaker of harboring a "certain dishonesty" in an attempt to discredit the ongoing impeachment inquiry in front of supporters gathered at the Target Center in Minneapolis, Minnesota last night.
During his speech, which lasted for more than a hour, the commander-in-chief did not only attack Pelosi. He called Democrats "very sick" and rattled off insults aimed at several senior figures pushing for his impeachment—including House Intelligence Committee chairman Adam Schiff and former Vice President Joe Biden.
Speaking about House Speaker Pelosi at the Minneapolis rally, Trump said: "She's either got one of two problems: she's either really stupid or she's really lost it, or maybe there's a certain dishonesty there."
The president's comments about Pelosi came a day after she accused him of "trying to make lawlessness a virtue" after the White House sent a letter to the House Speaker on Tuesday saying it would not cooperate with the impeachment inquiry.
Pelosi launched the impeachment inquiry into President Trump last month following a whistleblower complaint alleging that the commander-in-chief had tried to pressure Ukrainian President Volodymyr Zelensky to investigate Democratic 2020 primary candidate Joe Biden.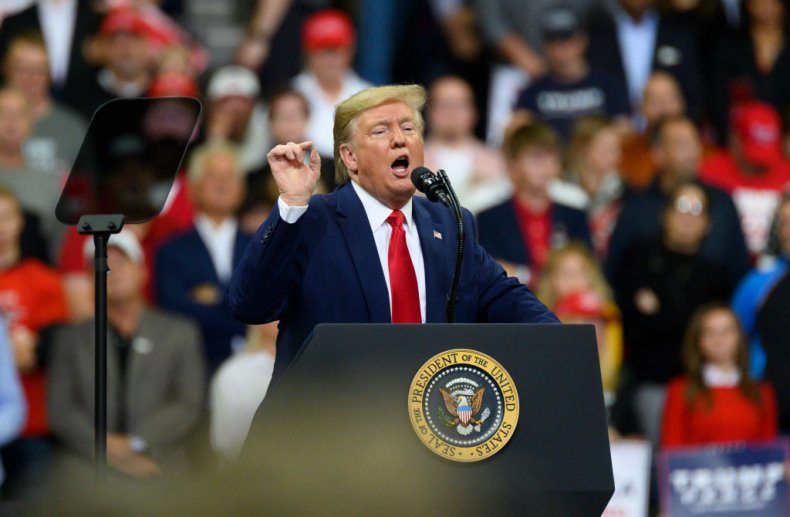 Trump has repeatedly tried to dismiss the allegations and impeachment inquiry while making unsubstantiated claims about Joe Biden—namely that he pushed for a top Ukrainian prosecutor to be removed from his post to benefit his son Hunter Biden, who was on the board of a Ukrainian gas company.
In an attack on Biden, Trump first said Hunter "knew nothing about anything" and was a "loser."
He then added: "Your father was never considered smart. He was never considered a good senator.
"He was only a good vice president because he understood how to kiss Barack Obama's ass."
Biden hit back at the president in a tweet last night, saying he himself had spent his evening "talking about fundamental respect every human being deserves" at the CNN/Human Rights Campaign town hall.
"You spent yours showing how little respect for anyone else you have," he added. "America is so much stronger than your weakness."
Trump's bitter speech in Minneapolis last night came on the same day polling by Fox News found a majority of Americans wanted to see the president impeached.
The poll found that 51 percent of respondents from a survey of 1,003 registered voters wanted to see Trump impeached and removed from the White House.
Around 40 percent of those polled said they did not believe the president should be impeached.
During his rally Trump took aim at "crooked polls," claiming they were no different than "crooked writers" in his latest attack on the media.