Trump Panel Accused of Targeting Minority Voters Says It's Not Hiding Anything Because It's Not Doing Much Work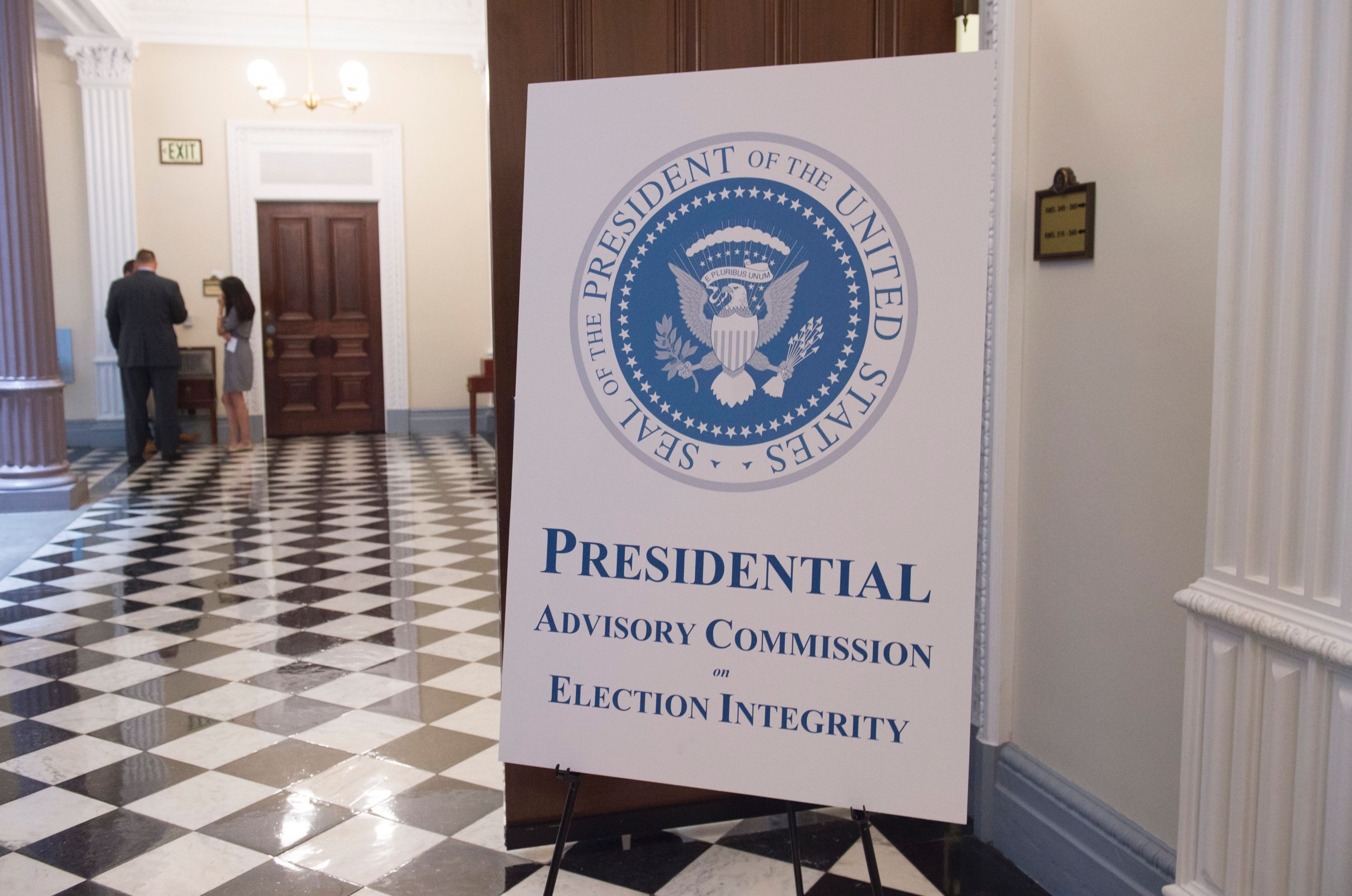 Justice Department lawyers say the federal "voter fraud" commission member who's suing over the panel's secrecy has nothing to worry about—because the commission isn't doing much work.
Maine's secretary of state, Matthew Dunlap, is suing the controversial Commission on Election Integrity, which President Donald Trump created after making unsubstantiated claims that millions of people cast illegal ballots in 2016.
Dunlap, a Democrat, said that even though he's a member, no one will tell him what background work the panel is doing or even give him a date for the next meeting, forcing him to go to court on November 9 to demand information.
Instead of getting answers as a result of that lawsuit, Dunlap said he got attacked—by other panel members—for even trying to get information. That sent him back to federal court Thursday to file a new motion asking a judge to speed up the case.
"I'm not asking for anything ridiculous," he told Newsweek by phone Thursday.
The election commission, which Trump has called his "very distinguished voter fraud panel," has caused a national ruckus from the start.
Researchers and civil rights groups say there's abundant evidence that voter fraud is not a major issue in the U.S. They argue that conservatives really want to use the panel to push for changes that would make it harder for non-whites to vote. Privacy groups and state officials have pushed back against panel requests for detailed information on every registered voter in the U.S., and the panel has become a magnet for lawsuits as well as the target of a federal investigation.
Dunlap initially planned to ask the court on Thursday to protect him from being kicked off the panel or other retaliation, pointing to a Newsweek article quoting a conservative panelist, Hans von Spakovsky, saying the Maine Democrat "should be sanctioned for filing a frivolous lawsuit and should resign from the commission."
The Justice Department, in a letter to an attorney working with Dunlap, said before the case was filed that the commission wouldn't "punish, retaliate or terminate" Dunlap for asking questions.
At the same time, Justice attorneys insisted in the letter, which Dunlap's office provided to Newsweek, that Dunlap has not been excluded from the commission work, writing that "no future meeting has been proposed or scheduled," and what's more, "no substantive analysis or deliberations is ongoing."
The panel is officially chaired by Vice President Mike Pence, but is in fact run by Kris Kobach, who is the secretary of state of Kansas and a Republican candidate in the 2018 race for governor there. Kobach has called Dunlap's initial lawsuit "baseless and paranoid," and has also said Dunlap isn't being frozen out.
Kobach's office didn't respond to a request for comment about Thursday's court filing, nor did von Spakovsky.
A spokesman for J. Christian Adams, another panelist whose work is focused on pursuing alleged cases of improper or fraudulent voting, forwarded a tweet when asked for comment regarding Dunlap's complaints. The tweet from the Public Interest Legal Foundation, which Adams runs, mocked Dunlap as "the fresh new face of victim and fragility culture."
Dunlap laughingly called the tweet "brilliant" and said it proves his point.
"If they are so adamant [as] to be reduced to name-calling, then maybe there's something that the American people ought to know about what they're doing," he said. "If they think they're getting under my skin, they need to work on something different. This is our right to vote."
Trump Panel Accused of Targeting Minority Voters Says It's Not Hiding Anything Because It's Not Doing Much Work | U.S.