Trump, Pence to Visit Wisconsin as State Sees 1 Million Absentee Ballot Requests
President Donald Trump and Vice President Mike Pence are both due to visit Wisconsin next week to rally support in the state, which has seen around 1 million absentee ballot requests—more than a quarter of its registered voters—made ahead of the election.
Pence is due to hold a "Make America Great Again" even in Janesville on September 14, while Trump will host a "Great America Comeback Event" in Mosinee on September 18.
Trump won the state narrowly in 2016, the first Republican presidential candidate to do so since Ronald Reagan in 1984, with little more than 22,000 votes between himself and then-rival Hillary Clinton.
Given Democratic presidential candidate Biden's lead in national polling, Trump needs to retain those crucial victories this time out if he is to secure enough electoral college votes to win a second term in the White House.
While Trump and Pence look to rally support in the state, the Biden campaign has been trying to boost the number of voters requesting absentee ballots there amid the coronavirus pandemic.
Polling suggests Biden voters are more likely to vote by mail than those who support Trump, emphasizing the need for the Democratic campaign to bolster turnout by ensuring people are signed up in time for absentee ballots.
On Thursday, Danielle Melfi, Wisconsin state director for Biden, wrote on Twitter: "As of today, *1M* Wisconsinites have requested their absentee ballots. Join the squad and request yours today."
Alongside this, she shared a link on doing so, with the hashtag #WIVoteEarly.
Wisconsin Elections Commission Administrator Meagan Wolfe said Thursday there had been almost 1 million ballot requests, in comments to WBAY. She encouraged those looking to vote absentee to request this early and to look to cast their ballot early too.
"Making sure you're submitting that absentee request as soon as possible and once you get that ballot make sure you're getting that back as soon as possible so that you have enough time for it to make it back to your municipal clerk by 8PM on Election Day," she said.
According to the state government, Wisconsin had 3,476,347 registered voters as of September 1, meaning 28 percent have requested an absentee ballot.
President Trump has claimed that widespread mail-in voting could lead to rampant fraud in the election, though there is little evidence to suggest this will happen, and voting fraud is rare in the U.S.
Biden is ahead in polling for Wisconsin at present, with an average lead of 6.9 percent according to FiveThirtyEight's tracker. A recent poll from Emerson College gave Biden a 7 point lead on Trump among likely voters.
A separate survey found most voters believed Trump's response to the police shooting of Jacob Blake, in the state's city of Kenosha, was harmful.
Biden and Trump both visited earlier this month, following Blake's shooting.
Trump's visit was against the wishes of some city officials who thought it could add to unrest in Kenosha, though others welcomed him.
The president did not meet Blake's family, though Biden did. The Democrat also spoke with Blake over the phone.
Asked for comment on the situation in Wisconsin, Samantha Zager, deputy national press secretary for the Trump campaign, said: "Joe Biden refused to set foot in Wisconsin for over 670 days, opting to shirk the state during his own convention, then use it as a political backdrop after realizing the American people object to his failure to stand up to the violence being perpetrated by his supporters.
"President Trump won Wisconsin in 2016 because residents in the state had enough with career politicians like Biden who spend decades in DC without accomplishing anything, and Biden continues to prove that's exactly who he is.
"We look forward to Wisconsinites casting their ballots in the Badger State—whether in person or, as President Trump has said, by absentee ballot for those who cannot make it to the polls."
Zager referred to comments from Trump that absentee ballots are different to "100% Mail-In Voting."
Newsweek has contacted the Biden campaign for comment.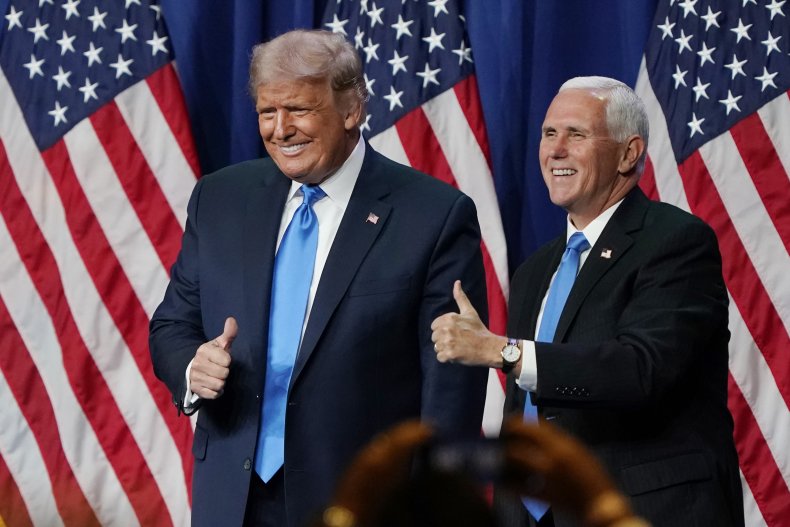 Update 09/14/20: This page was updated with comment from the Trump campaign.