Trump Administration Asked Pentagon for 'Far-Reaching Military Options' to Attack Iran, Report Says
The Trump administration asked the Pentagon for "far-reaching military options" to attack Iran in September, causing concern among military and diplomatic officials, according to a new report.
The Wall Street Journal reported on Sunday that, following a mortar attack by militants allegedly linked to Iran targeting the area where the U.S. embassy in Baghdad is located, President Donald Trump's National Security Council led by John Bolton requested the Pentagon to draw up plans for a potential strike on Iran. Although it's unclear whether Trump personally knew that Bolton's team had made the request, it caused concern among Pentagon and State Department officials, according to the article.
"It definitely rattled people," a former senior U.S. administration official told the newspaper. "People were shocked. It was mind-boggling how cavalier they were about hitting Iran."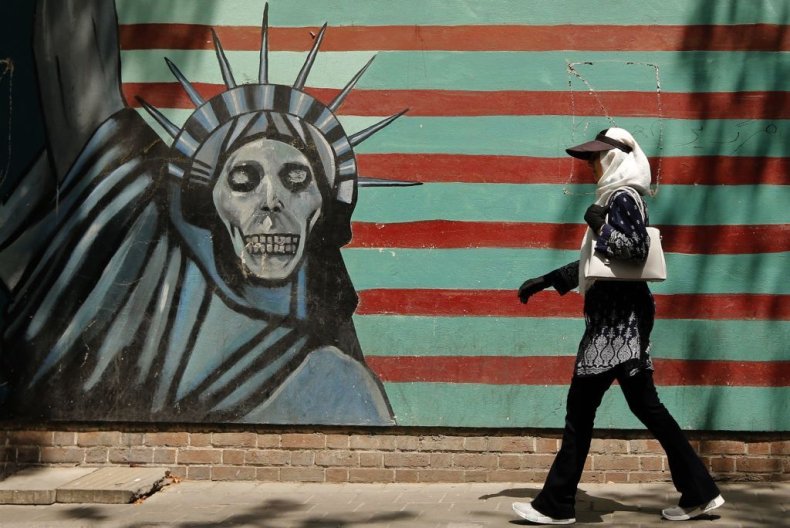 Garrett Marquis, a spokesman for the National Security Council, told WSJ that it's the team's job to "provide" the president with "options" in anticipation of threats. He added that the council continues "to review the status of our personnel following attempted attacks on our embassy in Baghdad and our Basra consulate, and we will consider a full range of options to preserve their safety and our interests."
Responding to the WSJ report, Jamal Abdi, the president of the National Iranian American Council (NIAC), slammed Bolton and others like him in Washington as "hawks" who aim to trigger a "disastrous war that the American people want no part of."
"This administration takes an expansive view of war authorities and is leaning into confrontation with Iran at a time when there are numerous tripwires for conflict across the region," Abdi told Newsweek in an emailed statement. "It is imperative that this Congress investigate Bolton's request for war options and pass legislation placing additional legal and political constraints on the administration's ability to start a new war of choice with Iran that could haunt America and the region for generations."
Tensions have increased between Washington and Tehran since Trump announced the withdrawal of the U.S. from the Joint Comprehensive Plan of Action, known commonly as the Iran nuclear deal, in May of last year. The international treaty, which was signed by former President Barack Obama as well as leaders of the United Kingdom, France, Germany, the European Union, Russia and China, aimed to curb Tehran's nuclear ambitions in exchange for sanctions relief and international investment. Trump had long criticized the deal, arguing that it allowed Iran to expand its influence within the Middle East, despite consistent reports from the United Nations nuclear watchdog that the Islamic Republic remained in full compliance with the terms of the deal.
After Trump withdrew from the agreement, his administration moved to re-implement sanctions on Tehran in August, expanding them further in November. Fiery rhetoric has been exchanged between Washington and Tehran, leading many to fear the possibility of a military confrontation. However, Iran's Supreme Leader Ayatollah Ali Khamenei has said that there "will be no war," insisting that his country has "never started a war."
The WSJ report came several days after Secretary of State Mike Pompeo doubled-down on the Trump administration's hardline policy toward Iran, slamming the decision by the Obama administration to negotiate instead of confront as "misguided."
"President Trump has reversed our willful blindness to the danger of the [Iranian] regime and withdrew from the failed nuclear deal, with its false promises," the secretary said on Thursday while visiting Egypt.
In September, following the attack near the U.S. embassy in Iraq, the White House released a warning to Iran.
"The United States will hold the regime in Tehran accountable for any attack that results in injury to our personnel or damage to United States government facilities," the statement said. Pompeo later told CNN : "Iran will be held accountable for those incidents," although he avoided saying there would be a military response.
Editor's note: This article was updated with comments from Jamal Abdi, president of the NIAC.