Donald Trump Is 'Perfectly Happy' To Levy New Tariffs on $300 Billion of Chinese Goods, Wilbur Ross Says
President Donald Trump is "perfectly happy" to levy tariffs on an additional $300 billion of Chinese goods if the two countries fail to reach a trade agreement, Commerce Secretary Wilbur Ross said on Monday.
"We will eventually make a deal, but if we don't, the president is perfectly happy with continuing the tariff movements that we've already announced, as well as imposing the new ones that he has temporarily suspended," Ross said while speaking with CNBC's Phil LeBeau.
The Trump administration has recently emphasized that, if the two countries fail to agree upon a trade deal, the U.S. will move ahead with threatened tariffs on all goods imports that have not been affected by ongoing tensions, which will largely affect consumer goods. Although Trump has said that he and Chinese President Xi Jinping will meet at the G20 summit later this month, Beijing has not confirmed that the leaders of the world's two largest economies will speak.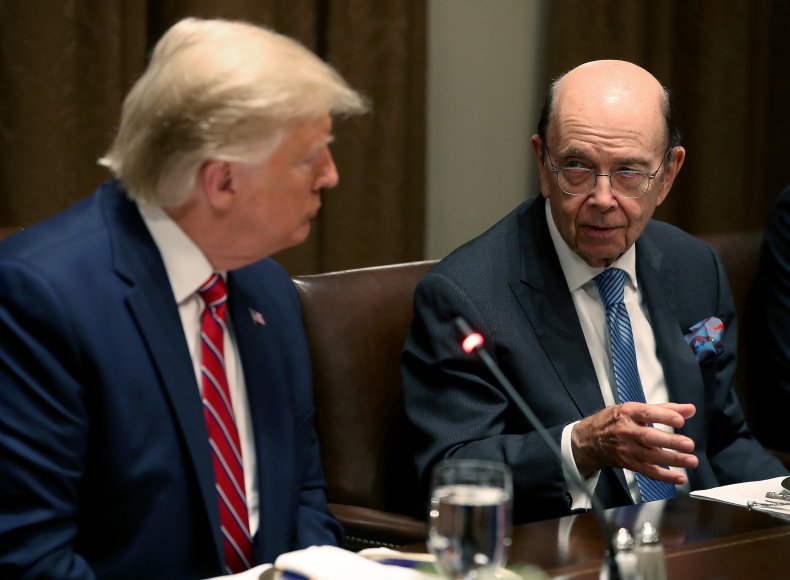 Trump has said that he will wait until after the summit to determine whether he will place tariffs on the additional $300 billion of Chinese imports. While Trump seemed to place great importance on the futuremeeting last week, saying last Monday that he would levy the tariffs if Xi did not meet him at the G20, he laterappeared to change his tune. The president said Friday that "it doesn't matter" if Xi appears at the G20, since "eventually they're going to make a deal."
Despite Trump's statements about being able to strike a deal, the two countries have fundamental differences that analysts warn will be difficult to settle. Trump has focused his grievances with China on two issues: America's trade deficit and allegations that Beijing is engaging in unfair intellectual property practices.
Since ratcheting up trade tensions last month by raising tariffs from 10 percent to 25 percent on $200 billion of Chinese imports, Trump has also targeted Chinese tech companies. Secretary of State Mike Pompeo said on Sunday that Trump will with raise another contentious issue—the Hong Kong protests—while speaking with Xi at the G20 summit. Huge protests occurred over a controversial bill which would have allowed for extradition from Hong Kong to mainland China.
Facing intense public backlash, Hong Kong Chief Executive Carrie Lam indefinitely suspended the bill, but did not withdraw it. The bill is believed to have been initiated by Lam's government and not Beijing, which has long sought to exert greater control over Hong Kong.
"The Chinese Central Government expresses its support, respect and understanding for the [Hong Kong] government's decision and will continue its staunch support for Chief Executive Carrie Lam and the... government in governing Hong Kong in accordance with law," Foreign Ministry spokesman Geng Shuang said after Lam suspended the bill.