Melania Trump Corrects Donald on Horse Statue Gift During UK Visit: 'We Gave That to the Queen'
First lady Melania Trump appeared to correct her husband President Donald Trump during their United Kingdom state visit on Monday when he seemed to forget that he had previously gifted a pewter horse to Queen Elizabeth II.
The Trumps were on a tour of Royal Collection artifacts at Buckingham Palace's picture gallery when the president was shown a pewter horse he had given the Queen during his last visit, and asked if he recognized it.
"No," the president said, according to the Guardian.
"Yes, this is one of ours," the first lady reportedly said to rescue her husband.
The Sun also reported the exchange.
The Trumps gave the pewter horse to the Queen when they met her at Windsor Castle last July.
Some Twitter users were more forgiving of the president than others.
"And it was something he gave to THE QUEEN OF ENGLAND," one Twitter user wrote.
"Yeah, I don't think my husband would recognize gifts we'd given someone either," another Twitter user wrote.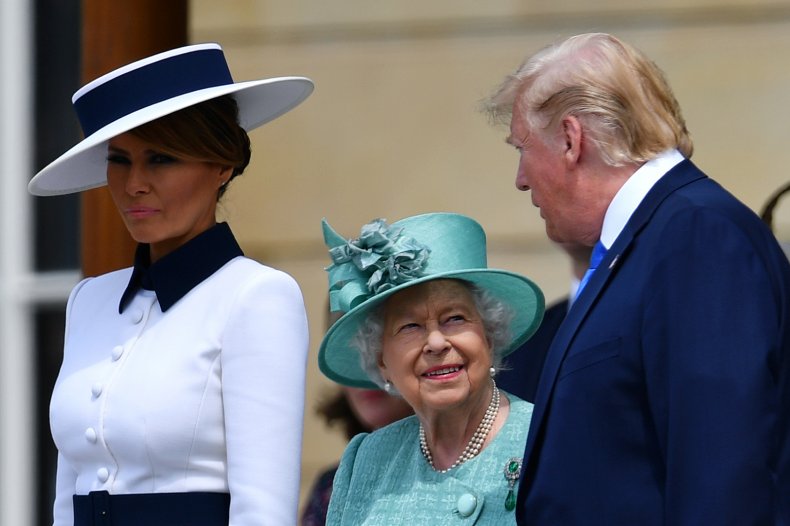 The president had a better recollection of a book of tartans that was opened to a page with the yellow design of the MacLeod clan of his Scottish Hebridean mother.
"That's my tartan," Donald Trump said right away.
The Queen also showed the Trumps some golfing memorabilia as well as a copy of a draft of a telegram George VI sent to American general Dwight Eisenhower following the invasion of France on D-Day.
The Queen's gift to the president on Monday was a 1959 first edition of The Second World War by Winston Churchill in a leather box, her royal cypher and a Duofold pen set. The Queen gave the first lady a silver box with an enamel lid crafted by hand.
Donald and Melania Trump received a warm welcome on the palace lawn from the Prince of Wales and the Duchess of Cornwall.
It was not the first time the president has forgotten about gifts he has given others. His eldest son Donald Trump Jr. in December admitted that his father has been forgetful about gifts he has given and is a regifter.
"There was one Christmas where he may or may not have given me the gift that I had given him the year before because I monogrammed it," Trump Jr. told Extra TV. "And I'm like, 'I know you didn't get this,' 'How do you know that?' 'Because I gave it to you last year.'"