Trump Is Heading for a 'Red Mirage' Win on Election Night, Bloomberg-Funded Data Firm Says
President Donald Trump could appear to win the November election in an apparent landslide when the first results come in, but lose once counting mail-in ballots is completed days later.
Hawkfish, a data and analytics firm funded by former New York Mayor Michael Bloomberg, has warned that Trump could win a phantom victory on election night because of the time it takes to tabulate votes sent by mail.
The firm's CEO Josh Mendelsohn told Axios that this result would be a "red mirage" that could pose problems given the president's attacks on mail-in ballots and accusations of voter fraud by Democrats.
"We are sounding an alarm and saying that this is a very real possibility, that the data is going to show on election night an incredible victory for Donald Trump," Mendelsohn said.
"When every legitimate vote is tallied and we get to that final day, which will be some day after Election Day, it will in fact show that what happened on election night was exactly that, a mirage.
"It looked like Donald Trump was in the lead and he fundamentally was not when every ballot gets counted," he said.
Significantly more Democrats than Republicans are expected to vote by mail in this November's election as Trump's criticisms of the process have had an impact with GOP voters.
Hawkfish modeled several scenarios for election night, including one where the president would appear to win 408 electoral college votes to former Vice President Joe Biden's 130. However, when results come in from mail-in ballots, the picture could be very different, with a clear Biden victory a distinct possibility.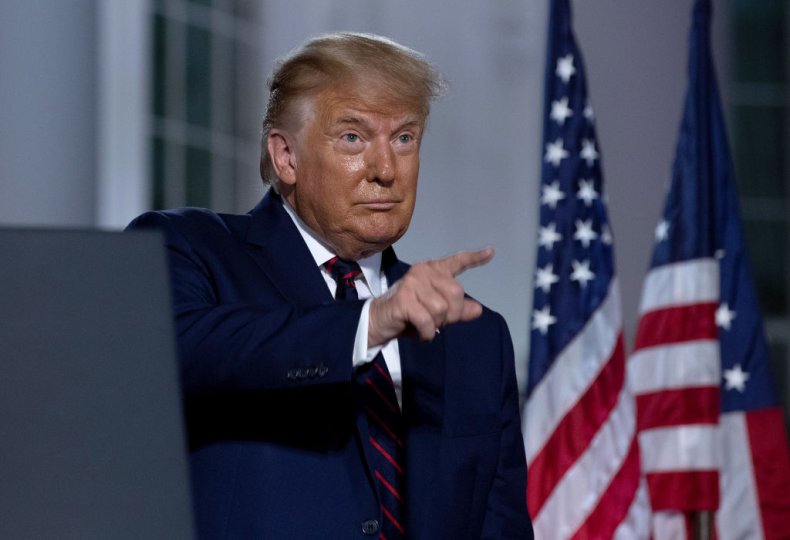 Under Hawkfish's scenario, the Democrat could beat Trump by 334 electoral college votes to 204 when all the votes are tallied. The count could take four days, however.
President Trump appears to have been preparing for just such an eventuality. He suggested on August 15 that the results of the election may not be known for "months" or "years."
"Usually at the end of the evening, they say 'Donald Trump has won the election, Donald Trump is your new president," he said.
"You know what? You're not going to know this—possibly, if you really did it right—for months or for years. Because these ballots are all going to be lost, they're all going to be gone," Trump said.
The president has also questioned the security of mail-in ballots and claimed the system will be open to voter fraud, despite evidence that voting by mail is safe and his own party's push to expand it.
"Universal mail-in voting is going to be catastrophic, it's going to make our country the laughing stock of the world," Trump said at a news conference on 16 August.
"The problem with the mail-in voting, number one, is you're never going to know when the election is over," he said.
The headline on this article was updated for clarity.