Trump Keeps Telling False Story About Obama Being Barred From The Philippines Over Duterte Feud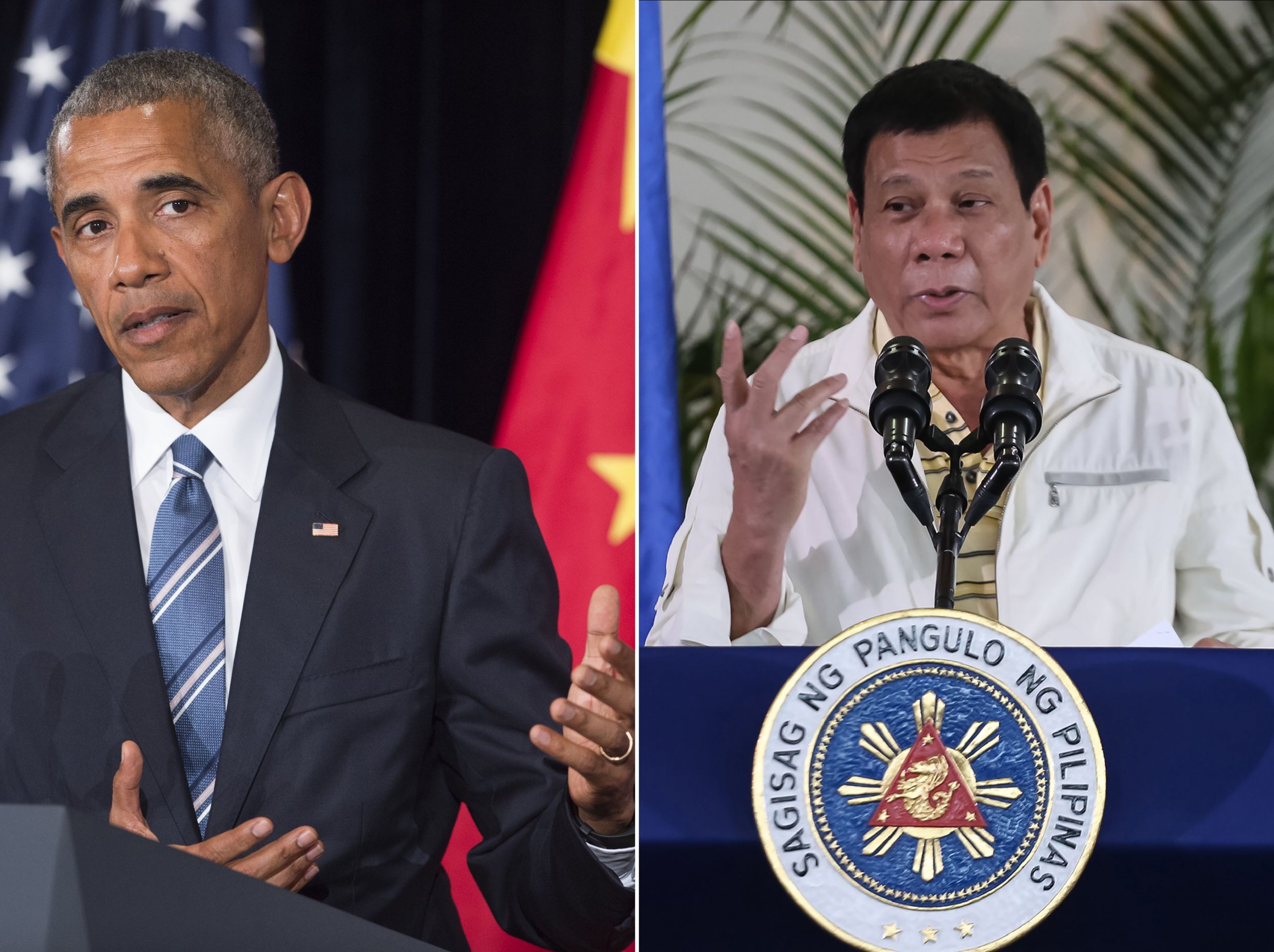 Before and after his trip to the Philippines this week, President Donald Trump pumped himself up by repeating a story about his predecessor, Barack Obama, being barred from even touching down in the island nation.
The problem: That's not true.
As pointed out by political journalists Tuesday, Trump's claim that Obama "didn't land" in the Philippines because of his "horrible" relationship with the nation misinterprets the entire situation.
It was Obama, in fact, who canceled a meeting with Philippines President Rodrigo Duterte in September 2016 after the two leaders got into a tiff over the mass killings in the Philippine drug war.
Duterte has overseen the deaths of more than 7,000 people as part of a brutal crackdown on alleged drug dealers and users, much to the horror of human rights groups worldwide. He told reporters that Obama needed to be respectful and not ask about the extrajudicial killings, saying, "Do not just throw away questions and statements. Son of a whore, I will curse you in that forum."
Obama took offense. He told White House staffers to look into whether any productive conversations were possible with Duterte and ultimately called off the trip.
"Obviously, the Filipino people are some of our closest friends and allies, and the Philippines is a treaty ally of ours. But I always want to make sure that if I'm having a meeting that it's actually productive and we're getting something done," Obama said at a news conference.
Duterte, who is notorious for his foul-mouthed rants about other leaders, later apologized.
At no point was Air Force One hovering over the Philippines without landing privileges for Obama, as Trump keeps suggesting. Trump has told his inaccurate version of this tale at least three times: on October 31, November 1 and now Tuesday.
What is, true, however, is that Trump and Duterte appeared to get along well. On Monday, Trump laughed when Duterte called journalists "spies," and the duo apparently bonded over their dislike of Obama. Duterte even sang a love song at Trump's request.
"I mean, the Philippines, we just could not have been treated nicer," Trump said Tuesday. He later added: "It's very important that we get along with the Philippines, and we really do. We have a very good relationship. I would actually say probably better than ever before."
Earlier this year, Trump told Duterte in a phone call that he was doing an "unbelievable job on the drug problem." Trump has not challenged Duterte on the mass killings and has given no indication that he will.