Trump Photo With Hitler Mustache Was an 'Unfortunate Incident,' Local Ohio Paper Apologizes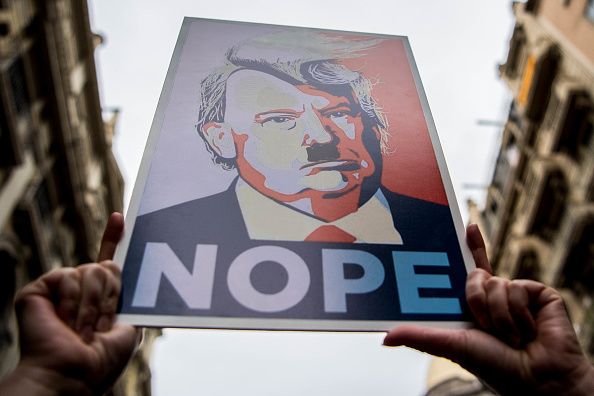 The Wapakoneta Daily News has apologized for publishing a photo on its front page that depicted President Donald Trump with a mustache clearly reminiscent of Adolf Hitler's iconic facial hair.
The local Ohio paper—from astronaut Neil Armstrong's hometown of Wapakoneta—published the image with the story, "Vote is close on Trump handling of natural disasters." This particular photo disaster was more unnatural.
The paper wrote on its Facebook page and on its site that it "regrets the image of President Donald Trump published on Page 1A of Monday's newspaper. While we edit photos on a daily basis, this particular photo was edited in a sloppy manner to make it appear the president had a mustache." But it wasn't just any old mustache; it was a small, neat rectangle positioned just below Trump's nose. Though the "toothbrush mustache" style was once popular both in the U.S. and Germany, it is now closely associated with the brutal Nazi dictator and no longer in vogue. The paper didn't acknowledge the obvious reference to one of the most recognizable villains in history.
"The Wapakoneta Daily News would never intentionally insult our president in any manner," the paper's statement continued. "It was an unfortunate incident which we continue to investigate and we offer our apologies to our readers."
The Wapakoneta Daily News did not immediately respond to Newsweek's request for further comment to explain how the error occurred or to respond to the likeness to Hitler. But the image, intentional or not, is hardly the first time a comparison between the two leaders has been invoked. Most recently, just two days after the local paper's snafu, a New York Times columnist wrote an op-ed arguing that while Trump isn't Hitler, the American president lies like the German chancellor did.
Related: Trump Is A Liar Like Hitler, New York Times Columnist Said
"There are strategies that Hitler used to secure power and rise—things that allowed his murderous reign—that can teach us about political theory and practice. And very reasonable and sage comparisons can be drawn between Hitler's strategies and those of others," Charles M. Blow wrote. "One of those lessons is about how purposeful lying can be effectively used as propaganda. The forthcoming comparison isn't to Hitler the murderer, but to Hitler the liar," he adds. And "Trump is no Hitler, but the way he has manipulated the American people with outrageous lies, stacked one on top of the other, has an eerie historical resonance."
The Ohio paper's post on Facebook garnered dozens of comments and some heated debate among readers who accepted the apology at face value, those who believed it was politically motivated and at least one who thought the Hitlerian mustache was a perfectly appropriate addition.
A sampling:
I'm sure this was unintentional, was just an error, and an apology was issued, try not to read much more into it than that
Sorry, apology NOT accepted! This was a purposeful, vile, nasty liberal edit that should have those responsible FIRED! Such hypocrisy in this country. Unacceptable!
An "apology" without TRUTHFULLY owning up to your actions is no apology at all, rather an insult. An insult to their subscribers whom they believe are stupid and gullible. Open your eyes
Donald Trump is clearly the second coming of Hitler. Anyone who doesn't see the parallels between Donald Trump and Adolf Hitler has their head firmly implanted in their behind.
i don't give a rats ass who you voted for or against. if you like him or dislike him. he is, at this time, the president of the united states and altering a picture to make him look like hitler is unacceptable. shame on you!