White House physician Sean P. Conley on Thursday said he "fully anticipates" that President Donald Trump will be safe to attend public events by the end of this week.
"Since returning home, his physical exam has remained stable and devoid of any indications to suggest progression of illness," Conley wrote in a memorandum. "Overall he's responded extremely well to treatment, without evidence on examination of adverse therapeutic effects."
Trump's physician noted that this Saturday will mark 10 days since the president's Thursday coronavirus diagnosis. "Based on the trajectory of advanced diagnostics the team has been conducting, I fully anticipate the President's safe return to public engagements at that time."
Trump completed his course of therapy for COVID-19 as prescribed by his team of physicians today.
Conley's latest assessment comes one day after he announced that Trump had started showing "detectable levels" of antibodies.
Newsweek reached out to the White House for additional information.
According to the U.S. Centers for Disease Control and Prevention (CDC), "antibodies most commonly become detectable 1–3 weeks after symptom onset, at which time evidence suggests that infectiousness likely is greatly decreased and that some degree of immunity from future infection has developed."
"The presence of antibodies may decrease a person's infectiousness and offer some level of protection from reinfection," the CDC noted. "However, it remains uncertain to what degree and for how long individuals with antibodies (neutralizing or total) are protected against reinfection with SARS-CoV-2."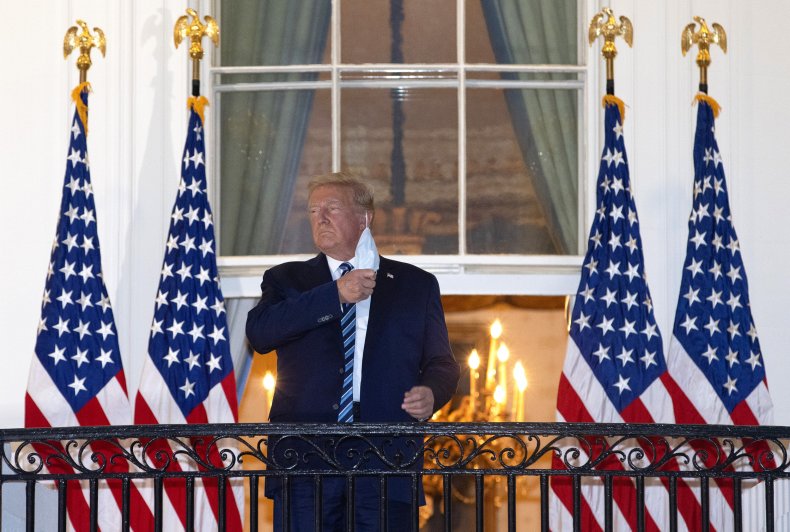 In a video shared to Twitter on Wednesday, Trump called his COVID infection "a blessing from God."
"This was a blessing in disguise," the president said. "I wasn't feeling so hot, but within a very short period of time, [doctors] gave me regeneron and other things too but I think this was the key. And it was like unbelievable, I felt good immediately."
Regeneron's treatment contains two antibodies that target COVID. REGN-COV2 hasn't been approved by the FDA, however, it's in the third phase of clinical trials.
Trump and first lady Melania Trump both announced their coronavirus infections in the early hours of Friday morning. Soon after, the president was transported to the Walter Reed National Military Medical Center, where he was treated for 3 days before returning to the White House.
On Wednesday, White House Chief of Staff Mark Meadows said the White House had strengthened precautions in preparation for Trump's return to working in the Oval Office.