Trump Picks Deputy Education Secretary with More Experience Than Betsy DeVos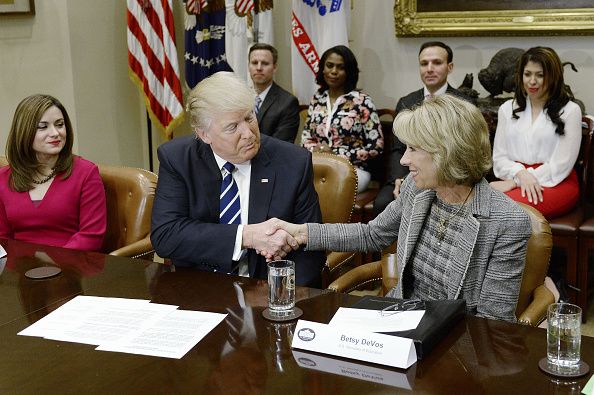 President Donald Trump's pick for the Department of Education's second in command is a South Carolina army veteran and gun supporter, who has more education experience than his superior Betsy DeVos.
The White House said on Tuesday the president would appoint Mitchell "Mick" Zais as deputy secretary of education. Zais shares similar convictions with his boss, including support for parents choosing to send their children to charter, private or religious schools with public money—but there's one main difference: he's been doing it for more than 15 years.
He has held more education roles than his superior, DeVos, who has never served as an educator or worked in education. DeVos has faced criticism from senators and education leaders who have said she lacks the credentials to lead the Department of Education.
"He does have the titles and the experience," Beth Phibbs, executive director of the South Carolina Association of School Administrators, tells Newsweek. "There are things he would know that she may not have experienced."
Even with more experience, the South Carolina education community says Zais had a rocky tenure in his job leading the state's education department between 2011 and 2015.
During his tenure, Zais fought to roll back the role of the federal government in the state's education affairs by ending its relationship with Common Core, the set of college-ready standards for students in kindergarten through 12th grade, which it adopted in 2010.
In favor of giving South Carolina more power, Zais took the state out of the Obama administration's grant program, Race to the Top, which rewarded states for education innovation and reform.
"The Race to the Top program expands the federal role in education by offering pieces of silver in exchange for strings attached to Washington," he told EdWeek in 2011.
Perhaps his most controversial move, Phibbs said, was when Zais announced that South Carolina didn't need a $144 million bailout from the Department of Education to retain teachers.
"It is odd, given what he said, that he actually took a job with the federal government," she said.
Before serving in education, Zais spent 31 years in the military, rising from an infantry soldier in the U.S. Army to the rank of brigadier general, where he led the effort to welcome Kosovo refugees to the U.S. in 1999.
"We should keep in mind not the model of Guantanamo, not the camps in Suriname...but Ellis Island where so many of our grandparents were welcomed or not welcomed years ago," he said in a 1999 press conference with Hillary Clinton. "We want the refugees who come to our country today and in the coming weeks to feel the warmth and the hospitality of the American people."
Zais also holds several degrees, including a bachelor's in science from the U.S. Military Academy at West Point and Ph.D. degrees in organizational behavior and social psychology from the University of Washington.
Zais, a Republican, followed his military career by running for the South Carolina superintendent seat in 2010, where he quickly became known for his conservative policies.
The veteran spoke in favor of gun rights in 2015 following an interview on a South Carolina lawmaker's plan to introduce a pro-gun curriculum in schools by creating a Second Amendment Education Act and making December 15 Second Amendment Awareness Day.
"As a veteran who carried a weapon in combat, I am a strong supporter of the Second Amendment," Zais told the Washington Times. "I believe that all students in America should be taught civics and the importance of our constitutional freedoms."
For 10 years, Zais led South Carolina-based Newberry College, a private college affiliated with the Evangelical Lutheran Church in America, as president before taking on the job as superintendent of the South Carolina Department of Education.
"He has a unique skillset that will be a tremendous asset as we work to give every child in America equal access to a great education," DeVos said in a statement. "It is my hope that the Senate will act quickly to confirm him."