Trump Pictured Without Mask at Michigan Ford Plant, Says He 'Didn't Want to Give Press the Pleasure'
President Donald Trump arrived without a mask in Ypsilanti, Michigan on Thursday afternoon for his visit to Ford's Rawsonville factory, but said he wore one in a back area of the plant where there was no press.
Trump practiced social distancing from the four executives that showed him around the plant, which has been repurposed to manufacture ventilators. He was the only one in the group not wearing a mask.
The president told reporters that he did, however, wear both a mask and goggles in an area where Ford executives "preferred it," but which was not visible to the press.
"I didn't want to give the press the pleasure of seeing it," Trump said.
The Ford plant, like all other manufacturing facilities in Michigan, requires that everyone in the facility must wear a mask. In-person visits have also been suspended in the state, but the ban has been waved for Trump's visit.
The president said that he was tested for the virus Thursday morning so wearing a mask was "not necessary." Trump proceeded to show reporters the mask he had allegedly worn moments before away from cameras, saying: "I think I look better in the mask." He did not put it on in front of the press.
Trump has yet to publicly wear a mask since the beginning of the pandemic, a practice that has been encouraged to slow the spread of the new coronavirus.
A recent poll from Quinnipiac University found that two-thirds of Americans think Trump should wear a mask when appearing in public.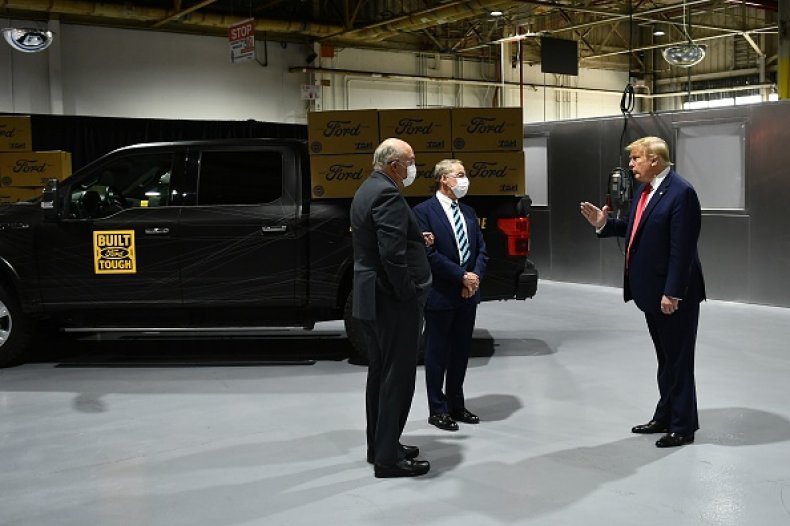 In anticipation of his visit, Michigan State Attorney General Dana Nessel wrote a letter to the White House asking the president to wear a mask because of his exposure to COVID-19.
"Anyone who has been recently exposed, including the President of the United States, has not only a legal responsibility, but also a social and moral responsibility, to take reasonable precautions to prevent further spread of the virus," the letter read.
During an appearance on CNN's New Day Thursday morning, Nessel said that Trump would be asked not to return to the state if he fails to wear a mask.
"If we know he's going to come to our state and we know he's not going to follow the law," she said, "I think we're going to have to take action against any company or any facility that allows him inside those facilities and puts our workers at risk."
Before leaving the White House Thursday morning, Trump said he didn't know if he would wear a mask at the factory. "We're going to look at it. A lot of people have asked me that question. I want to get our country back to normal. I want to normalize," he said.
While its policy requires everyone to wear personal protective equipment, Ford had left it up to Trump's discretion as to whether or not he wore a mask.
"The White House has its own safety and testing policies in place and will make its own determination," Ford spokesperson Rachel McCleery said on Tuesday.
The Ford Motor Company confirmed Trump wore a mask for a portion of the tour in a statement made Thursday.
"Bill Ford encouraged President Trump to wear a mask when he arrived. He wore a mask during a private viewing of three Ford GTs from over the years. The President later removed the mask for the remainder of the visit," the statement said.
05/21/20, 6:02 p.m. ET: This story has been updated with a statement from the Ford Motor Company.