Trump is Now Working With Democrats to Run the Country. Will It Last?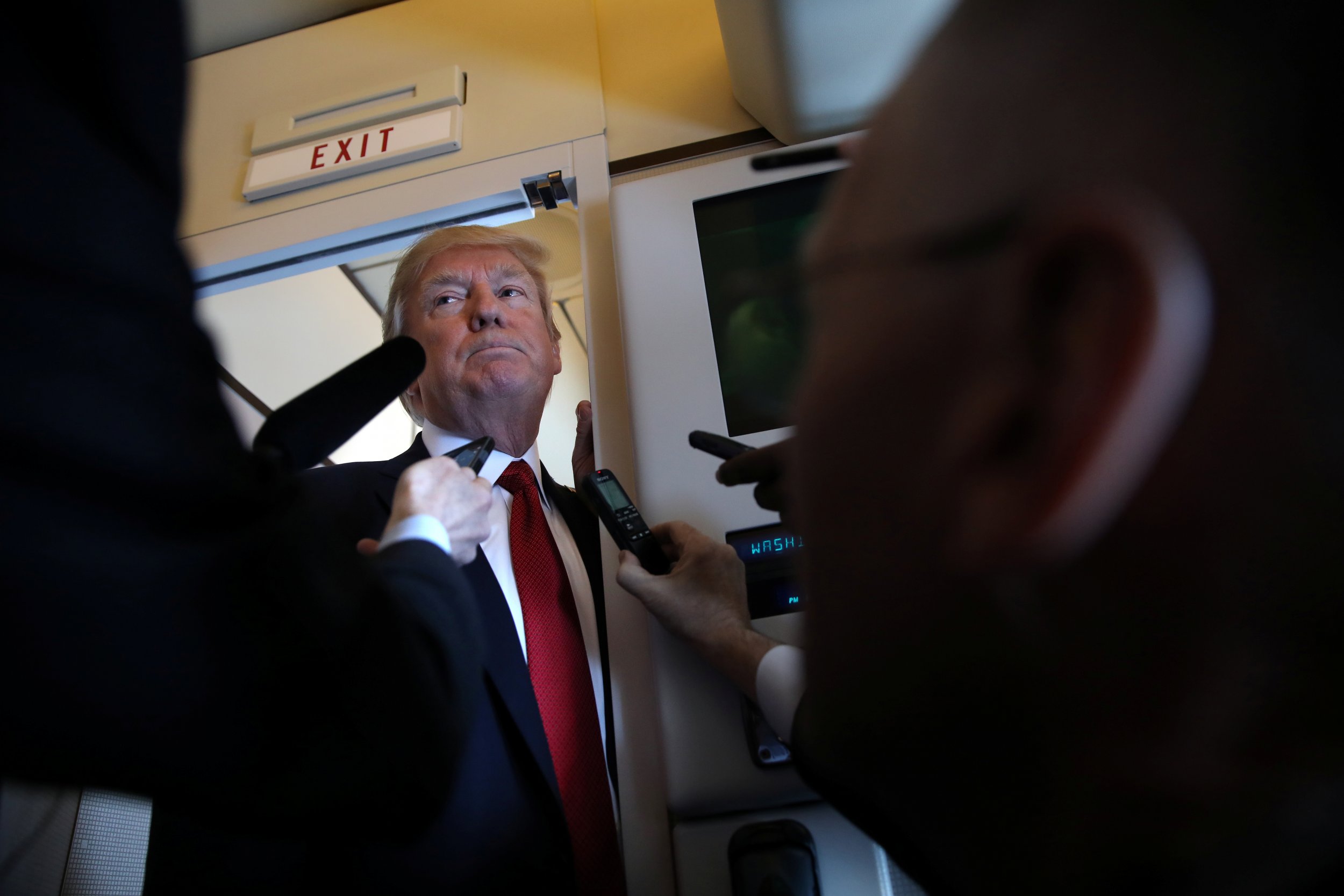 It sounded like a whole new Donald Trump.
After meeting with Republican and Democratic congressional leaders Wednesday morning, President Trump announced that he had cut a deal with the Democrats that would provide a first tranche of aid to victims of Hurricanes Harvey and Irma, as well as keep the government funded and solvent past the end of the month.
With Congress facing a slew of do-or-die deadlines in September, Trump met with the leaders at the White House. When he spoke with reporters a few hours later, as he departed on Air Force One for a speech in North Dakota, the president praised House Democratic Leader Nancy Pelosi and Senate Democratic Leader Chuck Schumer, affectionately calling them by their first names and making no mention of the Republican leaders he had met with, House Speaker Paul Ryan and Senate Majority Leader Mitch McConnell.
Political observers have long wondered whether the president—who has supported Democratic candidates in the past and has had a contentious relationship with his own party—might find a way to start making deals with the opposition. Until Wednesday, that hasn't happened. The president has governed like a conservative Republican on issues from healthcare to Supreme Court nominations, and hasn't been able to find common ground with Democrats even on issues such as infrastructure repair, which many thought would prove the most fertile bipartisan soil.
Senator Ben Sasse, a Nebraska Republican, was quick to denounce the "Pelosi-Schumer-Trump deal."
Pelosi and Schumer had advocated for a short-term rise in the debt ceiling, a move that would allow the U.S. government to continue to borrow money. Failure to raise the ceiling could cause a meltdown in world financial markets. Republican leaders also wanted to raise the ceiling, but with a much longer timeline—through next year's midterm elections—so they could avoid another painful vote on the issue that has divided their members between those who want a "clean" hike in the government's borrowing authority and those who want to use the debt ceiling to pass more spending cuts. In effect, Trump undercut his own party to make a deal with Democrats.
"We had a very good meeting with Nancy Pelosi and Chuck Schumer," Trump told reporters on the presidential aircraft, not offering any mention of Ryan or McConnell, who also were present. "We agreed to a three-month extension on debt ceiling, which they consider to be sacred, very important."
He added, "We had a very good meeting, we essentially came to a deal, and I think the deal will be very good."
According to Politico, McConnell had originally advocated for an 18-month hike in the debt ceiling was forced on the defensive, retreating to advocating for six months. But the president sided with the Democrats, agreeing to only a three-month deal.
Trump not only undercut Republican congressional leaders but also his own advisers—including Secretary of the Treasury Steve Mnuchin, who had also advocated for passing a debt limit hike that would allow Congress to avoid another one of these showdowns before the 2018 elections.
The deal would include what Congress calls a continuing resolution to keep the government funded, as well as $7.9 billion in aid for Hurricane Harvey recovery, a small percentage of the money that will be required to rebuild the Texas and Louisiana coasts after the storm hit them last month. The money can also be applied to help with Hurricane Irma, now a Category 5 story aiming for Florida.
Just earlier Wednesday, Ryan had denounced the idea of a mere three-month deal as "ridiculous and disgraceful," accusing Democrats of playing politics "at a moment when we have fellow citizens in need."
"Let's think about this: We've got all this devastation in Texas. We've got another unprecedented hurricane about to hit Florida. And they want to play politics with the debt ceiling?" Ryan said. "That will strand the aid that we need to bring to the victims of these storms."
But Trump's agreement with the Democrats—whose votes are vitally needed because many Republicans will refuse to raise the debt ceiling without spending cuts—marks a remarkable milestone in the Trump presidency.
It's unlikely that this particular accord signals an age of bipartisan bonhomie in Washington. The president's ideas on tax reform and health care, to name two of the largest issues looming over Congress, put him squarely on the side of the GOP—not to mention other cleavages between the parties, including abortion, climate change and regulation.
Trump also expressed optimism that Congress could forge a deal on undocumented immigrants who came to the U.S. as children. On Tuesday, the Trump administration announced that it would discontinue the 2012 program established by Barack Obama that allowed some 800,000 "DREAMers" (program recipients are often called DREAMers, after the Development, Relief and Education for Alien Minors act, which offered many of the same protections as Deferred Action for Childhood Arrivals [DACA] but never passed Congress) to live in the U.S. and receive work permits if they met various conditions, such as avoiding criminal activity. The announcement DACA would be discontinued by Attorney General Jeff Sessions included a six-month window for Congress to come up with legislation that might allow the undocumented youths to stay in the U.S., obviating Obama's DACA program. On this, the president was in agreement with all four congressional leaders—McConnell, Ryan, Pelosi and Schumer—that some kind of legislation would be a good idea. Whether it would be part of a larger immigration measure that could affect other categories of immigrants and, the administration hopes, funding for a border wall with Mexico is yet to be seen.