Sarah Huckabee Sanders Defends Trump Plan to Move Migrants to Sanctuary Cities, Admits It May Not Happen
White House Press Secretary Sarah Huckabee Sanders said on Sunday that President Donald Trump is moving forward with exploring his plan to relocate migrants to sanctuary cities around the country, but suggested there is also the chance this move may not actually happen.
"The president likes the idea and Democrats have said they want these individuals into their communities, so let's see if it works and everyone gets a win out of it," Sanders said on ABC's This Week .
Host George Stephanopolous pushed back, asking why the president would support the plan as it could actually encourage more immigrants to come to the country.
"It would be easier for these migrants to put down roots in the U.S. in sanctuary cities," he pointed out.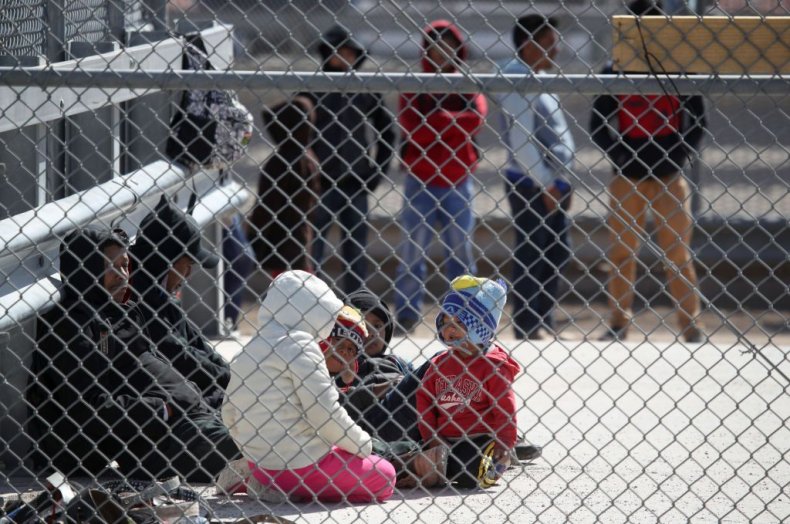 Sanders responded by saying that this wasn't the administration's "first choice." She blamed Congress, and Democrats in particular, for not taking action to secure the border.
Speaking also to Fox News Sunday , Sanders said: "Certainly, we're looking at all options."
"We shouldn't have to be putting people, and moving them all across the country to spread that out. We should have a border that's strong, a border that's secure, a border that functions the way that it's supposed to," the press secretary argued. "That's the president's number one priority, that's what he'd like to see happen and that's what he'd like Democrats to work with him to solve."
"Let's put some of those people into their [Democrat's] communities and into their towns and see if they then are okay with that same impact," she said. The press secretary explained that "nobody thinks that this is the ideal solution." But she argued "we have to look at all options. This is one of 'em."
Sanders admitted that "Whether or not it moves forward, that's yet to be determined. This was raised at a staff level initially and pushed back on. The president wants us to explore it again, so that's being done and they're doing a complete and thorough review."
Her comments Sunday morning appeared less assured than those made by Sanders' colleague, Deputy Press Secretary Hogan Gidley, Saturday night. Appearing on Fox News, Gidley said the White House was already talking to relevant agencies about how to implement the policy.
"We're working with DHS, we're working with ICE, to try and make sure that happens because after all, it's what they want," he told Fox News' Jeanine Pirro.
Earlier this year former Homeland Security Secretary Kirstjen Nielsen reportedly resisted a suggestion from the White House that migrants be moved to sanctuary cities. Nielsen was forced out by the administration last week, but a spokesperson for the DHS said the suggestion "was floated and rejected, which ended any further discussion," according to CNN. A White House official also told the news network the same thing, saying: "The idea was briefly and informally raised and quickly rejected."
But Trump has jumped behind reports of the proposed plan, suggesting that its still an option he's considering.
"Democrats must change the Immigration Laws FAST," he wrote in Saturday Twitter post. "If not, Sanctuary Cities must immediately ACT to take care of the Illegal Immigrants - and this includes Gang Members, Drug Dealers, Human Traffickers, and Criminals of all shapes, sizes and kinds. CHANGE THE LAWS NOW!"
Despite the president's repeated claims that migrants are "criminals," activists and experts have pushed back. They have repeatedly pointed out that most are simply asylum seekers – and often families – who are trying to escape poverty, economic crisis and insecurity in Central America.