Trump Says He's the Reason There Were No Plane-Crash Deaths Last Year (He Wasn't)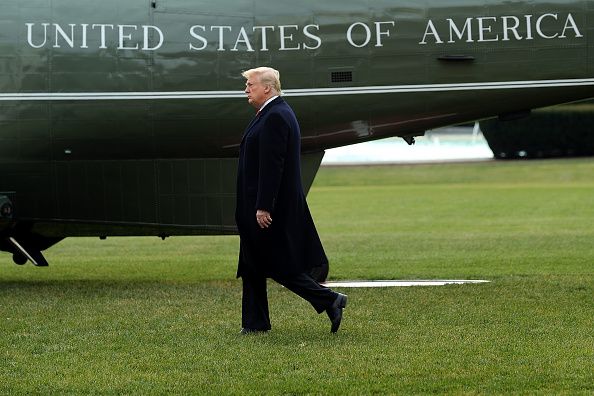 President Donald Trump has taken credit for all kinds of things, including a booming stock market and low unemployment. Now he is assuming credit for last year's low number of plane crashes.
Related: Trump didn't take phone calls while golfing because he wanted to focus on game, golf buddy says
"Since taking office I have been very strict on Commercial Aviation. Good news — it was just reported that there were Zero deaths in 2017, the best and safest year on record!" Trump tweeted on Tuesday.
The tweet was in response to a report released Monday by Dutch aviation consulting company To70. The report showed that, worldwide, 2017 was the best year yet for civil aviation safety, with airlines recording zero accident deaths in commercial passenger jets.
But the data in the report were based on flights around the world that are not influenced by policy decisions in the United States. What's more, the U.S. hasn't experienced a fatal crash by a passenger jet since February 2009, making it impossible for Trump's policies to have caused the number of deaths to drop any lower.
Trump has focused on the aviation industry during his time in office, but safety has not received the bulk of his attention. Trump met with members of the aviation industry in February last year, shortly after entering the White House, but he spent most of the meeting talking about airports and bemoaning the state of the nation's infrastructure.
"Airports are very important when you travel. Very important," Trump said during the talk. "We have an obsolete plane system, we have obsolete airports, we have obsolete trains. We have bad roads. We're going to change all of that, folks. You're going to be so happy with Trump. I think you already are."
Trump similarly put a large focus on airports during his campaign for the presidency, complaining that U.S. airports aren't as luxurious as those in wealthy Persian Gulf nations like Qatar or the United Arab Emirates. Presumably, U.S. airports would be revamped if the Trump administration succeeds in getting an infrastructure bill through Congress.
Meanwhile, Trump introduced in June an Air Traffic Control Reform Initiative that would privatize air traffic control and reduce funding by $300 million. In this case, Trump said the reforms would increase the safety of commercial airlines.
But the move was criticized heavily by aviation groups, which said the decrease in funding would do nothing but damage the industry.
"The proposed FAA budget would reduce spending on the modernization of our air traffic control system and continue what has been a six-year downward spiral in airport funding," Martin Hiller, president of the National Air Transport Association, said at the time.