Trump Complained That the Emir of Kuwait's Plane Was Longer Than His, Continuing Peculiar Obsession With Size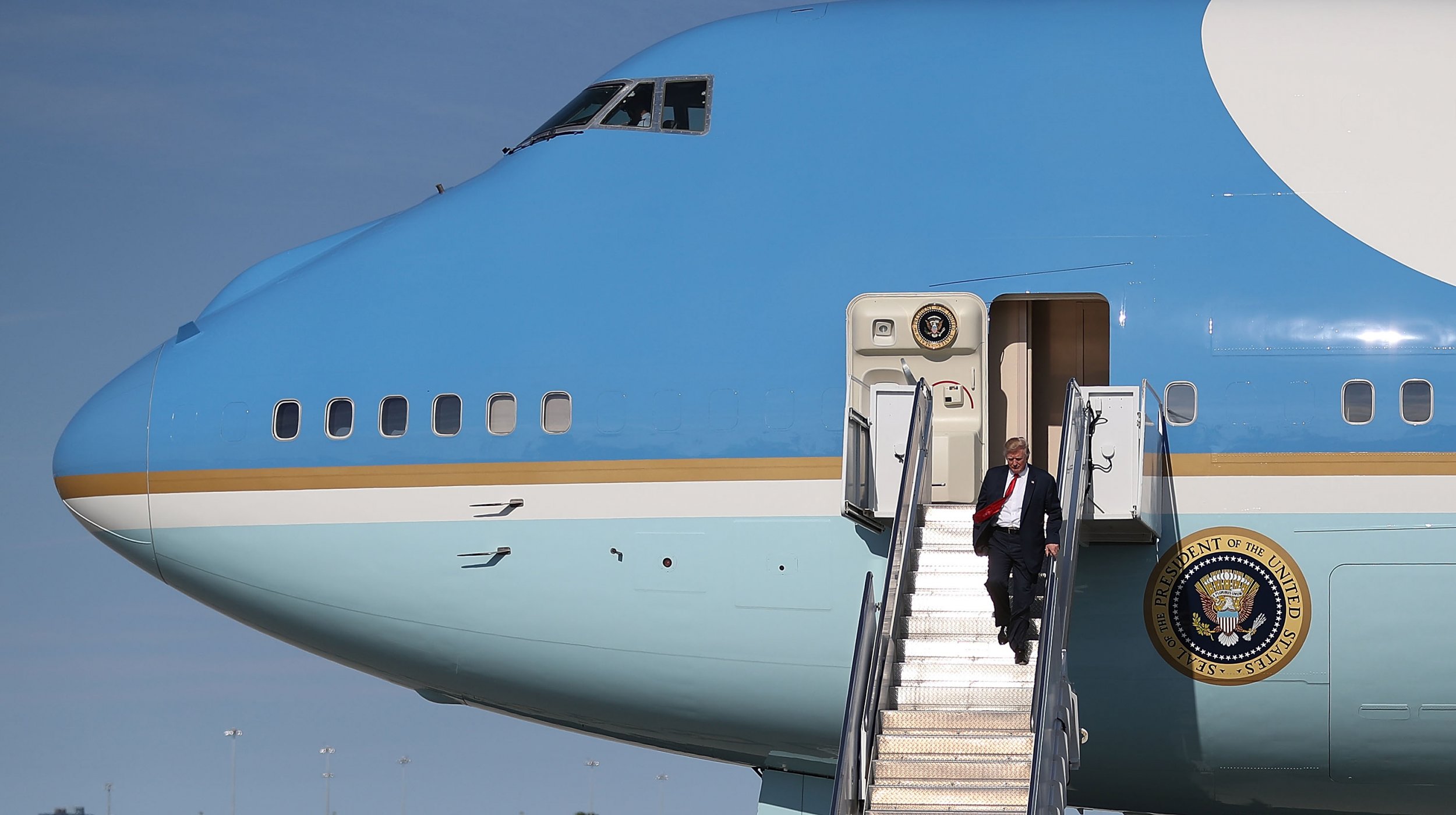 Donald Trump has an undeniable obsession with size—of everything from crowds to, well, body parts. It is perhaps no surprise, then, that the president reportedly couldn't help but note with displeasure that a Kuwaiti leader's plane was bigger than his.
Related: Trump Is Obsessed With The Size Of Crowds, Hands And Now Hurricanes
Emir Sabah al-Ahmad al-Jaber al-Sabah was in Washington Thursday for talks with Trump over shared security interests and the ongoing fight against the Islamic State militant group (ISIS) in the region. According to Politico, Trump marveled at the jet the Kuwaiti ruler flew in on. During a later meeting with congressional delegations from New York and New Jersey, Trump is even said to have complained that the emir's plane was longer than his own.
It is not clear whether Trump was referring to his personal private jet or Air Force One. However, as Air Force One is similar in length to the Boeing 747-400 that carries the emir, Trump likely was referring to his Boeing 757 personal plane, which is about 75 feet shorter than the Kuwaiti ruler's.
Trump's recent discussions of size have not been limited to aircraft. Addressing the back-to-back hurricanes Harvey and Irma, the president has almost seemed to be marveling at their size and scope.
"Hurricane looks like largest ever recorded in the Atlantic!" he tweeted, with an exclamation point for good measure, as Irma barreled through the Caribbean en route to Florida Wednesday.
Addressing Harvey, which caused devastating floods in Texas, Trump tweeted in block caps that the rainfall was "HISTORIC."
The hurricanes inspired more size-based ponderings by the president. While in Texas during the aftermath of Harvey, Trump addressed a group of hurricane survivors gathered outside a firehouse with the comforting words "What a crowd, what a turnout."
He also returned to a familiar object of his obsession with size: his hands. While serving food to victims of the hurricane in Houston, Trump joked that his hands were "too big" to fit in the plastic gloves he was given. The moment harked back to a famous dispute with Florida Senator Marco Rubio during last year's Republican primary.
"He's like 6'2", which is why I don't understand why his hands are the size of someone who is 5'2"," Rubio said at a rally in response to being derided as "little Marco" by the eventual GOP nominee. "And you know what they say about men with small hands? You can't trust them."
Trump couldn't help but take the bait.
"Look at those hands, are they small hands?" Trump said in response, holding his hands up for all to see. "And, he referred to my hands—'if they're small, something else must be small.' I guarantee you there's no problem. I guarantee."
Could there be a link between Trump's apparent need to defend the size of his manhood and his apparent insecurity about the length of his plane? We couldn't possibly say.