Trump Plans Nationwide Eviction Moratorium Amid Stalled Stimulus Talks
Citing concerns about the spread of coronavirus, President Donald Trump is sidestepping Congress to pause most evictions through the end of the year, using authority through the Centers for Disease Control and Prevention.
"People struggling to pay rent, due to the coronavirus, will not have to worry about being evicted and risk the further spreading of or exposure to the disease due to economic hardship," Deputy White House Press Secretary Brian Morgenstern told reporters Tuesday.
The action covers all residential rental units, but the moratorium, which is set to run through the end of the year, doesn't apply to people who could be evicted because of criminal activity or damage to property. Renters will also have to sign affidavits saying any amount that they are able to pay, they will still put toward their rent.
The White House and Democratic leaders have been at loggerheads since July in their negotiations over the next wave of relief during the economic crisis brought on by the coronavirus pandemic.
Each side has blamed the other, largely over how much money to pour into the stimulus package.
The Trump administration, with its action Tuesday, again pushed blame onto House Speaker Nancy Pelosi (D-Calif.) for the lack of an agreement.
"While Speaker Pelosi and the Democrats play political games and refuse to negotiate in good faith on another round of needed relief, President Trump is helping families overcome unprecedented challenges," Morgenstern said.
Pelosi's office didn't immediately respond to Newsweek's request for comment.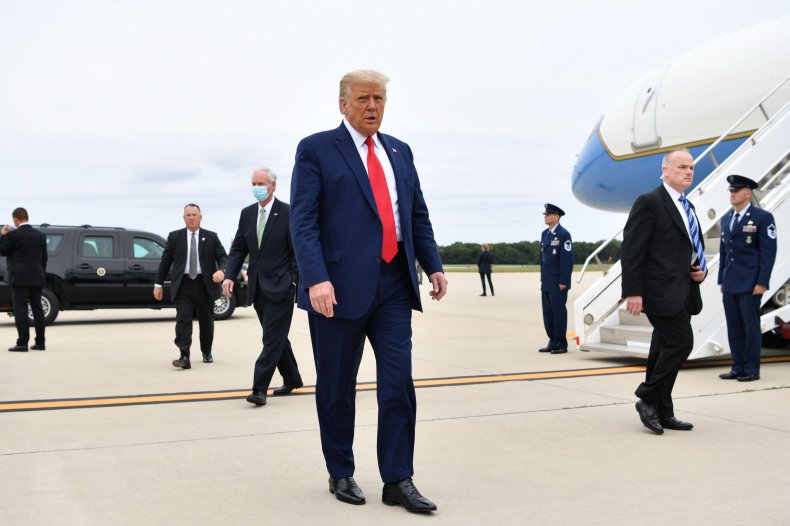 Trump last month signed a series of executive orders to try to address the gaps when protections under the March-approved $2.2 trillion CARES Act expired, but his order on evictions only directed agencies to study the need for a new moratorium.
The National Low Income Housing Coalition called the August action an "empty shell of a promise."
A coalition that includes the NLIHC, the Aspen Institute, Princeton University's Eviction Lab, the Massachusetts Institute of Technology, Wake Forest Law School and the University of Arizona Law School's Innovation for Justice Program, among others, released a report in early August estimating that 30 million to 40 million people would be at risk of being evicted without additional action. Its report said the United States was teetering on the edge of its "most severe housing crisis in its history."
"If conditions do not change, 29-43 percent of renter households could be at risk of eviction by the end of the year," researchers concluded.
The graphic below, provided by Statista, illustrates the state of American renter households.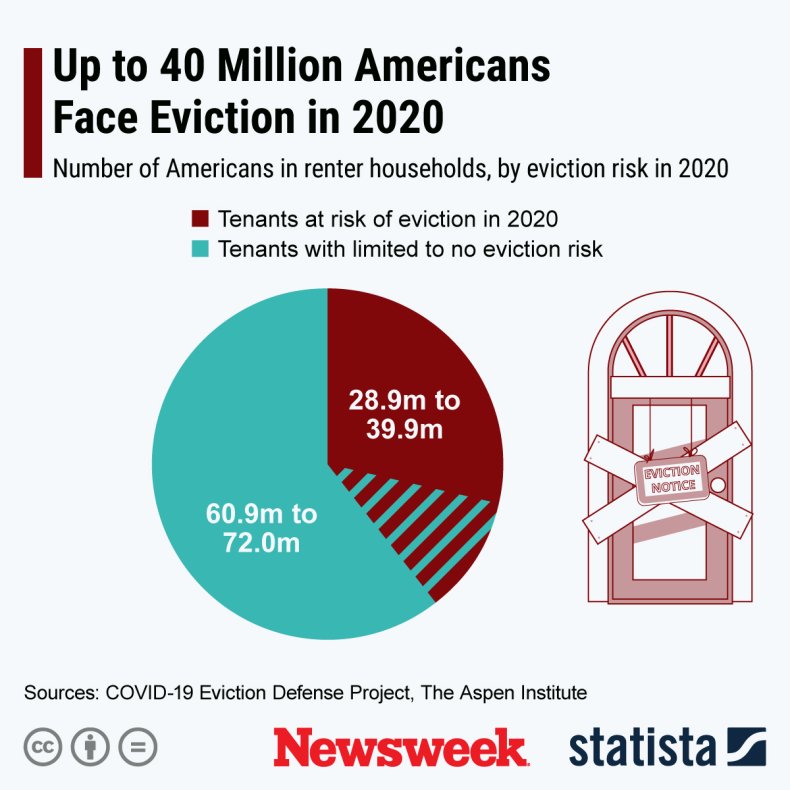 A U.S. Census survey in July found that more than 43.5 million people had only "moderate confidence" or lower of being able to pay August rent. Of those, 9.8 million said they had no confidence they could pay.
Some states and cities have already acted to block renter evictions.
The latest White House action to block evictions only applies to people who would otherwise be eligible for federal stimulus funds in the previous CARES Act, which went only to people with certain tax income levels and citizenship status.
"Congress has already spoken that they believe those are the people who were most unduly burdened by the pandemic," a senior administration official told reporters of that decision.
It also doesn't serve as a rent forgiveness program. Renter continues to accrue during the process, as lawmakers continue to try to negotiate future financial stimulus programs.
It also doesn't provide additional aid to landlords, but officials said that they have encouraged state and local authorities to use money they've received in previous stimulus programs to help keep property owners afloat.
"HUD is encouraging them to help landlords and renters, but it is at the discretion of state and local authorities," the senior administration official said.
Update 9/4/20: This article was updated to include an infographic.