Trump Pledges $1 Million for Kenosha Law Enforcement to 'Do What You Have to Do'
President Donald Trump said Tuesday that the Kenosha Police Department will receive $1 million to assist its law enforcement efforts as protests continue in the wake of Jacob Blake's shooting on Aug. 23.
Trump announced the funding boost during a community safety roundtable attended by local police, city officials and small business owners in Kenosha, Wisconsin. Also in attendance were U.S. Attorney General Bill Barr, Department of Homeland Security Acting Secretary Chad Wolf, Wisconsin Senator Ron Johnson and Wisconsin Representative Bryan Steil.
"We will provide $1 million to the Kenosha law enforcement so that you have some extra money to go out and do what you have to do," Trump said. An additional $4 million will be provided to small business owners whose properties were damaged during the violence, Trump said.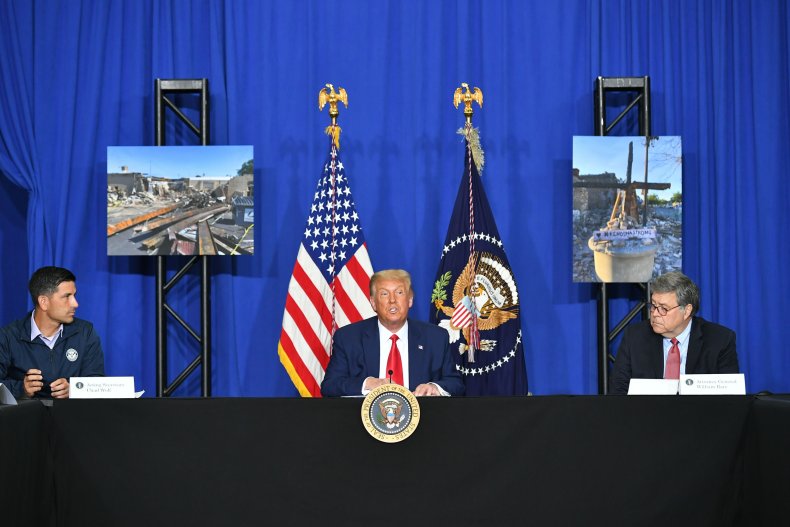 In addition to that $5 million set aside for police and business owners in Kenosha, "We're going to be providing over $42 million to support public safety statewide, including direct support for law enforcement and funding for additional prosecutors to punish criminals and resources to provide services to victims of crimes," Trump said. Barr requested that money be allocated for the state, Trump added.
It was not immediately clear where the money to support this local and state assistance will be coming from. Newsweek reached out to the White House for comment but did not receive a response in time for publication.
Trump's participation in the community discussion occurred after he toured areas in Kenosha that were damaged during the last week of protests. Protesters in the U.S. and around the world have been demonstrating all summer to demand an end to systemic racism and violence against Black Americans. The latest surge in protest activity in Kenosha came after Blake, a 29-year-old Black man, was shot on August 23. According to the Kenosha Police Department, an officer responding to a domestic incident call shot Blake seven times in the back while trying to apprehend him. The incident is currently under investigation, police said.
Both the Wisconsin governor and Kenosha's mayor expressed concern about Trump's planned visit to the area as tensions remained high on Tuesday. Trump, who announced last week that he was sending federal troops into Kenosha to assist local law enforcement efforts, has been critical of the city and state leaders overseeing areas in which protests turned violent.
During Tuesday's roundtable discussion, Trump compared the local, state and federal cooperation efforts—which he described as "a beautiful thing"—in Kenosha with ongoing protests in Portland, Oregon. Oregon's governor and Portland Mayor Ted Wheeler have repeatedly told Trump not to send federal troops into the city to help quell the violence, a decision with which the president has expressed frustration.
"We're tired of watching it with Portland," Trump said. "It could be solved in an hour."
Trump commended Kenosha law enforcement officials for their handling of the protests over the last several days. "It was a rough week, to put it mildly, and you've done it incredibly well," Trump said.
This story has been updated with additional information and background.