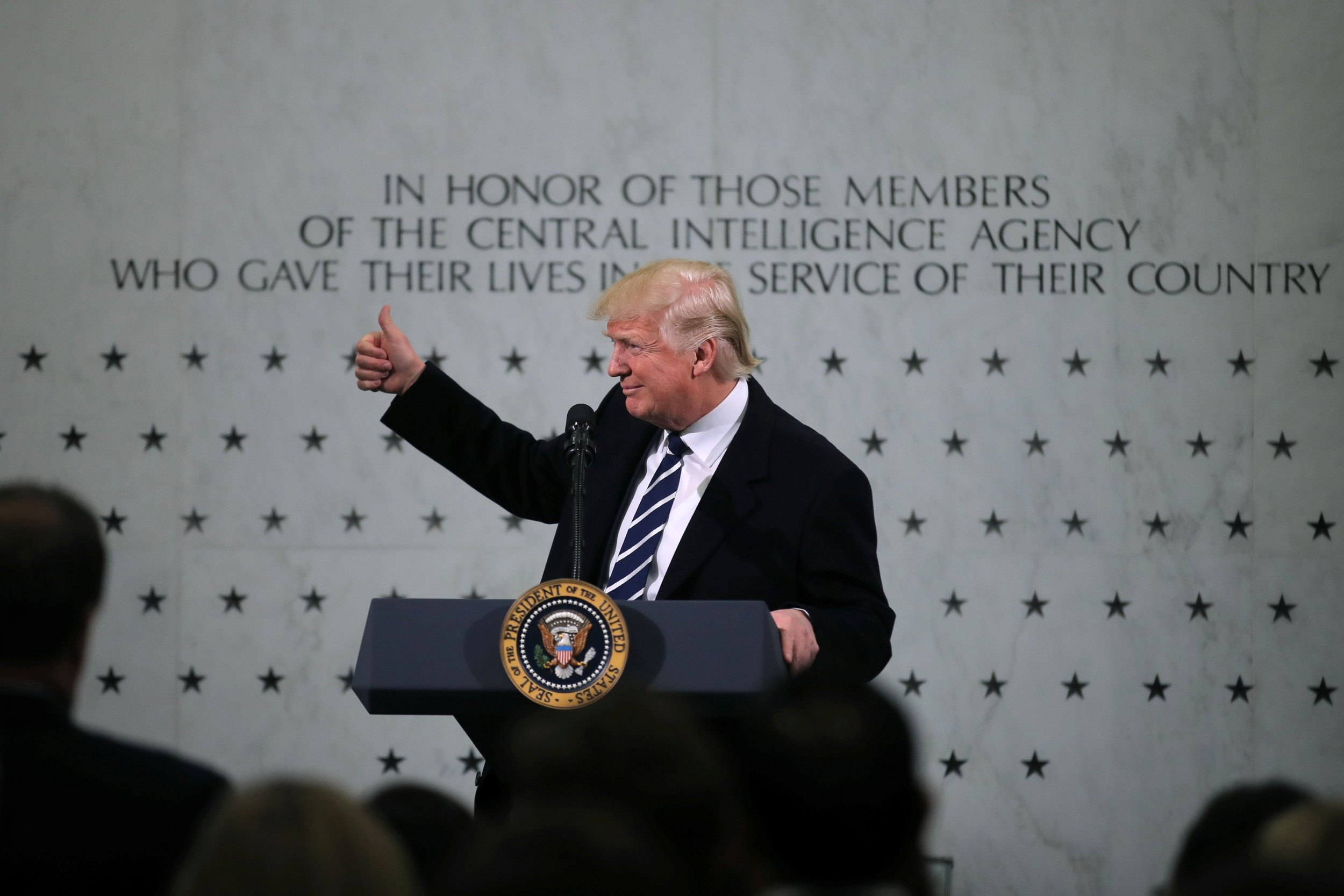 Updated | President Donald Trump gave a campaign-style speech at CIA headquarters Saturday afternoon, drawing enthusiastic applause and cheers from a few hundred assembled workers with a pledge that "we are going to start winning again, and you'll be leading the charge."
"There is nobody that feels stronger about the intelligence community and the CIA than Donald Trump," the president said, in an apparent effort to move past an open feud he had carried on for months with U.S. intelligence officials over their finding that Russia had helped get the New Yorker elected. At one point Trump had referred to the spy agencies as "Nazis" for circulating an uncorroborated dossier that alleged Kremlin spies had gathered blackmail material on him, including video of him cavorting with prostitutes in Moscow.
RELATED: Why Trump should stop fighting with the CIA
Trump told the assembled spies, analysts and managers that "the dishonest media" had "made it sound like I had a feud" with them, implying that he only had a beef with CIA Director John Brennan, who resigned Friday, and other top spy agency officials.
"I am so behind you," the president told the crowd assembled in the agency foyer, which is dominated by the CIA's seal on the floor and Memorial Wall of stars denoting the nearly 120, mostly anonymous men and women who have died in the spy agency's service since its founding in 1947. Trump spokesman Sean Spicer tweeted earlier Saturday that the event would draw "over capacity at 300+."
But Trump's seemingly warm reception might have been somewhat stage-managed, according to various accounts. The Washington Post's longtime CIA watcher, Greg Miller, tweeted Saturday that the audience was "a self-selected bunch: CIA employees who signed up to come in on a Saturday to see the new POTUS. Mostly Trump voters." A pool reporter selected to witness the closed event indicated "the cheering and clapping was not from the CIA staffers but people who accompanied Trump," according to The Post's fact-checker Glenn Kessler. He later clarified on Twitter that it was "unclear who the people on the side were. But the folks in the front apparently did not react until the end."
A different pool reporter wrote that Trump initally received an enthusiastic response from the 400 attendees, but as his remarks "strayed...the cheering was coming primarily from stage right...where the rank and file employees were seated. The senior staff, seated directly in front of POTUS, was noticeably far more subdued."
Brennan deplored the rally-style event, according to his former deputy chief of staff Nick Shapiro. Brennan "is deeply saddened and angered at Donald Trump's despicable display of self-aggrandizement in front of CIA's Memorial Wall of Agency heroes," Shapiro said in a statement provided to Newsweek. "Trump should be ashamed of himself."
George Little, former CIA Director Leon Panetta's spokesman, also took deep offense at Trump's staging the event in what amounts to hallowed ground at the agency.
"Today the president of the United States stood in front of the Memorial Wall honoring the CIA's fallen and mocked key institutions of our democracy, threatened to steal Iraq's oil, and used what is supposed to be a non-political government agency—one he recently accused of Nazi-style behavior—as a political backdrop," Little wrote on his Facebook page. "This will go down as the most disastrous speech ever given at CIA Headquarters."
"This wall is so special to me," Trump said, speaking from a lectern in front of it. He frequently employed campaign-style phrases to voice his support for the CIA.
"You're going to get so much backing from me, you're going to say, 'Please, Mr. President, no more backing,'" Trump said, drawing cheers and chuckles.
A former top CIA official under Brennan dismissed the crowd's apparent enthusiasm for the new president, who was joined by Vice President Mike Pence and White House National Security Adviser Michael Flynn, a former head of the rival Defense Intelligence Agency.
"They are good, polite people," the former official said on the usual terms of anonymity that intelligence officials employ. "He's the president and he is kissing their ass, why wouldn't they clap?"
"The proof will be days, weeks and months from now, how serious he takes the [daily intelligence briefings] and whether he and Flynn try to shape the intel or not."
Pence, who told the crowd "we are going to make the country safe again," was introduced by Meroe Park, the spy agency's third-ranking official, who is running the CIA until Trump's choice, Kansas Republican Congressman Mike Pompeo, is confirmed by the Senate. Pompeo was present at the event, said a House Intelligence Committee staffer on traditional terms of anonymity, but did not speak.
"Everybody respects him," Trump said of Pompeo, a member of the Tea Party faction of congressional Republicans and leader of their investigations into Hillary Clinton's actions during the 2011 Benghazi attacks. "You will be getting a total star… a gem," Trump said.
A Senate vote on Pompeo is expected Monday, after Democrats take to the floor to raise questions about the nominee's commitment to continue the CIA's ban on "enhanced interrogation techniques," particularly the simulated drowning known as waterboarding, that agency operatives once practiced on terrorist suspects. In its 2014 report, the Democratic-led Senate Intelligence Committee unambiguously called the practice "torture." In a written response to questions from the committee, Pompeo said that he was open to bringing back waterboarding and other rough stuff under certain circumstances.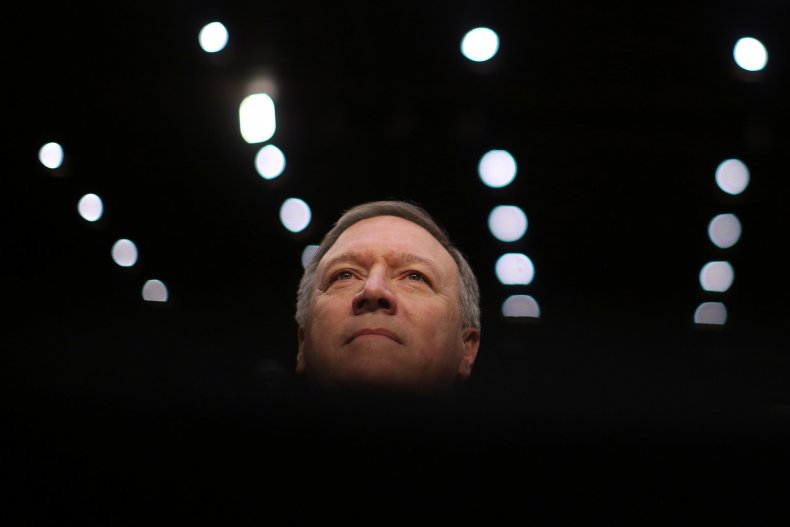 Trump often said during his presidential campaign that he would "bring back a hell of a lot worse than waterboarding," but appeared to soften his views after he won the nomination and discussed the issue with his choice for secretary of defense, retired Marine Corps General James Mattis. But in his CIA remarks Saturday Trump indicated he was still open to the idea, saying, "You've been restrained."
Trump took the occasion to also digress again into attacks on the "dishonest media." He lambasted the TV networks for noting his relatively small inaugural crowds in comparison to the Obama and George W. Bush festivities, and mocked an erroneous account by Time magazine, quickly corrected, that he had removed a bust of Rev. Martin Luther King, Jr. from the Oval Office. He also boasted about being on the cover of Time magazine "14 or 15 times" when New England Patriots star quarterback Tom Brady had made it only "once."
Trump also touched on the 2003 Iraq invasion, repeating his false claim that he was against it–a claim debunked long ago when reporters dug up his own remarks favoring it– but added, "We got out wrong… We should have kept the oil." He hinted vaguely that America might yet get ownership of Iraq's oil during his administration.
Returning to another standard campaign theme, Trump told the CIA workforce that "radical Islamic terrorism has to be eradicated off the face of the earth," and vowed, "We're going to end it."
"We are all on the same wavelength," Trump said to rousing applause. "We are going to do great things."
An earlier version of this story reported that the cheering response to Trump's CIA speech came only from the president's retinue. According to a new account, the CIA audience consisted of "self-selected" workers who came in on a Saturday to welcome Trump. This story has also been updated to include a quote from one of the pool reporters at the event.