Trump Pocahontas Slur: The President Has a Long History of Insulting Native Americans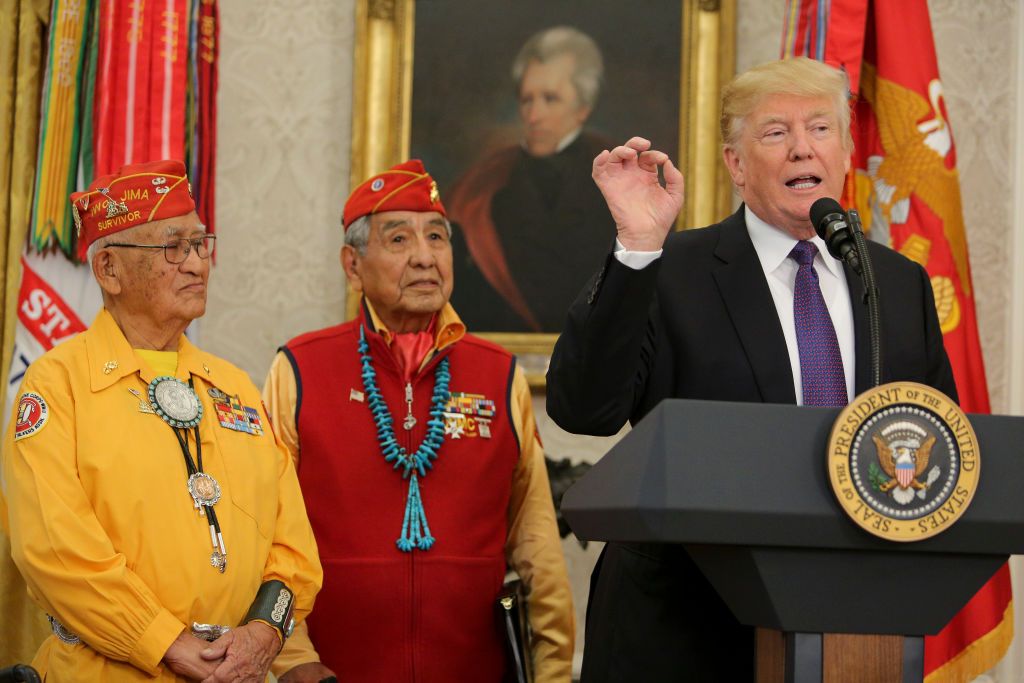 In a ceremony to honor Native American veterans at the White House Monday, Trump provoked the ire of groups representing North America's indigenous communities.
Trump repeated his "Pocahontas" jibe about Democratic Senator Elizabeth Warren, who has claimed to have Cherokee ancestry. The use of the name is regarded as insulting and derogatory by many Native Americans.
"The name becomes a derogatory racial reference when used as an insult," the Alliance of Colonial Era Tribes' general secretary said in a statement.
"American Indian names, whether they be historic or contemporary, are not meant to be used as insults. To do so is to reduce them to racial slurs."
Critics also noted that the Oval Office ceremony took place under a portrait of President Andrew Jackson, dubbed the "Indian Killer," whose forced resettlement policies in the 19th century resulted in thousands of Native American deaths.
Gyasi Ross, an author from Washington state and member of the Blackfeet Nation tribe, told The Washington Post he considered the portrait's prominence during the news conference to be an intentional slight.
"It's an incredibly distasteful wink in front of people who have sacrificed so much," he said. "Donald Trump is not a stupid man. He understands visuals and optics: His background is in television. So all of that stuff, I believe, is very deliberate."
The event was not the first time Trump had offended Native Americans.
In the early 1990s, Trump attacked expanding Native American–run casinos that he believed posed a threat to his own gambling empire. In media appearances, he claimed Native American reservations had fallen under mob control, and he questioned the ethnicity of Native Americans on a Connecticut reservation.
"I think I might have more Indian blood than a lot of the so-called Indians that are trying to open up the reservations," Trump said during a 1993 radio interview with shock jock Don Imus.
In 2000, Trump paid more than $1 million for an ad campaign that portrayed members of Indian tribe in upstate New York as cocaine traffickers and career criminals, according to The Washington Post.
But even as he was attacking some tribes, he was striking deals with others when it suited his interests. He paid for a group to document its lineage and achieve recognized status as a tribe in exchange for a cut of casino profits, and he tried to cut a deal with a California tribe to run its casino.
Trump has faced renewed criticism from Native American groups since taking office.
Only weeks into his presidency, Trump wrote a memo of support for the Dakota Access pipeline, the progress of which the Obama administration had halted after mass protests from Native American groups. The groups argued that the pipeline violated a treaty signed between those living on the Standing Rock Indian Reservation and the federal government, and that it posed a threat to local water supplies.