Trump Makes 'Pocahontas' Joke About Elizabeth Warren at Navajo Code Talkers Event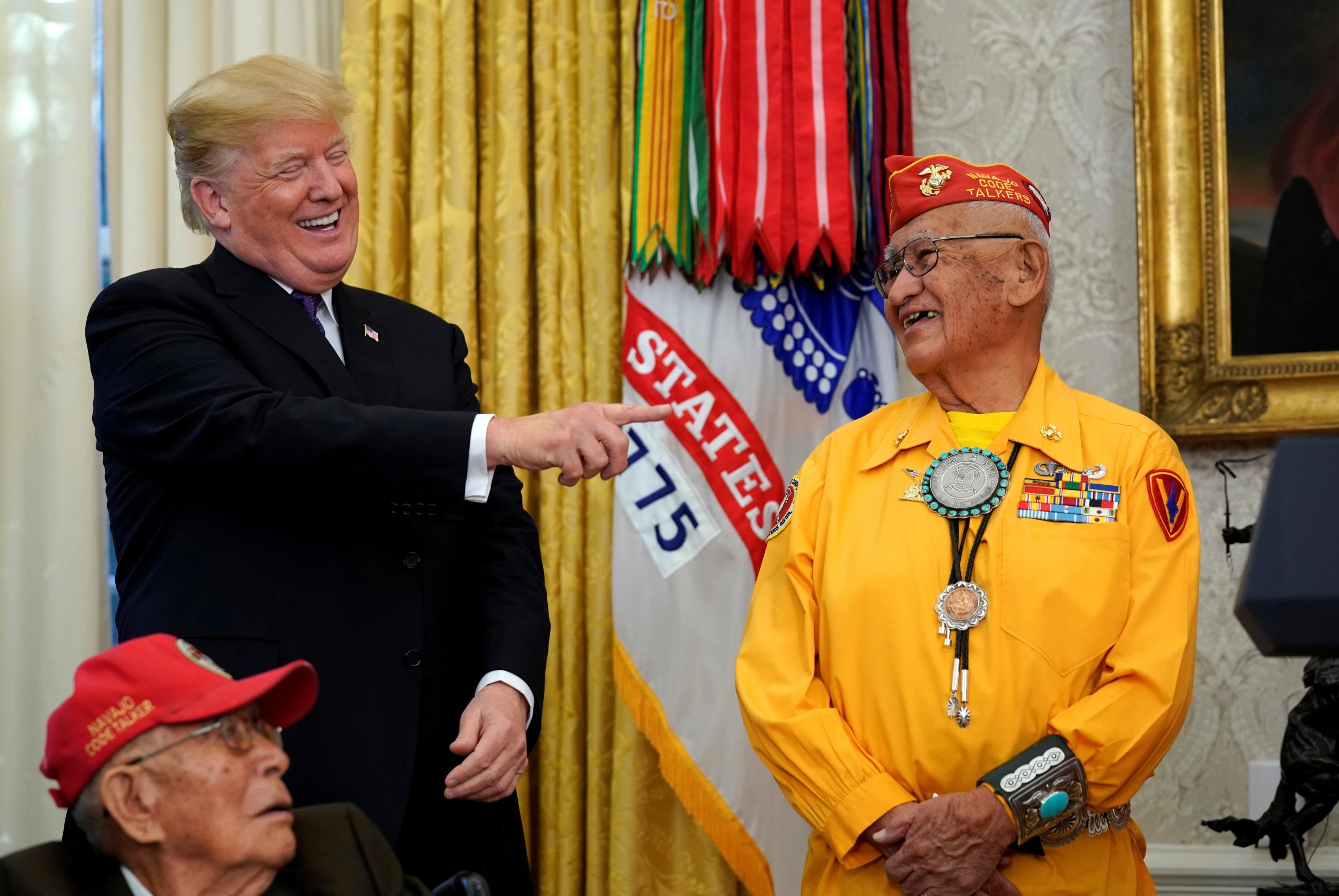 President Donald Trump veered off script during an Oval Office event to honor Native American war heroes by making an offensive jab toward Senator Elizabeth Warren by again referring to her as "Pocahontas"—and posed with the Navajo servicemen in front of a portrait of President Andrew Jackson, the notorious Indian killer.
The president appeared to be trying to honor the Navajo Code Talkers, first telling their representatives, "You were here long before any of us were here," before quickly going off topic by adding, "although we have a representative in Congress who they say was here a long time ago. They call her Pocahontas."
According to CNN, people in the room reacted with shocked "silence."
The reference was to Trump's own nickname for Warren and stemmed from old accusations that she used her heritage to gain employment at Harvard Law School and the University of Pennsylvania Law School. Trump repeatedly called Warren "Pocahontas" during the 2016 campaign, and many considered the nickname defamatory at best and racist at worst.
Warren was shocked that Trump evoked her—and the nickname—at the event.
"It is deeply unfortunate that the president of the United States cannot even make it through a ceremony honoring these heroes without having to throw out a racial slur," she said on MSNBC.
Trump also offended Native Americans by delivering his remarks in front of a portrait of former President Andrew Jackson, a gleeful killer of Native Americans who famously signed the Indian Removal Act in 1830 that forced tribes to relocate to unsettled lands west of the Mississippi River. The law eventually led to the death of 4,000 Cherokees on the Trail of Tears.
The barb and photo (mis)opportunity overshadowed the purpose of the Monday event, which was to honor the Navajo Code Talkers, who employed their language to help other U.S. troops during World Wars I and II.
"Trump's 'Pocahontas' joke was never funny. But to drop that while 'honoring' Navajo Code Talkers.... sad," tweeted Putin's Cock Holster.
On Monday afternoon, Democratic National Committee Chairman Tom Perez said Trump's joke showed that he "continues to debase the office of the presidency."
"These code talkers deserve our nation's praise and gratitude, not a president who disrespects the Native American community and dishonors Native American veterans," he said. "What Trump displayed today was an embarrassment to our values and a disgraceful insult to the heroes of our history. Our country deserves better than this."