Donald Trump's Chances vs. Joe Biden if He Runs Again in 2024
A number of bookmakers are naming Donald Trump as their favorite to win the 2024 presidential election if he runs, but several polls suggest it is still neck-and-neck between him and Joe Biden in a hypothetical match-up.
According to OddsChecker, which aggregates betting odds from numerous sources, Trump is the favorite to be the next president by several bookmakers including Paddy Power and Betfair—who are offering odds of 11/4—as well as Bet365 and SkyBet (12/5 and 5/2 respectively).
In comparison, Paddy Power and Betfair are offering 9/2 odds on Biden winning the 2024 election, with Bet365 and SkyBet offering 5/1.
Trump has not formally announced that he intends on running for president again, but he has hinted at it from the moment he left the White House in January 2021.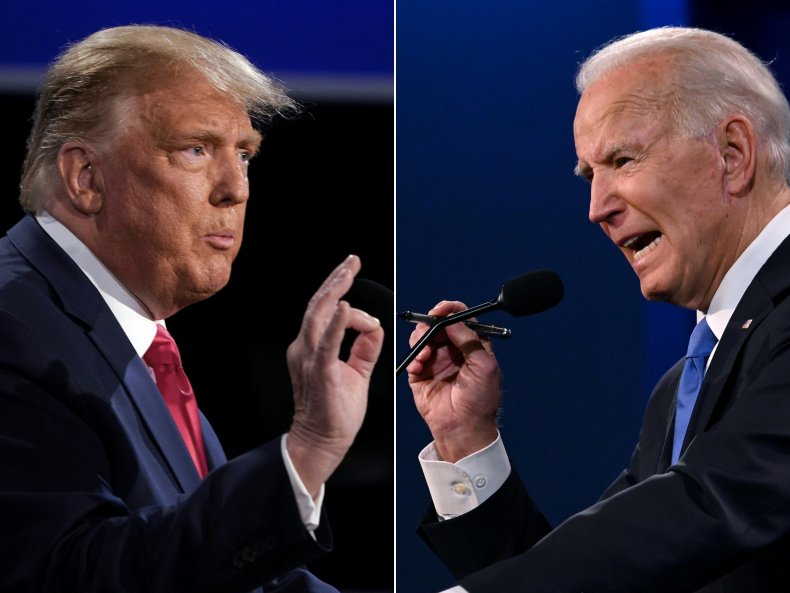 The suggestion that Trump could beat Biden in a hypothetical 2024 match-up has been backed by a recent Emerson College poll conducted on May 24 and 25.
According to those taking part in the survey, 44 percent said they would vote for Trump in 2024, and 42 percent said they would back Biden if they were the two candidates.
The poll also shows that Biden's approval rating remains low at 38 percent, down from 42 percent in an April survey.
The Emerson College poll reveals Biden's job approval is lowest among white voters at 33 percent, and highest among Black voters at 61 percent.
"Biden is struggling with swing voters, particularly Independents and suburban voters; majorities of Independent voters at 55 percent and suburban voters at 53 percent disapprove of the job Biden is doing as President," said Spencer Kimball, executive director of Emerson College Polling.
According to FiveThirtyEight's poll of polls, Biden's current average approval rating stands at 40.8 percent, only just above a his historic low of 40.4 percent recorded at the end of February and way down from the low to mid-50s the president was enjoying during his first few months in the White House.
Biden's chances of a 2024 election victory do look more hopeful according to the results from a recent Yahoo News/YouGov poll.
In a hypothetical 2024 match-up, the current president beats Trump by 42 percent to 39 percent, according to the poll.
The survey of 1,573 U.S. adults, conducted from May 19 to 22, also found that Biden's approval rating is above the national average at 42 percent.
However, most potential voters said that neither the 79-year-old Biden (57 percent) nor the 75-year-old Trump (52 percent ) should run for president again in 2024.