Evangelicals Stand by Trump, Catholic Journal Attacks Him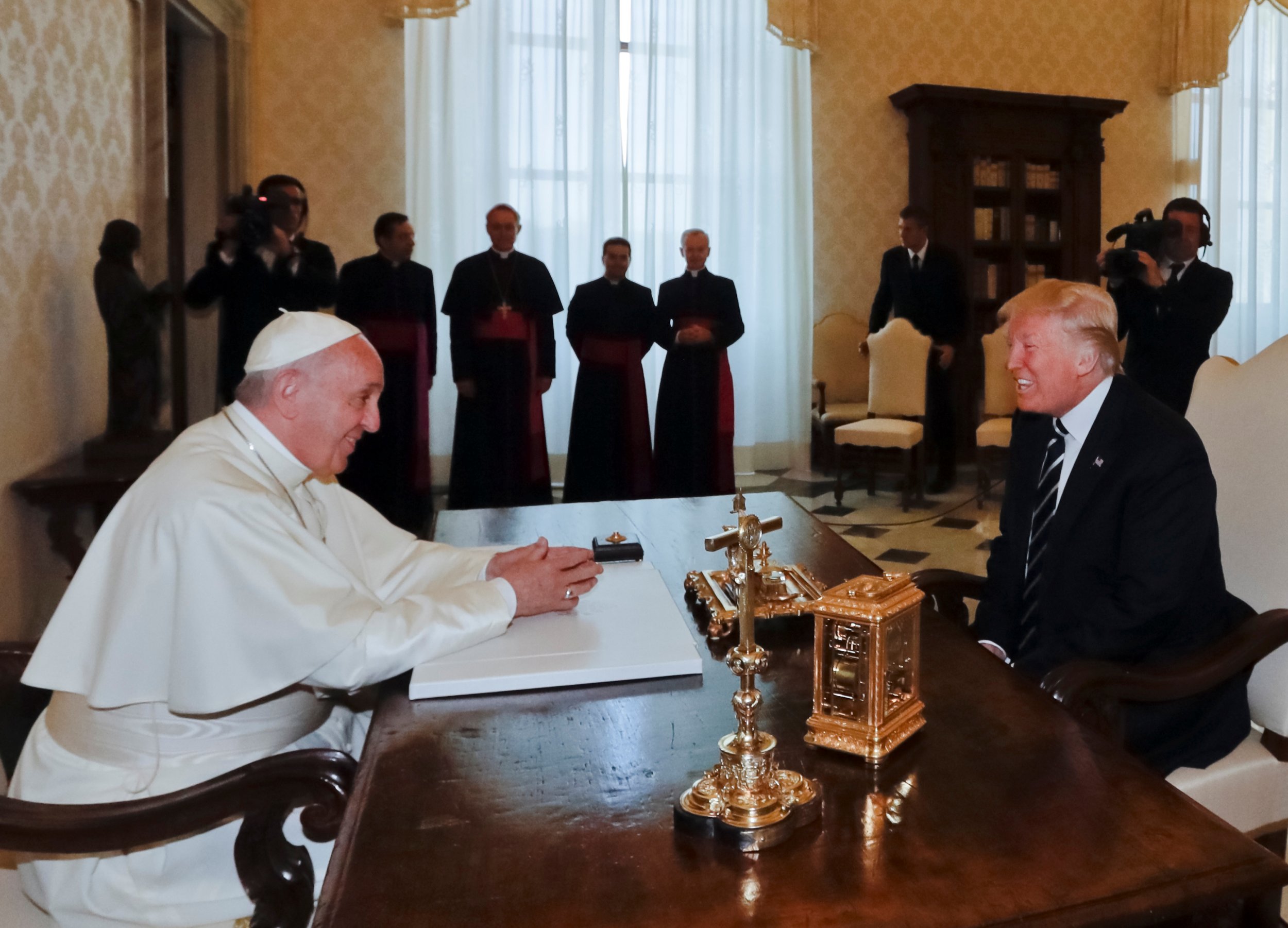 U.S. President Donald J. Trump has never made especially convincing shows of faith. "We love the Bible. It's the best," he said during the presidential campaign, comparing it favorably to another timeless touchstone of Western civilization: "We love The Art of the Deal, but the Bible is far, far superior, yes."
Many on the religious right overlooked Trump's lack of genuine piety, not to mention a personal life that has included three marriages, multiple allegations of sexual misconduct, unseemly shows of emotional intemperance and a lust for wealth at odds with the humility Jesus Christ preached. Back in March 2016, the pollster Steve Mitchell explained the source of that strange affection: " Although certainly not Christ-like, Trump is perceived to be strong and bold; a leader that will help evangelicals navigate a world they believe is too often adrift and too different from what they want."
That affection continues unabated, even as the presidency has called into question the very mettle that supposedly made Trump attractive to conservative Christians. In late April, the Pew Research Center found that Trump's approval with white evangelicals was at 75 percent. At the same time, his approval with the broader American population was at 40 percent. (It has since fallen.)
Evangelicals show no sign of abandoning the embattled president. To the contrary, in a show of their faith in Trump, evangelical leaders prayed over him in the Oval Office last week. "Photos posted by some of the invitees show the group surrounding Trump and laying their hands on his shoulders as his head is bent in prayer," said a report in CNN.
But though white Evangelicals continue to stand behind Trump, a Vatican-affiliated publication ran a withering editorial criticizing the U.S. president and the combative worldview he represents. The editorial — which Vatican watchers said could not have been published without the direct approval of Pope Francis — suggests how little traction Trump appears to have with the world's largest Christian denomination.
The editorial "Evangelical Fundamentalism and Catholic Integralism: A Surprising Ecumenism" was published in La Civiltà Cattolica four days after Trump's meeting with evangelical leaders. It written by high-ranking editors Antonio Spadaro and Marcelo Figueroa. Figueroa, a Protestant, is a close associate of Pope Francis and like him a native of Argentina. Spadaro, like Francis, is a Jesuit.
The Associated Press called the publication the "unofficial mouthpiece of the papacy" and described some of the contents of the scathing editorial:
[S]hared desire for political influence between "evangelical fundamentalists" and some Catholics has inspired an "ecumenism of conflict" that demonizes opponents and promotes a "theocratic type of state."

[It] also took aim at conservative religious support for Trump, accusing activists of promoting a "xenophobic and Islamophobic vision that wants walls and purifying deportations."
Spadaro and Figueroa took particular aim at Stephen K. Bannon, the conservative Catholic and avowed "economic nationalist" who is Trump's chief political adviser, criticizing him harshly as a "supporter of apocalyptic geopolitics."
Pope Francis met with Trump at the Vatican in late May; "Francis did not exude his usual warmth and cheerfulness," The Guardian noted of the encounter, echoing a widely-held view of that meeting.
It's clear now, just what the Vatican thinks of Trump and his divisive brand of politics. "The political strategy for success becomes that of raising the tones of the conflictual, exaggerating disorder, agitating the souls of the people by painting worrying scenarios beyond any realism," the La Civiltà Cattolica editorial also said, according to a translation by the Financial Times.
Speaking with the Jesuit magazine America, Spadaro defended the editorial several days after its publication: "Often this fundamentalism is born from the perception of a threat," he said, "of a world that is threatened, a world that is collapsing, and so it responds with a religion from a reading of the Bible transformed into an ideological message of fear." Spadaro noted that such religious fundamentalism is not a singularly American problem.
Although some Catholics criticized the article, it attracted attention well beyond the Vatican's ramparts. It was especially striking when considered in contrast with the show of evangelical support for Trump in the White House.
That's not say that Trump lacks for critics among "the evangelicals," as he calls that denomination.
"What stuns me is how my fellow evangelicals can rally behind a man whose words and actions are so at odds with the central teachings of our faith," wrote Peter Wehner, a political conservative who worked for three Republican presidential administrations before the election.
And on Saturday, the Rev. Dr. William J. Barber II, a board member of the NAACP and a prominent North Carolina social activist, said the Oval Office prayer for Trump by Evangelicals amounted to "theological malpractice bordering on heresy."
Pope Francis, himself not one for flashy (or expedient) shows of faith, would almost certainly agree with that assessment.