Pope Francis and President Trump: A Brief History of Their War of Words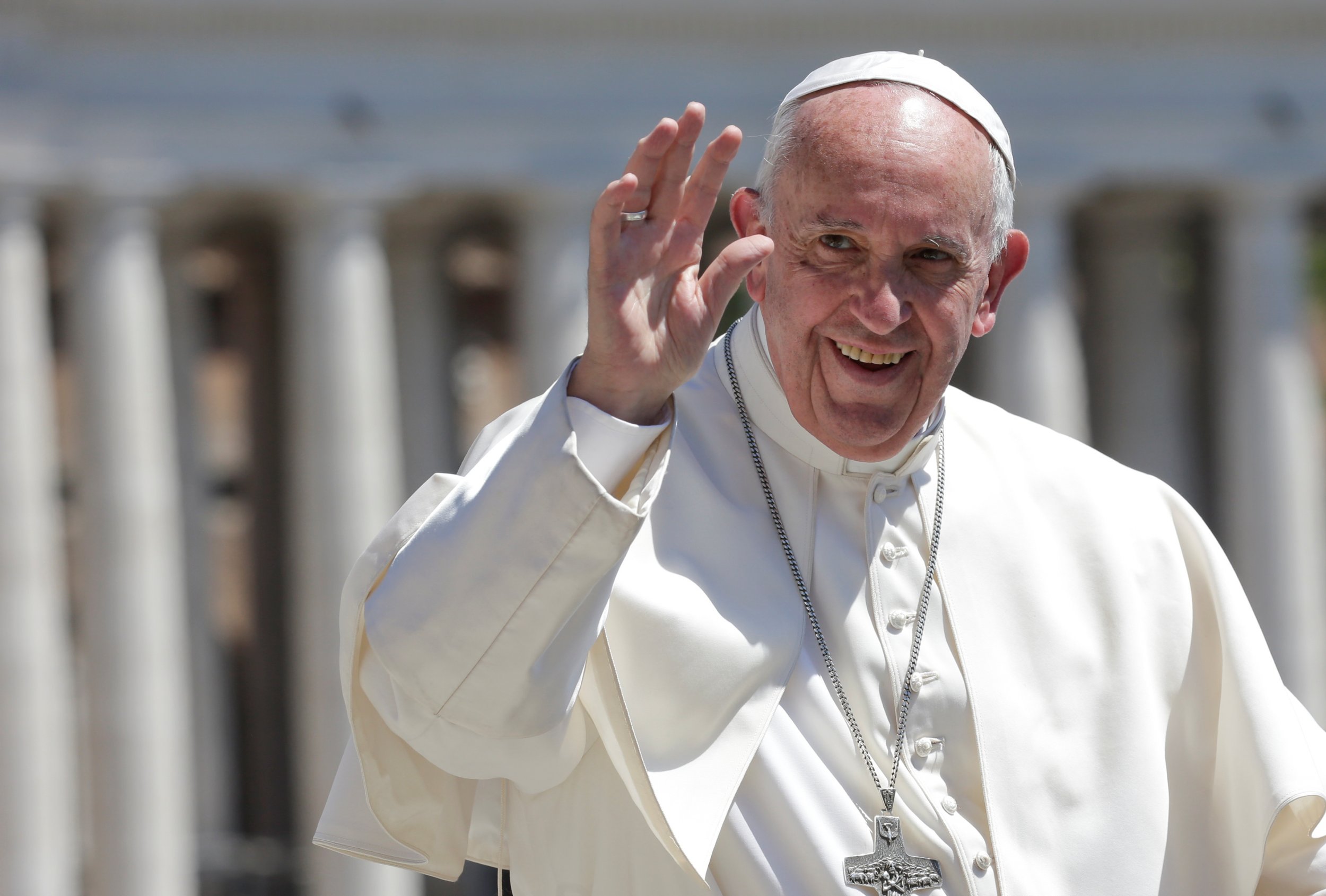 Pope Francis has said he's keeping an open mind going into his meeting with President Trump in Rome on Wednesday. But while this will be the first time these global icons meet face to face, the two men have plenty of history, which will make it difficult to wipe the slate entirely clean.
Related: Pope pledges to be 'sincere' with Trump during Vatican meeting
Asked about his upcoming meeting with the new U.S. president during a May 13 press conference, Francis told journalists he would not "make a judgment about a person without listening to him first." He added: "There are always doors that aren't closed. Look for the doors that at least are a little bit open, enter and speak about things held in common and go forward, step by step."
Francis, however, has made clear in the past, particularly during the controversial billionaire's run to the presidency last year, that he disagrees with many of Trump's positions. Trump, for his part, has lashed out at some of the pope's criticism, although he's also praised Francis at various points. Here's a rundown of exchanges between Trump and Francis, since his holiness was appointed as the head of the Roman Catholic Church in 2013:
March 2013
A few days after a papal conclave elected Cardinal Jorge Mario Bergoglio as the 266th pope, Trump, then just a reality television star and provocative billionaire, complained on social media about his unpretentious habits. "I don't like seeing the Pope standing at the checkout counter (front desk) of a hotel in order to pay his bill," the future president tweeted. "It's not Pope-like!"
December 2013
Trump seemed to have changed his tune on Francis by the end of the year, tweeting (on Christmas Day, no less): "The new Pope is a humble man, very much like me, which probably explains why I like him so much!"
September 2015
One of Pope Francis's stops during his highly feted visit to the United States happened to take place right down the street from Trump Tower, at St. Patrick's Cathedral in New York City. According to the editor of Forbes magazine, the dark horse Republican presidential candidate who'd launched his campaign earlier in the year with a promise to crack down on Mexican rapists and criminals, took time out from a photo shoot to watch the pope's procession down Fifth Avenue. "The Pope's fans—which seemed about half Latino this day…weren't exactly Trump fans, and vice versa," recounts Forbes's Randall Lane, who was with Trump at the time. "When the crowd spotted him, he was jeered lustily. Someone yelled 'Viva Mexico,' prompting the real estate billionaire to shake his head derisively. 'Viva Mexico…' he groaned."
February 2016
Differences between the pope and the presidential contender bubbled over into a war of words that drew international headlines. It started when Trump critiqued the pope's impending trip to the U.S.-Mexico border, calling him "a very political person" in an interview on Fox Business channel. Trump added: "I think that he doesn't understand the problems our country has. I don't think he understands the danger of the open border that we have with Mexico."
A week later, as he was flying back from Mexico to Rome, the pope was asked about Trump's campaign rhetoric on illegal immigration, including his call to build a wall on the Mexican border. Francis's blunt response: "A person who thinks only about building walls, wherever they may be, and not building bridges, is not Christian. This is not the gospel." That drew a scathing retort from Trump, who promptly took to his favorite mode of communication—social media. "If and when the Vatican is attacked by ISIS, which as everyone knows is ISIS's ultimate trophy, I can promise you that the Pope would have only wished and prayed that Donald Trump would have been President because this would not have happened," the GOP presidential frontrunner said in a statement on Facebook. "For a religious leader to question a person's faith is disgraceful," he added.
His retort provoked an uproar, and that same evening, during a town hall in South Carolina, Trump struck a more conciliatory tone. "I have a lot of respect for the Pope," he told CNN's Anderson Cooper. "I think he's doing a very good job, he's got a lot of energy, but I think he was very much misinterpreted. And I also think he was given misinformation."
November 2016
Speaking at a Vatican summit less than a week before the U.S. presidential election, Pope Francis warned his audience against leaders who exploit fears and urged them not to be tempted by "the false security of walls, physical or social."
Then, three days after Trump's election victory stunned the political world, the pope issued another veiled critique. Asked about the future president, Francis replied, "I do not give judgments on people or politicians." However, he expressed concern about "the sufferings that their approach causes to the poor and the excluded." And he again warned against "walls that divide."
May 2017
Trump is visiting the Vatican as part of a nine-day, five-nation trip, the president's first overseas travel since his inauguration in January. It's worth noting that the tete-a-tete with Pope Francis comes less than a day after the White House unveils Trump's annual budget, including a request for billions of dollars to fund construction of his proposed wall on the border with Mexico.