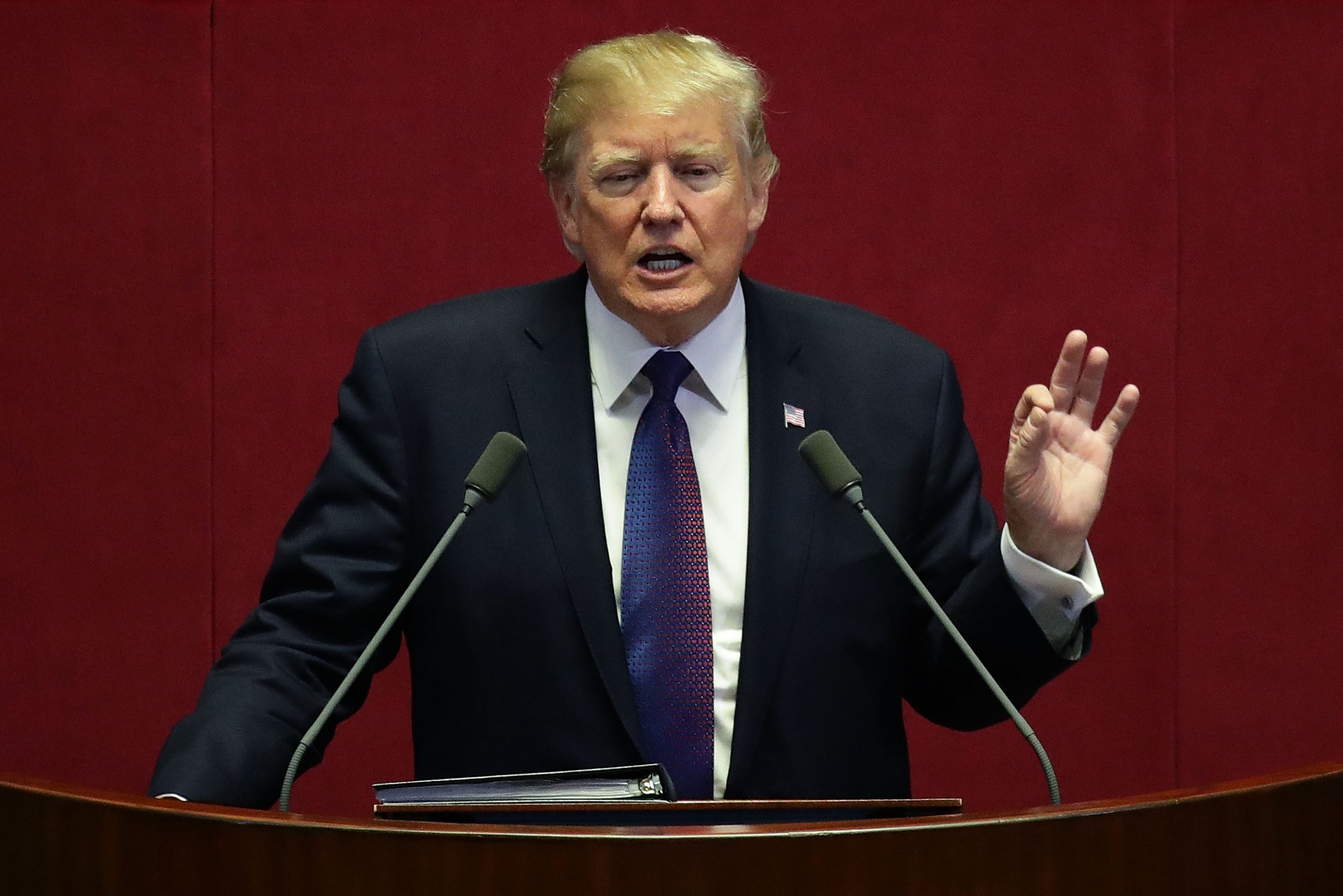 President Donald Trump congratulated all of his "deplorables" for their support Wednesday—the one-year anniversary of his election—and said he won the Electoral College by a "landslide."
The president, though, failed to mention the massive margin by which he lost popular vote.
"Congratulations to all of the 'DEPLORABLES' and the millions of people who gave us a MASSIVE (304-227) Electoral College landslide victory!" he tweeted along with a photo of White House staff members aboard Air Force One. Democratic candidate Hillary Clinton used the term "deplorables" to describe half of Trump's base, a comment that came back to haunt her through the campaign.
Trump's popular vote loss has long been a fixation for both him and Democrats. Clinton secured more than 65.8 million votes, or 48.2 percent of the popular vote, compared to the Republican billionaire's 62.9 million votes, or 46.1 percent. The difference between the two came to 2.86 million votes, marking the largest-ever popular vote defeat for a candidate who still won the White House.
The 2016 presidential election became just the fifth time the winner did not claim the popular vote. The most recent example was in 2000 when George W. Bush defeated Al Gore despite the latter picking up 540,000 more votes.
Ever since he secured the White House, Trump routinely stated he would have claimed the popular vote if not for millions of illegal votes, which he has never proved. He's also tweeted about the election or bashed Clinton more than 260 times over the last year.
The president went so far as to announce the formation of the Presidential Advisory Commission on Election Integrity in May and named Vice President Mike Pence its chair. The panel has not found any evidence for the widespread fraud Trump alleged.
In its first months, the 15-member commission dealt with pushback from states around the country and later an investigation of its funding and practices. Nearly every state partially or completely denied the panel's requests for local voter data.
The Government Accountability Office, the main federal government watchdog, last month launched an investigation into the commission over an alleged lack of transparency regarding its supposed findings and purpose.