Trump Praises Betsy Ross, ICE, Border Patrol and the Military in 'Salute to America' Speech on Fourth of July
President Donald Trump stood at the Lincoln Memorial in Washington on Thursday and gave a speech before thousands of people. The president's planned event called "Salute to America" started with a parade on Thursday, followed by his speech in the early evening. A fireworks show is planned for later.
The president brushed over 243 years of the country's history, its Founding Fathers and a few major events, and then he brought it together by saying the country is as "strong as it's ever been." The end of his speech that lasted more than an hour included heavy praise for the U.S. military, starting with the Coast Guard and then giving brief history of the Air Force, Navy, Marine Corps and Army.
At the conclusion of bragging on each branch of the military, the fight song of each branch was played while aircraft from the four major branches flew nearby.
The White House this week said the president's speech would steer clear of being a political rally, but there were some subtle jabs at Democrats in his delivery.
While praising George Washington and John Adams, the president also emphatically recognized Betsy Ross, who was the creator of the early American flag during the American Revolution. The flag has 13 white stars in a circle.
Just this week, shoe giant Nike announced it would recall all of its 'Betsy Ross Flag' shoes that were planned to be sold in conjunction with the Independence Day holiday. However, a report surfaced Monday evening that former NFL quarterback-turned-activist Colin Kaepernik told the company he felt the flag was offensive because it was a symbol that reflected the days of slavery. The shoes were to have a replica of the early flag on the heel of its shoes.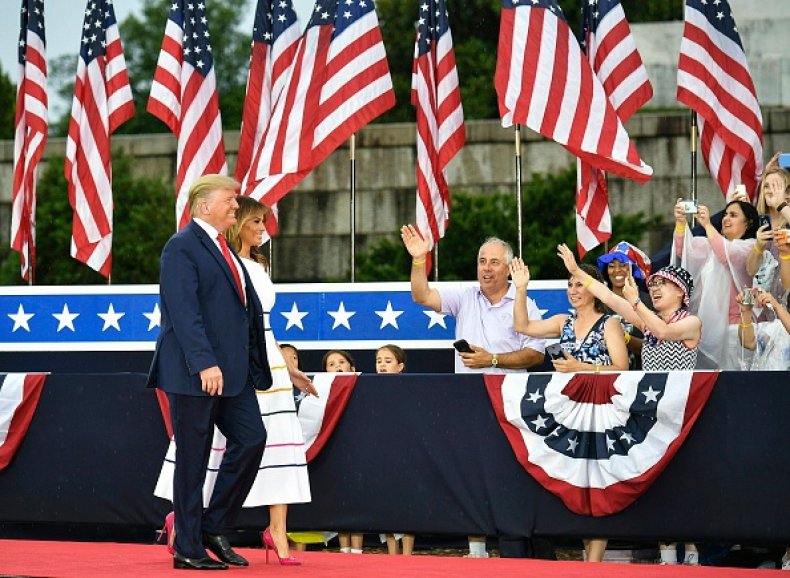 The president also praised the work of ICE and the U.S. Customs and Borders Enforcement agencies for their work along the southern border and other contentious points of entry around the United States.
"Our nation has always honored the heroes who serve our communities, first responders, police, sheriffs, ICE, Border Patrol and all of the brave men and women of law enforcement," Trump said.
Democratic presidential hopefuls for the 2020 race and other House and Senate Democrats have spoke often about conditions of detention centers along the U.S. southern border with Mexico, saying migrants are living in horrid conditions, something border control officials have denied.