Trump Praises Confederate General Robert E. Lee at Ohio Rally
President Donald Trump praised Confederate general Robert E. Lee at a campaign rally in Lebanon, Ohio, Friday night.
"So Robert E. Lee was a great general. And Abraham Lincoln developed a phobia. He couldn't beat Robert E. Lee," Trump said, launching into a rumination on the American Civil War.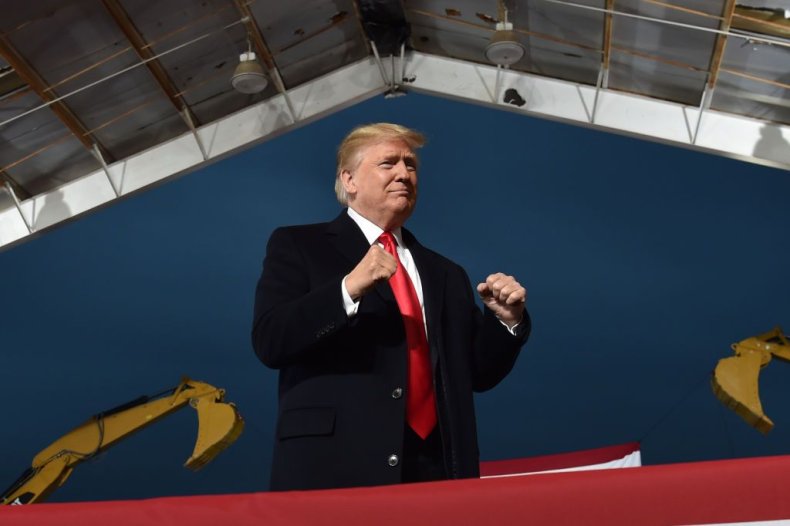 "He was going crazy. I don't know if you know this story. But Robert E. Lee was winning battle after battle after battle. And Abraham Lincoln came home, he said, 'I can't beat Robert E. Lee,'" Trump said.
Newsweek subscription offers >
"And he had all of his generals, they looked great, they were the top of their class at West Point. They were the greatest people. There's only one problem — they didn't know how the hell to win. They didn't know how to fight. They didn't know how," he continued.
Trump went on to describe how "incredible" Union commander and Ohio native Ulysses S. Grant went on to defeat Lee, and referenced Grant's heavy drinking.
The president said that Ohio gave the U.S. a general "who was incredible, he drank a little bit too much, you know who I'm talking about."
Trump continued "And Lincoln said, I don't care what problem he has, you guys aren't winning. And his name was Grant, General Grant, and he went in and he knocked the hell out of everyone."
Newsweek subscription offers >
In recent years memorials to Lee and other Confederate leaders have become a focus of protests and fierce debate, with Confederate monuments removed from towns and cities across the U.S. following the 2015 Charleston church shooting by white supremacist Dylann Roof, who in pictures had posed with a Confederate flag.
The debate was renewed in August 2017, when white nationalists gathered in Charlottesville, Virginia, to protest against the removal of a statue of Lee, and an anti-racism activist was killed by a white nationalist in the unrest.
Trump criticised the removal of Confederate monuments in a series of tweets days after the Charlottesville protests.
"Sad to see the history and culture of our great country being ripped apart with the removal of our beautiful statues and monuments," he wrote.
"[C]an't change history, but you can learn from it. Robert E Lee, Stonewall Jackson - who's next, Washington, Jefferson? So foolish! Also... the beauty that is being taken out of our cities, towns and parks will be greatly missed and never able to be comparably replaced!"
Critics claimed Trump was wrong to praise Lee in his Friday speech, but defenders of the president said that he mentioned Lee in order to praise Grant's success in defeating him.
Trump Praises Confederate General Robert E. Lee at Ohio Rally | U.S.