Trump Praises ICE Agents' Fist-Fighting Abilities: 'They Start Swinging... That's the End of That'
President Donald Trump told the crowd at Tuesday's campaign rally in Wildwood, New Jersey that agents from Immigration and Customs Enforcement (ICE) have been known to "start swinging" while apprehending and deporting members of the Mexican gang known as MS-13.
Originally formed in Los Angeles, MS-13 also has established territory in Guatemala, Honduras and El Salvador. MS-13 was designated as a transnational criminal organization in 2012 by the U.S. Treasury Department.
"These ICE people, they love our country," Trump said. "They're proud and they're tough people. They'll go right into a pack, they call it a pack, and they start swinging and everyone's swinging, and they end up standing up and that's the end of that. You know what they do is they bring the MS-13 and many other gang members back to El Salvador, back to Honduras, back to Guatemala, back to Mexico."
Trump also thanked ICE agents for "the incredible abuse they take and the incredible job they do."
ICE's efforts in capturing members of MS-13 were mentioned in correlation by Trump with the concept of sanctuary cities, which he claimed were largely supported by Democratic lawmakers.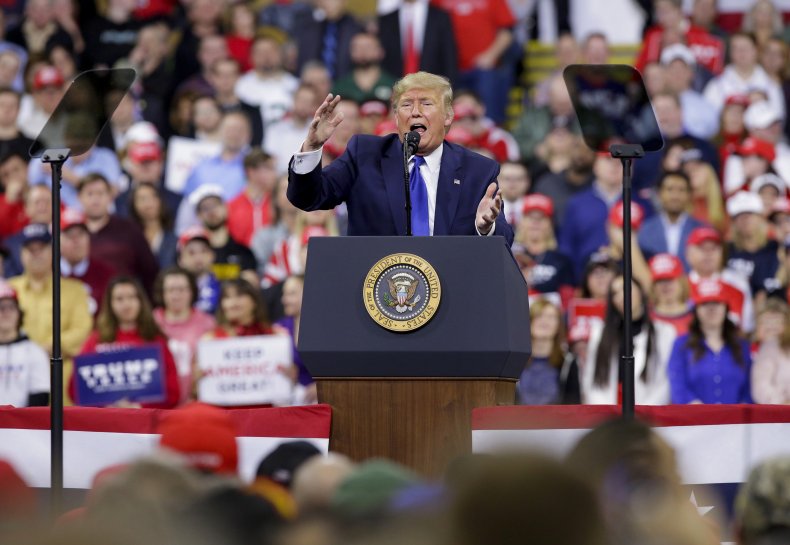 "On no issue have Washington Democrats more thoroughly betrayed the American people than on the issue of immigration," Trump said. "Left-wing radical politicians support deadly sanctuary cities. And remember a sanctuary city is a jurisdiction that refuses to hand over criminal aliens that are in local law enforcement custody. Instead they order them to be released into your community."
"What the hell is going on?" Trump asked. "And once set loose, these criminal aliens are free to continue their crime spree against innocent Americans."
Sanctuary cities have enacted policies that allow them to refuse full cooperation with federal immigration actions. This includes the protection of some undocumented residents from being deported or placed in detainment units. However, those who have committed crimes are still turned over to the proper federal authorities.
Proponents of sanctuary cities claim that their policies free up law enforcement officers to go after criminals who have committed greater offenses than simply being undocumented.
Trump claimed in April 2019 that his administration was placing unregistered aliens exclusively in sanctuary cities.
"Last month alone, 100,000 illegal immigrants arrived at our borders, placing a massive strain on communities and schools and hospitals and public resources like nobody's ever seen before," Trump said at a Green Bay, Wisconsin campaign rally. "Now we're sending many of them to sanctuary cities, thank you very much. They're not too happy about it. I'm proud to tell you that was actually my sick idea, by the way."
As of April 2019, there is no evidence that Trump's plan has been enacted, according to The Washington Post.