Trump Praises Kamala Harris for 'Best Opening Act' in 2020 Presidential Race
While it is rare to see President Donald Trump praise a Democrat, on Thursday he did just that, complimenting potential 2020 rival Senator Kamala Harris on the rollout of her presidential campaign.
Commenting in an interview with The New York Times on who among his potential Democratic challengers had the best campaign rollout so far, Trump said, "The best opening so far would be Kamala Harris."
Pronouncing Harris's first name as "Kameela," the U.S. leader said the California senator had a "better crowd" and "better enthusiasm" at her campaign launch, compared to other Democrats. "I would say, in terms of the opening act, I would say [it] would be her," he said.
Harris formally launched her 2020 campaign on Sunday in Oakland, California, to a lively crowd of more than 20,000 people. The Democrat managed to raise around $1.5 million within the first 24 hours of entering the field.
While Trump heaped praise on Harris, he said that "some of the others were very flat."
"I do think Elizabeth Warren's been hurt very badly with the Pocahontas trap," Trump said, once again deploying the same slur he has repeatedly been condemned for using to describe the Massachusetts senator over her efforts to prove that she has Native American heritage.
"I may be wrong, but I think that was a big part of her credibility, and now all of a sudden it's gone," he said.
Some members of the opposition party, Trump said, had "really drifted far left," though he didn't say whether he was referring to anyone in particular.
Trump also sought to snuff out speculation that he might not run for re-election next year, telling the Times, "I love this job." However, he did say that the role was a "loser" financially.
"I lost massive amounts of money doing this job," Trump said, scoffing at accusations that he has been making money off his presidency. "This is not the money. This is one of the great losers of all time. You know, fortunately, I don't need money. But they'll say that somebody from some country stayed at a hotel. And I'll say, 'Yeah.' But I lose, I mean, the numbers are incredible."
Resolute that he will run in 2020, Trump said he did not expect to face a single challenger to his party's presidential nomination, despite several Republicans still mulling over the possibility.
"I don't see it," Trump said. "I have great support in the party."
Last month, the Republican National Committee (RNC) did express "undivided support for President Donald J. Trump and his effective Presidency" at the group's winter gathering in New Mexico. The move was unusual, as the RNC typically does not endorse a candidate until the individual is officially chosen as the presidential nominee.
The show of support came during a difficult time for Trump, when the president saw his disapproval rating rise after he triggered what became the longest government shutdown in U.S. history.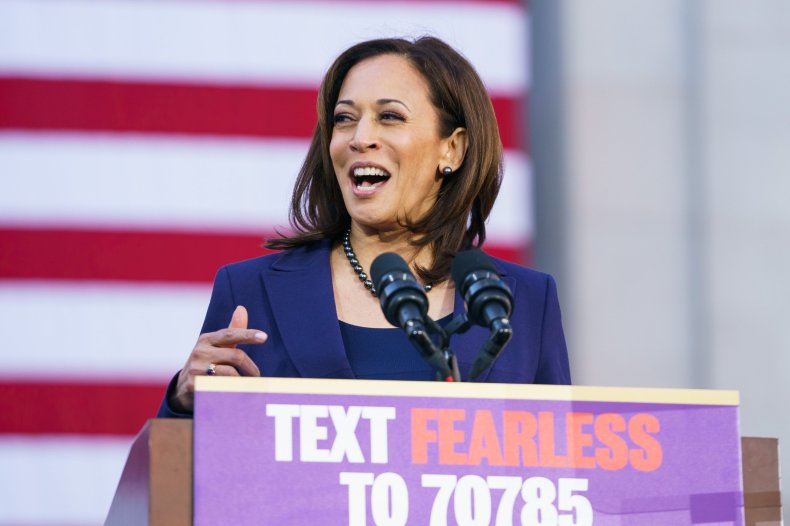 Trump Praises Kamala Harris for 'Best Opening Act' in 2020 Presidential Race | U.S.