Donald Trump praised late Representative Jim Hagedorn as an "effective leader" after it was announced Friday that the Minnesota Republican died at the age of 59.
In a statement sent from his Save America political action committee, the former president highlighted their time spent campaigning together.
"Congressman Jim Hagedorn was a strong and effective legislator for the great people of Southern Minnesota," Trump said. "I campaigned with Jim in 2018, and enjoyed working with him in Congress. May he rest in Peace, and his family find comfort during this difficult time. He will be greatly missed!"
Hagedorn had been battling kidney cancer since February 2019. He was diagnosed just 45 days after he was sworn into office. His wife Jennifer Carnahan announced his passing on Friday, stating his death was peaceful.
"There was no stronger conservative in our state than my husband; and it showed in how he voted, led and fought for our country," Carnahan said in a Facebook post. "Jim was a loving husband, son, brother, uncle, cousin, nephew, friend, brother-in-law, son-in-law, Vikings, Penguins and Twins fan and will be missed and remembered by many."
The late congressman represented Minnesota's 1st district, winning the seat in the 2018 election cycle. During that campaign, Hagedorn frequently said that he wanted to be a "partner" with the president.
Hagedorn supported Trump through both of his impeachments. Hagedorn said that Trump's impeachment following the January 6, 2021, riot in the U.S. Capitol was an effort by Democrats to divide the country.
"Democrats began working to impeach and remove the President before he even took the Oath of Office," he said at the time. "They lack credibility on the issue. It is time to move forward as a nation."
Hagedorn was also one of the 147 Republican members of Congress to vote against certifying President Joe Biden's electoral victory.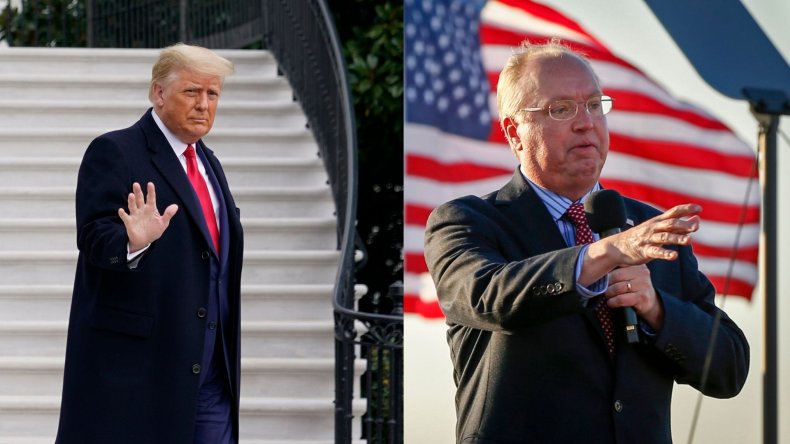 Many politicians from both sides of the aisle posted tributes to Hagedorn following the news of his death.
Minnesota Senator Amy Klobuchar, a Democrat, wrote on Twitter: "I'm saddened to hear about the passing of Rep. Hagedorn. He was a fighter for his constituents and a friend to so many, including me. Through his battle against cancer, he showed a level of determination that should inspire us all. My condolences to Jennifer and all his family."
House Republican leader Kevin McCarthy described Hagedorn as a "patriot" who "always put others ahead of himself."
"Even while battling cancer, Jim never stopped working to better the lives of his constituents and his fellow Americans," McCarthy said in a statement.