Trump Praises Manchin for Defending the Filibuster, Which He Urged McConnell to Get Rid Of
Donald Trump has praised Democratic Senator Joe Manchin for defending the filibuster, a Senate rule he urged Republican leader Mitch McConnell to do away with during his presidency.
Speaking to Fox Business host Stuart Varney on Monday, Trump said the West Virginia lawmaker was doing the "right thing."
"It's a very important thing," the former president said, adding that "otherwise you're going to be packing the court, you're going to be doing all sorts of very, very bad things that were unthinkable and were never even brought up during the election."
Trump added, "This is so radical liberal, radical left, Bernie Sanders can't believe it.... The most radical left people cannot believe what's happening."
The filibuster generally requires proposed legislation to gain at least 60 votes to advance in the Senate, which is divided 50-50 between Democrats and Republicans. Democrats have the narrowest of advantages in the upper chamber because Vice President Kamala Harris can cast a tie-breaking vote.
Manchin, a critical vote for Democrats in the split Senate, has been adamant in his opposition to ending or altering the filibuster rule, despite mounting pressure from his progressive colleagues.
On Sunday, he defended his position in an editorial published in the Charleston Gazette-Mail, writing that he "will not vote to weaken or eliminate the filibuster."
Manchin also criticized his colleagues for attempting to "demonize the filibuster and conveniently ignore how it has been critical to protecting the rights of Democrats in the past."
Newsweek reached out to Manchin's office for comment on Trump's remarks but didn't receive a response before publication.
Trump's praise of Manchin's defense of the filibuster differs from his stance when McConnell was the Senate's majority leader.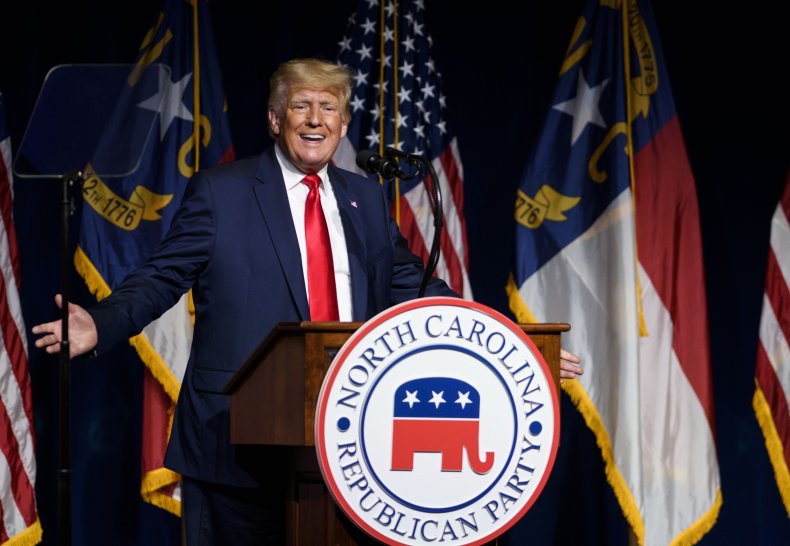 When Republicans controlled the Senate and White House, Trump repeatedly urged them to "go nuclear," meaning ending the right to filibuster and allowing legislation to pass with a simple majority vote.
In 2017, the former president urged the GOP to end the filibuster after the party's Obamacare repeal bill failed to gain a majority of senators. In a series of Twitter posts, Trump said Republicans "look like fools and are just wasting time" for not doing so.
"The very outdated filibuster rule must go. Budget reconciliation is killing R's in Senate. Mitch M, go to 51 Votes NOW and WIN. IT'S TIME!" Trump tweeted at the time.
The following year, amid an impending government shutdown, Trump told McConnell to go nuclear in regard to passing legislation to construct a wall at the U.S.-Mexico border.
"Mitch, use the Nuclear Option and get it done! Our Country is counting on you!" Trump tweeted.