Donald Trump Praises Meeting With Putin as 'Even Better' Than NATO Summit
President Donald Trump called his Monday summit with President Vladimir Putin "even better" than his meeting with NATO leaders last week.
The president also doubled down on his disputed claim that he raised "vast amounts of money" from the alliance for defense spending. Referring to his NATO meeting as "great," Trump then said he "had an even better meeting with Vladimir Putin of Russia," in a Tweet posted Tuesday.
"Sadly, it is not being reported that way – the Fake News is going Crazy!" he said.
Trump's tweet followed a previous one, in which he said NATO "was weak," suggesting that he had made it "strong again."
"They have paid $33 Billion more and will pay hundreds of Billions of Dollars more in the future, only because of me," the president said.
While Trump has repeatedly said he garnered pledges from NATO member states to increase their contribution to defense spending, European leaders have disputed those claims. In a press conference following the summit last week, French President Emmanuel Macron rejected Trump's assertion, instead saying NATO members had only agreed to meet their existing commitments of a 2 percent contribution from their budgets by 2024.
NATO Secretary General Jens Stoltenberg told reporters that member states have committed an extra $41 billion in spending since Trump took office in January 2017. However, back in 2014, NATO states committed to meeting the 2 percent target within a decade. Seven nations have already reached the target, an increase of three from 2014.
Although Trump also talked about his meeting with Putin on Tuesday's tweets, he has been blasted by many in Washington, including the most prominent members of his own political party. In a press conference after the closed-door meeting, Trump suggested that he trusts the words of the Russian leader over those of the U.S. intelligence services, which have found evidence of Russia's meddling in the 2016 election.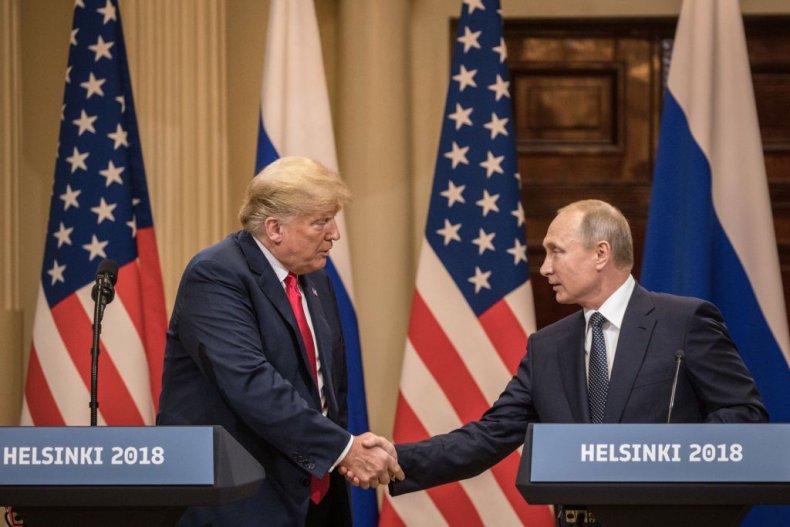 GOP Senator John McCain of Arizona called the statement with Putin "one of the most disgraceful performances by an American president in memory." Paul Ryan, the Republican Speaker of the House, also urged the president to "appreciate that Russia is not our ally." He said that "there is no question that Russia interfered in our election."
Republican Senate Majority Leader Mitch McConnell of Kentucky also came out against the president's remarks. "I've said a number of times and I say it again, the Russians are not our friends and I entirely believe the assessment of our intelligence community," he said.
Senate Foreign Relations Chairman Bob Corker from Tennessee, also a Republican, said the Trump comments made the country "look like a pushover."
"I was very disappointed and saddened with the equivalency that he gave between them [the U.S. intelligence agencies] and what Putin was saying," he said.