Trump Praises North Korea's Kim Jong Un for Standing Down on Guam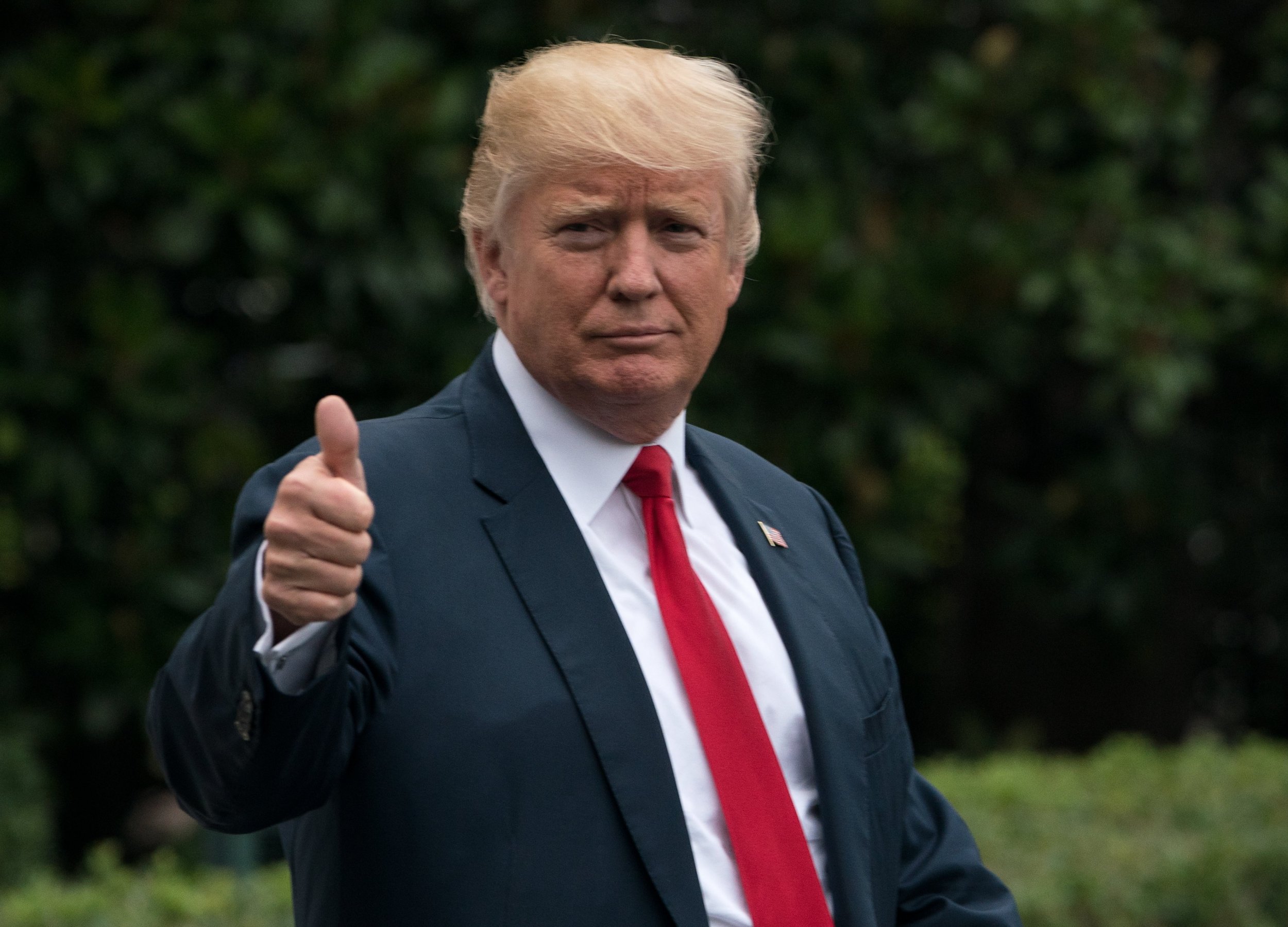 President Donald Trump praised Kim Jong Un's decision to hold off a strike on Guam, even as the North Korean ruler slammed the U.S.'s conduct as "foolish and stupid."
After talking about "fire and fury" and "locked and loaded" military solutions last week, the president tweeted on Wednesday his appreciation for Kim's decision to stand down on a strike against the U.S. territory.
"Kim Jong Un of North Korea made a very wise and well-reasoned decision. The alternative would have been both catastrophic and unacceptable!" the tweet, published on Trump's personal account, read.
In his first public appearance in two weeks, Kim on Monday ordered the army to be ready to strike at any time, to retaliate against possible U.S. "provocations." North Korean state-controlled media released pictures of their leader surrounded by army generals, intent on studying a much-advertised plan to hit waters near the island of Guam with four ballistic missiles.
However, the North Korean ruler was in no rush to strike, as he said he would "watch a little more the foolish and stupid conduct of the Yankees spending a hard time of every minute of their miserable lot," according to the North Korean media reports.
Trump's tweet signals a reduction in tension on the Korean peninsula, which escalated in recent weeks after North Korea conducted two intercontinental ballistic missile (ICBM) tests in July and threatened a strike on Guam. Trump warned Pyongyang of "fire and fury like the world has never seen" in response.
Kim's statement was widely interpreted as a way to back away from the "nuclear cliff" without losing face, according to the U.S.-based North Korea monitoring website 38 North.
"At this point, having broken the tension, it would not be unusual for Pyongyang to pivot to diplomacy," Robert Carlin, a visiting scholar at Stanford University's Center for International Security and Cooperation, wrote in his analysis for 38 North.
Signs that North Korea may be interested in talks were reported in the Japanese press late on Tuesday. An unnamed government official quoted in Japan's news agency Jiji said North Korea's Foreign Minister Ri Yong Ho offered to open discussions during informal talks with his Japanese counterpart at the ASEAN Regional Forum in the Philippines earlier in August.
"North Korea apparently wants to hold dialogue with the United States, and for this purpose, it may be considering using Japan," the official said.
The U.S. has repeatedly said that dialogue with North Korea is an option, but one that could only happen if Pyongyang stopped missile tests and ended its nuclear development program.
"We continue to be interested in trying to find a way to get to dialogue, but that's up to him," Secretary of State Rex Tillerson told reporters on Tuesday, adding that he had "no response" to Kim Jong Un's decision on Guam.
In May, Trump said he would be "honored" to meet with Kim Jong Un, but such a high-level meeting would only occur as a final step of a multilateral negotiation process in which North Korea would likely be represented by either the foreign minister or his deputy, while the U.S. would send Special Representative for North Korea Policy Joseph Y. Yun and would see other regional powers taking a seat at the table.