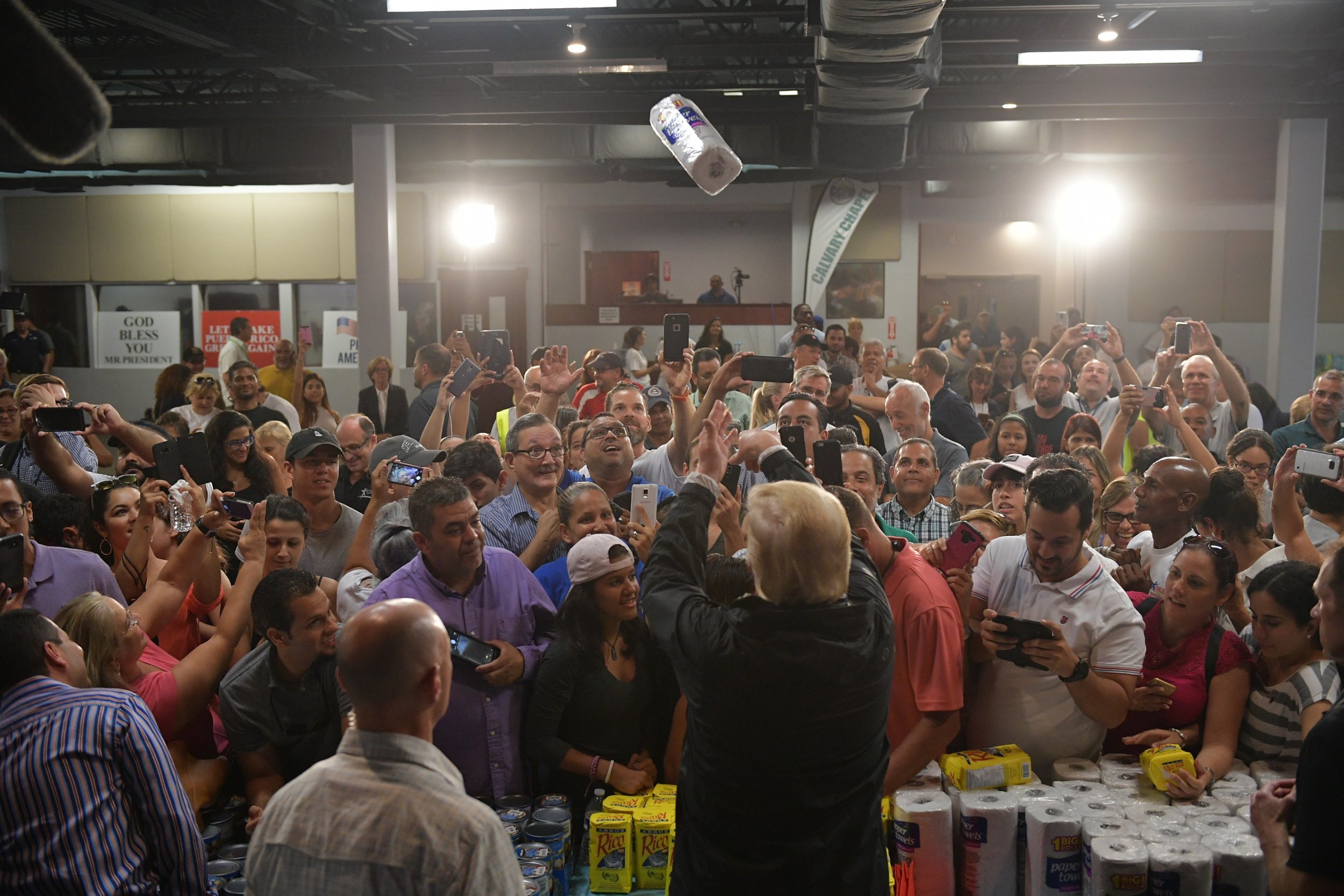 Where some saw disaster, the President saw a good time.
Over the weekend, President Donald J. Trump praised his response to the devastation caused to the island of Puerto Rico by Hurricane Maria, which left dozens dead and thousands without power or potable water.
"I was having fun," Trump said of his four-hour visit to San Juan, Puerto Rico's capital, last Tuesday. That visit, most memorably, had him throwing paper towels to an audience gathered to see him inside a church. "They had these beautiful, soft towels. Very good towels," Trump said. He claimed that the people of Puerto Rico also had "fun" during his visit. As he usually does, Trump dismissed critics while offering himself exceedingly high marks.
"And I came in and there was a crowd of a lot of people. And they were screaming and they were loving everything," Trump said of his visit to the Calvary Chapel, where the now-famous tossing of the paper towels took place.
The comments came in a Saturday interview with Mike Huckabee on the Trinity Broadcasting Network, which offers Christian-themed broadcasting. Huckabee is the former governor of Arkansas who once entertained his own presidential ambitions. His daughter, Sarah Huckabee Sanders, is the White House press secretary.
Trump visited Puerto Rico after feuding with San Juan's mayor, Carmen Yulín Cruz, who called for more help to the island in the immediate aftermath of the hurricane. In addition to throwing paper towels, Trump told the people of Puerto Rico during last week's visit that they should be "very proud" that they suffered fewer casualities than did the residents of the Gulf Coast who found themselves in the path of Hurricane Katrina in 2005. He also complained about the cost of the relief effort: "I hate to tell you, Puerto Rico, but you've thrown our budget a little out of whack," Trump said.
In Saturday's interview, Huckabee said that everyone but presumably liberal media outlets had described Trump's response to the hurricane as "pitch perfect." Trump agreed with this assessment. He dismissed all criticism as "fake news" while detailing the high praise he'd received.
"We did a great job," Trump said.
"You were a rock star," Huckabee agreed.
Others have had less generous opinions. David A. Graham of The Atlantic called Trump's response to the crisis in Puerto Rico "strange" and "disjointed." Lin-Manuel Miranda, the Hamilton creator, described Trump's performance as a crisis manager as "jaw dropping."