Trump Praises 'Very Positive Statement' From North Korea After Anniversary Parade, Says he Likes Kim Jong Un
President Donald Trump has praised North Korea and his relationship with the country's strongman leader after a parade celebrating the country's 70th anniversary took place without showcasing nuclear missiles.
"North Korea has just staged their parade, celebrating 70th anniversary of founding, without the customary display of nuclear missiles," the president posted to Twitter on Sunday.
"This is a big and very positive statement from North Korea," he wrote. Trump then thanked North Korean Chairman Kim Jong Un directly, adding: "We will both prove everyone wrong!"
"There is nothing like good dialogue from two people that like each other! Much better than before I took office," the president continued.
Kim oversaw the parade but did not address his people directly, as they assembled in the capital city Pyongyang's Kim Il Sung Square, Voice of America reported. North Korea said that the theme of this year's parade was "peace and economic development." But the event still featured tanks, missiles and a multitude of marching soldiers from various branches of the country's military.
Since a historic Singapore summit between Trump and Kim took place in June, complete denuclearization has been promoted as a realistic possibility by Washington and Pyongyang. But conflicting reports have suggested that Kim's government may or may not be following through with promises to destroy missile facilities and nuclear sites as promised.
At the end of August, Trump canceled a follow-up negotiation trip by Secretary of State Mike Pompeo to North Korea. The president said that China was working to hinder nuclear discussions as Washington and Beijing remain embroiled in a multibillion dollar trade war. At the same time, Trump shared an official statement to Twitter emphasizing that he "believes that his relationship with Kim Jong Un is a very good and warm one."
Immediately following the Singapore summit, Pyongyang began expressing uncharacteristically positive sentiments toward Washington, as Trump has also done toward Kim. But in the wake of increased diplomatic pressure, North Korean media recently suggested that the U.S. could be planning a secret invasion. It also accused Washington of "double-dealing."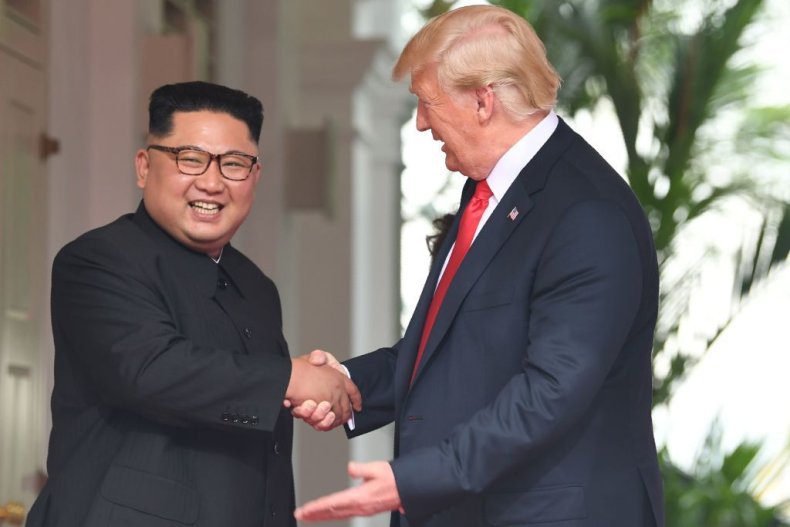 Last week, Kim Yong-guk, head of the North Korean Foreign Ministry's Disarmament and Peace Institute, reiterated calls to the U.S. and South Korea to officially bring the conflict on the Korean Peninsula to a close.
"The first step to build trust between Pyongyang and Washington is to declare the end to the war, as this will help establish a lasting peace on the Korean Peninsula," the official said.
"Without establishing a firm peace system on the peninsula, the relations between Pyongyang and Washington can never be improved," he added.